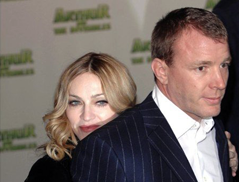 Madge and Guy, on the rocks. For those of you who don't follow trash, that's not a new drink but an unsubstantiated story about the possible break up of two A-list celebs: Madonna and Guy Ritchie. But it's not the gossip that's interesting, rather a quote about the breakup from an ABC story that's making the rounds: "It seems that every time a super-successful female star gets together with a lower-profile man, tongues wag."
"Really? Do they wag? The tongues, I mean," Broadsheet's Rebecca Traister was quick to ask. "Because I don't really remember anyone batting an eye over Madonna's marrying Ritchie, an attractive film director who is not as successful as she. You want to know why he is not as successful? Because she's Madonna. Who's she going to date? Jesus is unavailable."
What everyone's wagging about here is the current politics of marriage and gender. People are presuming that Ritchie and Madonna (I'd use her last name, for equality purposes, but of course, she's Madonna and doesn't need one) are breaking up because the wife is more powerful than the husband. Which also, presumably, means it would be OK if the genders were reversed.
Others disagree that the power dynamic is the problem. "A lot of men don't mind being in the shadow of a very successful woman. It really comes down to the guy," offers Bradley Jacobs, a senior editor at US Magazine.
Let's ask the father
But Maureen Dowd's column in this week's New York Times, which is hooked to Madonna and Ritchie (and also the messy Christie Brinkley/ Peter Cook divorce trial), also wags in. Her column, which has the been the most-read item in the NYT for three days, is about Father Pat Connor's advice about whom not to marry, which the 79-year old Catholic priest has been offering up to high school students for 40 years.
Some of the advice is pretty good: don't hook up with someone who has no friends, for example. And "steer clear of someone whose life you can run, who never makes demands counter to yours. It's good to have a doormat in the home, but not if it's your [spouse]." Even a member of one of the most conservative institutions around thinks equality matters.
Adding up attraction
So if equality matters, how do we calculate that? The tabloids' barrage of coverage would have us believe it's all about numbers, often comparing Madonna's number one singles to Ritchie's number one movies, her $600 million to his double digit millions, her Grammy nominations to his Oscars, and finds that according to that calculation, Ritchie comes up short.
The ABC story also looks at other examples of mismatched couples like Susan Sarandon and Tim Robbins (their Oscar nods don't quite match up) Gwen Stefani and Gavin Rossdale's (she's had more record sales lately).
So what's wrong with this picture? I think we know which gender would get the higher score about 99.9 per cent of the time if it were solely based on money and career-related awards. And I don't think I'm going out on a feminist limb here when I suggest that doesn't mean that women actually are less powerful most of the time and that therefore most relationships are doomed.
The idea that it's a number, usually with a dollar figure in front, instead of a formula that includes intangibles, is whacked, to quote Dr. Tony Soprano.
Swinging from the same branch
In university, while spying on two people in the midst of an argument, who were mismatched in the looks department, a friend said to me, "Have you ever noticed that most people in relationships are on the same branch of the looks tree?"
"The what tree?"
"Well, everybody is a certain amount of good looking, and they tend to go out with people who are on the same level," she explained.
"Hmm," I said. "Yeah, most happy couples are on the same branch, but it's not just about looks." And arguably, it's not just about money or fame either.
One friend's grandfather earned millions as an entrepreneur, and grandmother never brought home a paycheque. But anyone who met them for five minutes would have no doubt of their equality. She made all the decisions about their household, four kids and social lives. And they spoke to each other with deep respect. When he retired, he still drove to the store every day to get her the day's newspaper with her favourite crossword (why they didn't have a subscription was never clear). When he died suddenly, she didn't even know what bank they used or where the deed to the house was, but amazingly to me, even with that factored into the equation, they were true equals.
It's a lesson I need to learn. Having grown up in the '80s and '90s in second wave feminism's heyday, I've come to think of my own power in a relationship in terms of a dollar figure -- whether I contribute equally to the household financially. Women worked hard to give me career-related opportunities, and it's my responsibility to take them. Looking at this story and others, it's not hard to see why I tend to discount the other intangibles I bring to the table (including the hours of domestic labour I contribute), and also why that's a mistake.
Sure, it helps to have money or fame or looks or awards that are roughly equivalent. But that's because, otherwise, there's so much ground to make up elsewhere. Just look at Mariah Carey and Nick Cannon (or what the tabs report about them anyway).
Uber diva + nice guy = ?
First, the tangibles: Mariah Carey is a multi-platinum, multi-millionaire singer; Nick Cannon is a relatively unknown actor/rapper. Now the intangibles: she's glamorous and charismatic. And he's... well... not. He doesn't project a strong personality or personal magnetism. And for them to be equal, Nick would have to have some kind of mega mojo somewhere, right?
So now, most people I talk to aren't surprised by the recent unsubstantiated gossip that their marriage is supposedly on the rocks (who actually knows if it's true, of course, but it's interesting for argument's sake). One friend, a big Carey fan, had this to say: "Mariah is the uber diva and Nick Cannon is D-list. She has her beyotches feed her drinks rather than lifting her own cup to her mouth. Nick is so insecure and desperate to make it last that he's gonna become her number one beyotch, waiting on her crazy demands, trying to please her so she doesn't throw a tantrum for a divorce."
Sure, there are relationships out there that seem to have an imbalance yet they work. Is it because some people, often women, have been socially conditioned to think that's the way it should be? I bet it's usually because there are things going on behind the scenes that level the scales. I'm thinking of two friends where, in public, she does all the talking and seems to even boss her guy around, which he good-naturedly goes along with, but at home, as she's told me many times, it's a totally different story. And there's another couple where he seemingly makes all the decisions, but friends know she subtly asserts her power elsewhere. The formulas for their successful relationships have many intangibles.
So, what about the rumours about Madge and Guy breaking up because she's more powerful? Those rumours are now compounded by more rumours of her dalliance with New York Yankee mega-star Alex Rodriguez, whose wife is divorcing him for infidelity. In the richest baseball jock of all time, has Madonna finally found a suitably powerful match?
Well, keep in mind that Ritchie earned $20 million for one of his movies. He's not exactly a back up dancer. More important, Madonna has frequently said that Ritchie is the only man she's met who's her equal. So he's not really in her shadow, as Jacobs suggests, just because he doesn't have her millions.
But even if he was, people with calculators need to go ahead and put them away now because some things can't be measured by numbers.
Related Tyee stories: