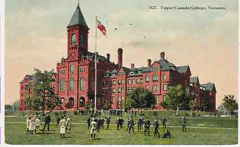 I don't talk it up a lot, but I am a graduate of our country's most elite private school, Upper Canada College. UCC epitomizes "the best of everything" mentality of Toronto's wealthy: a house in Forest Hill or Rosedale, hanging out at the Toronto Club after work, playing tennis at the Cricket Club, and sending your male heirs to UCC.
Unlike my peers, however, I was raised in a single-parent household, lived far from the school, and had a scholarship. My mother came from a wealthy family in Singapore, attended boarding school in England, and strongly believed in getting the best education for her son. By the time I was in the picture, any financial inheritance was long gone, but the social inheritance of aspiring to money and higher social class was not.
Today I am an economist living in Vancouver. Not long ago, I published a study finding that the top one per cent of families actually paid a lower tax rate than the bottom 10 per cent, and substantially less than families in the middle- to upper-middle range. And when I called for a fairer tax system, I was accused in a couple newspaper columns of "envy."
Am I envious of my classmates, so many of whom are now members of that one per cent club of Canadian wealth and power? And what do I owe my alma mater? Those questions turned over in my mind as I flew back to UCC recently for our 20th anniversary reunion.
Nothing rinky-dink here
Upon arrival, I was startled to see how the nearly 40 acre campus had changed since I attended. A whole new wing has been added, with a double gymnasium and phenomenal space devoted to the arts program. When I was at UCC we prided ourselves on being the only school with an indoor hockey arena. The current capital campaign is building a new indoor double arena, with one NHL-sized rink and the other Olympic-sized.
A double hockey rink, I suppose, is a fitting status symbol for a school that seems built on the notion that nothing is ever too much. Conrad Black, after all, is a UCC alumnus. When I attended, I absorbed the main lesson well. I wanted to be a stock broker or corporate lawyer; bottom line, to make a lot of money. It would be years more, as a young college grad out of work during the recession of 1991, before I'd eventually shake off my blind faith in the magic of the marketplace.
I arrived by public transit to Association Day, Upper Canada College's annual "open house," where the school teems with students, parents, Old Boys like me, and (though the school remains all-male) a striking number of blond teenage girls. I thought it fitting to take the bus, as I used to do as a student. Back in my day, there was a more direct bus, the Forest Hill 33, but it no longer exists because students get dropped off by car (if they do not have their own; a few in my year were given new cars for their 16th birthdays).
Tree climbers
Stepping onto the grounds, it is clear that UCC is more than a school; it is an institution. Known to all, experienced by the few, it dates back to 1829, well before Canada existed as a country. On the school crest, laurels wrap around a crown with the motto from Nelson's tomb, Palmam qui meruit ferat ("May he who has deserved it win the prize," a tribute to irony if there ever was one). Wandering about on my visit, I could see the pride on the faces of the students' parents. They had purchased prestige.
But to truly be immortalized in the world of the wealthy takes even bigger bucks. UCC is always in the midst of some new capital campaign or another. Donors gain the most prestige by buying naming rights on buildings or facilities. The Rogers Tower. The John David Eaton Wing at the Prep. The Elizabeth Lee Wing (no relation to yours truly). The Richard Wernham and Julia West Centre for Learning -- all multimillion dollar contributions.
The school is also in the midst of an environmental push to become a green campus. As part of that, for a donation of $2,500 you can have a tree planted on the campus with your name on a plaque. That the new double hockey arena will be a green facility shows that environmentalism is not incompatible with class distinctions.
What money can buy
UCC is what education looks like when money is no object. What that means in practice is small class sizes (the strategic plan calls for class sizes of 14 and under to cultivate "more engaging, participative seminar experiences") and a wide range of programs in arts, music, drama, clubs and sports. These latter elements -- which tend to get cut or reduced in public schools -- are a big part of the difference with a classic liberal education. In an upstairs room, there was a digital media studio with 20 or so brand new iMacs, which a teacher had recently used to teach interactive poetry.
I began to wonder what it would mean if public schools, which receive about $8,000 per year per child rather than UCC's $25,000 tuition fee, had similar resources. If we even just doubled the budget of the K-12 system, what would that mean for our kids?
One answer I got to that question at the reunion dinner was: nothing. In my classmate's view, it's all about IQ and smart people will succeed no matter what, and tough luck for the dullards. In other words, all of that superstructure of the school did not matter one iota to the long-term life chances of a UCC student. I found this intellectual Darwinism deeply unsettling, and offered myself as an example of someone who benefited immensely from the enriched learning environment at UCC, and also the unquestioned expectation that we would all go on to university after graduation.
Charming elite
A UCC memory. I am in computer science class (yes, we had a computer lab in the mid-1980s) and I'm monkeying into the central program on the server based on what I learned in a summer school program. It is a number sorting program, and as it does its thing the screen reads "Sorting. . . ." I change this to "Masturbating. . . ," and when my teacher sees this he hits me hard in the head from behind, knocking me to the floor.
At the reunion, I was quite surprised how many Old Boys decided to steer clear of it, given how many of them still live in Toronto. It could be that school pride has been tarnished by sex scandals that have made headlines over the past few years. It could be that only the successful showed up, and the under-achievers avoided the place. It could be that many just want nothing to do with the school, given their experiences there.
Among Old Boys who did reunite, there were no obvious Conrad Black-esque villains. Most of them are charming and likeable, with families, and settled in their careers. A high percentage of them are in finance of some variety (brokerages, hedge funds, insurance), others in business, as owners or CEOs, and much of the remainder in professional fields like law, medicine or accounting (many were at the upper echelons of these professions -- partners, specialists, etc.).
I was (predictably) the only progressive economist in the bunch, though it is worth noting that there is an undercurrent of UCC Old Boys who have gone on to be stars on the left (e.g. long-time NDP MP Dan Heap, Duff Conacher of Democracy Watch, Stephen Clarkson of U of T and former Ontario NDP leader Michael Cassidy). My sense is that the Old Boys mostly remain small-c conservative (though they may vote Liberal or big-c Conservative). One ex-classmate, who now runs the family stock brokerage, made some remark about getting government off his back. I told him my job was to make sure he paid more in taxes.
What's it all for?
I had difficulty finding any sense of higher purpose among those I talked to. For the previous generation, that might have taken the form of going into politics (e.g. Michael Ignatieff, Michael Wilson, Perrin Beatty, Bill Graham), but I saw none of that. Instead, the over-riding purpose seemed to be making money for money's sake -- as a means of keeping score and asserting a place in the hierarchy.
My stockbroker schoolmate told me he had not gone on a family vacation in some time. My parting comment to him was, "Promise me you'll make less money and spend more time with your kids." After he gave me a look of confusion, I added: "When you are on your death bed, what will you regret more: not making enough money, or not travelling and spending enough time with your family?"
And yet, I discovered that there is still a bit of the school in me. I caught myself yelling out "Go Blue" during the football game (sports teams are called the UCC Blues, as in Tory blue). So a connection remains, not to the school's conservative values, but something more amorphous. I did get an excellent education at UCC. (In fact, I learned more about how unions worked in my Grade 12 economics class.) And the years I spent at UCC were at a key developmental time: I had just turned 12 when I started there and was out before my 17th birthday. Finding one's place and identity are important at that age. Later, when I was in university I grappled with the bizarre, all-male elitist socialization of UCC, and had rejected the school at that point.
Twenty years on, I figured that distance would be so much the greater. Yet, though I may not like to admit it, I am an Old Boy, and was accepted as one during the reunion. And even though I have clearly changed sides, as a progressive economist who does lots of media interviews and public talks, I wonder if I am just a part of a different elite. Perhaps what matters is what you do with your education and experiences. I feel fortunate that I can feel good about the work that I do at the end of each day.
Class dismissed
In the end, is UCC just another school? No, it remains a bastion of privilege. Lots of kids who went there have never had to really fend for themselves. Some, like my classmate Ed Rogers, heir apparent to the Rogers family empire, had his path laid out for him from childhood.
As a contrast, I have a friend in Ottawa who is a CEO of a software company and he struggled for a few years before attaining his six-figure salary -- but I have respect for that. It is inherited privilege that I rail against as a progressive economist.
The officially stated desire of the school and its teachers to encourage students to go and make a difference in the world is undoubtedly sincere. But by this standard, much of their efforts must be considered a failure. The more prominent outcome of a UCC education is to serve to reproduce the class structure of Canada, and UCC remains at the heart of that class structure.
For that reason, when those regular fundraising packages arrive at my home, talking about what great things Upper Canada College is doing for the current generation of boys, there is no cheque in the mail coming from this Old Boy.
Related Tyee stories: