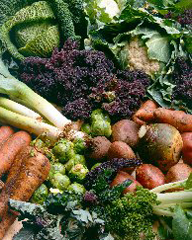 Nearly a year ago, Alisa Smith and James MacKinnon had given up on restaurants. It was winter, and they were deep into their 100-Mile Diet experiment in local eating. Even local potatoes were sometimes hard to come by at the grocery store; a night on the town sounded impossible. Then they got a call from Raincity Grill and its chef de cuisine, Andrea Carlson. Would they like to come down to try the new 100-mile menu?
"We started it about a year ago, just as they were coming to the end on their diet," Carlson explains. Already known for a strong regional focus, Carlson had simply tightened her focus to ingredients that have travelled less than 100 miles from field to fork. "It distilled the exact nature of what is and isn't available," she says. "We have so, so much here. It's just the salt and the vegetable oil for frying that travel further."
Since then, the tasting menu has become a Raincity fixture that evolves with the seasons. Given that she launched the concept mid-winter, Carlson doesn't shy away with the coming of cold weather. The January main course? Roasted Berkshire pork belly with candied red kuri squash, sunroot -- a.k.a. sunchokes or Jerusalem artichokes -- and arugula.
Happy pigs
A bigger challenge than the weather is building a local supply network outside the industrial food system. Raincity's 100-mile menu is a year-round relationship with farmers. "It's a commitment from us before they start their growing season that we will purchase their products," Carlson says. Raincity also usually works with small-scale operations because "they're the ones that are open to trying to grow different things that are of a higher market value for them."
The pork belly for the January menu, for example, comes from Happy Island Pigs at Sloping Hill Farm in Qualicum Beach, which, according to MapQuest, is 76 miles from the stoves at Raincity Grill. Farmer Dirk Keller and his wife Bea Graf have been raising heritage breed pigs for the past six years. Keller agrees that chefs like Carlson, along with smaller grocery stores and butcher shops, are what make his specialty farming feasible. "None of the larger stores are willing to take the chance," he says. "It's completely price driven, and [the supermarkets] are not willing to rethink a niche market."
And what would be lost if Happy Island became just another cog in mainstream meat production? For one thing, a model of animal husbandry far more humane than the now-familiar factory farm. "We're raising our pigs the most natural way possible," says Keller. The male and female pigs live together, have access to the outdoors at all times, and are fed a 100% vegetarian diet with no genetically modified ingredients or growth hormones. "All of our sows and boars have names and come when called," says Keller with a laugh. "It's kind of a pig heaven." The only compromise with industrial farming comes at slaughter: Keller is forced to haul his live pigs to Vancouver twice a month to be killed in one of the few facilities approved under new B.C. government regulations.
Squash distribution?
Sourcing winter vegetables is less complicated, and the squash, sunroots and arugula that round out Raincity's 100-mile menu will likely be delivered to the kitchen door. Kim Fredriksen, the owner and delivery driver of organic food distributor Biovia, built up her business from humble beginnings helping a farmer friend sell his apples at the Trout Lake Farmers' Market a decade ago. Her mobile market now serves 20 restaurants and distributes products from over 30 growers.
Carlson's commitment to local food has evolved over the years, beginning with her early experience on Vancouver Island at one of the region's pioneering regional cuisine restaurants. "When I was at Sooke Harbour House it was a very local-focused environment. All of the producers were from East Sooke and the products that were being harvested for us in terms of the herbs and edibles on the actual property of Sooke Harbour House were phenomenal. The flavour of the organics that we had available there had a huge impact on my attitude and I haven't looked back since."
And it's not just urban foodies who flock to Raincity Grill as local eating becomes the latest fad. Many of Carlson's suppliers dine at the restaurant, and when the international Bridging Borders to Food Security conference was in town in October, Raincity Grill was the restaurant of choice for visiting delegates. "I find it really flattering that those types of people are coming to the restaurant. To me that means a lot because those are the people that are truly into making these changes."
Eating as close to home as possible can make you more connected with where you are in the world. It is a process of discovery that crystallized for Carlson one day this summer while she was enjoying a rare day off on Salt Spring Island. "I found this tiny cove where there was a bunch of debris that had washed in from the sea, and there was this collection of sticks that were coated in salt crystals. I was like, 'Oh my God, it's 100-mile salt!'" Carlson hasn't found a reliable source of local salt yet, but she sees an opportunity. "I'm sure there's room for someone to start a salt production business." Carlson would be the first customer.
Raincity Grill is at 1139 Denman Street in Vancouver. Happy Island Pork can be bought at Westlynn Meats in North Vancouver, Nanaimo Sausage House in Nanaimo and Village Butcher and Pepper Foods in Victoria. The Vancouver winter farmers' market continues Saturday, Dec. 2 at the WISE hall.
You can find more information about the 100-Mile Diet at the official website.
Heard of another restaurant featuring a 100-Mile Diet or local menu? List it in the comments section.