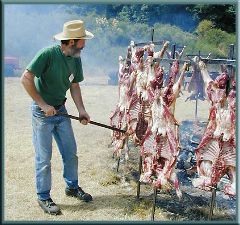 There is a woman in Skidegate who has been buying a side of beef from Richardson Ranch on Haida Gwaii since 1955. The steaks and roasts she's been eating all these years come from animals raised on meandering grasslands by the sea; a 20 minute drive up the coast.
The family she buys from has been operating Richardson's Ranch since the early part of the 20th century - five generations of friendly transactions between farmer and customer.
But Don Richardson, great-great-grandson of the Richardsons who settled on these islands in 1919, is worried about new provincial meat inspection regulations, which may make it difficult for him and other small farm operators to sell meat to friends and neighbours.
The regulations seek to introduce a province-wide standard for meat sold to the public. Not only will animals have to be inspected pre and post-mortem, but they must be slaughtered in an inspected plant too. This new meat inspection regulation is part of the Food Safety Act and was adopted in 2004.
Licensed and unlicensed
A recent outbreak of E. Coli contamination found in inspected Safeway ground beef may leave consumers feeling like more regulations are a great idea. The Ministry of Health says the rules are meant to provide consumers with the assurance that all meat and meat products are properly inspected for safety and wholesomeness. Already, any meat sold in retail shops or butcher shops is inspected - that's 95 percent of the meat sold in BC. The remaining five percent is processed by non-licensed facilities, in other words, the farmer next door.
Right now, there are 15 provincially-inspected plants in BC. Some are huge, open five days a week with eight-hour shifts and others are smaller, doing custom slaughter for clients and opening when the service is needed. The closest provincially-inspected plant is in Williams Lake, a six-hour ferry ride and close to 1000 kilometres by road away from Haida Gwaii. There is a federally-inspected plant in Dawson Creek, at a similar distance.
Unlicensed slaughter facilities have until September 2006 to adhere to the new regulations, or farmers selling uninspected meat to consumers will face heavy-handed fines.
Back at the ranch, Richardson, also the local veterinarian, sells beef to a handful of customers who hold coveted positions on a fairly short list. Someone has to die before anyone new gets a side of beef, he says, half joking, half serious. But beef is not his main business. He raises cattle for breeding stock. Some don't make the grade, so he slaughters them at his on-farm slaughterhouse - about 10 a year. Sending these animals to an inspected slaughterhouse is not an option, he says.
'Clean and stress-free'
John Vincent of Greenhills Croft in the Bulkley Valley is in a similar situation. He raises cattle, sheep and chickens and prides himself on running a small operation, selling quality food to local residents.
"From birth to slaughter, all of our animals are well-cared for in a clean and stress free environment. No antibiotics or unnatural farming methods are used," he says. He takes such pride in his farm, that he invites school groups and other visitors to come by anytime. Vincent sells his products to neighbours in places like Smithers, Telkwa and Quick. Currently, he hires a man to come to his farm and slaughter. The sheep or cows are hung on the property and are then sent to the local cut and wrap shop to be processed into chops, roasts and ground round.
Like Richardson, he faces the possibility his animals will have to be slaughtered in a facility 600 kilometers away. Shipping would add at least an extra $40 to $50 to the cost of each lamb, which he would have to pass on to the customer.
People may be willing to pay the added cost, which would still net out as cheaper, better lamb than major grocery stores carry, but it is the big picture that bothers Vincent.
"If a community can't provide at least the staples for itself, all we are is a satellite of the big city," he says.
'We will continue to slaughter'
Vincent raises rare breeds of livestock including Irish Dexter cattle, Shetland sheep and Buff Orpington hens. Ironically, he says, people who eat his animals are also contributing to the preservation of these unique strains of animals, an effort that would be lost if his farm can't continue.
If the new rules force him out of business, he is incensed by the thought of people in his area left with no other option than buying "rubbish from factory-farmers who don't care about their products."
"We will continue to slaughter. We have to. I don't mean to sound defiant," says Richardson, whose island-based ranch is a six-hour ferry ride away from the mainland.
Right now, he has two older cows. One has arthritis and he says he can't send her on the ferry. Not only does it cost him $1,000 each way to put his trailer on, but it is a stressful journey. Depending on the weather, the ferry can be delayed more than 24 hours, after its been loaded. He prefers to deal with the life of his cow himself.
The part that really gets to Richardson is if he slaughters the animals for his own use, he is within the law. The minute he sells meat to his neighbour, he is a criminal.
Richardson understands the regulation. It is designed to protect the consumer in a faceless system. Once a steer is shipped, he says, it is handled so many times before it's in the supermarket, there is next to no connection to the farmer.
But since he doesn't sell beef to anyone he doesn't know, he says it is a matter of philosophy.
"It comes down to a question of whether the government should be involved in a contract between you and me," he says.
"I don't want to export beef, or have it at the local meat counter or in local restaurants. I'll sell it directly to you and if you don't like it, you'll bring it back to me."
150 animals a year
The province has agreed to send an inspector to existing slaughterhouses, so the operators can find out what it will take to bring their facilities up to the new standards.
Jacques Campbell who lives on Saturna Island was visited in the fall. She and her family run the farm that provides many of the lambs to feed the masses at the annual Canada Day Lamb Barbeque.
From all she had read and heard, she was very concerned about the changes she might have to make. She and her family slaughter 150 animals a year in their on-farm slaughterhouse. The structure is timber frame, with three-foot-high cement walls, and a cement floor with a drain. The the room within the slaughterhouse where they hang the lambs has an open ceiling.
She was told the inspector would require there be a separate bathroom not in her house, as well as impermeable walls and an enclosed ceiling. She also has to be more organized about scheduling the slaughter than just gathering the neighbours when everyone has time. She has to plan for the inspector to be there.
Campbell was pleased. "It turned out not to be too bad," she said.
The scale of her facility was recognized, as well as the fact that it is a closed operation - like most small farmers, the Campbells only slaughter animals from their own farm.
She considers herself lucky. Most of the changes are cosmetic, not structural, but her parents, who built the slaughterhouse in the 1950s, had the benefit of good advice from a professional butcher.
"It wouldn't be an outrageous expense to build a slaughterhouse like ours," she said.
'U-Kill operations'
But with the meat inspection legislation encompassing everything from rabbits, ducks, chickens and turkeys, the solution for Campbell will not work for everyone.
"That's not going to help the guy in Kitimat with 14 turkeys," says Richardson. Nor will it help the 4-H club at the Bulkley Valley Fall Fair who sell 40 steers by auction to local consumers.
Others are concerned about what the may mean to their farm status. If they aren't able to raise and slaughter chickens for sale, they'll not only lose income, but land tax breaks as well.
Sending animals to a large slaughterhouse is not a favoured option, for many farmers who don't want to see their animals pumped with antibiotics and finished with grain in what they consider to be an unhealthy environment. Not to mention that, in a facility handling 5,000 head of cattle a day, who's to say whether the farmer would get their own cut and wrapped carcass back.
Richardson says the government is going to have to find some way to accommodate small farmers.
Some have suggested U-Kill operations where the consumer buys the animal live and kills it on the small farm. Others say a government-backed facility or a portable slaughterhouse could be the way to go. There is talk of a $3 million dollar meat co-op in the Smithers/Telkwa area, but with less than a year left before the interim period is over, construction hasn't yet begun.
"The cows are pregnant and they're going to have calves next year. Things can't stop," says Richardson who has been asked to submit his own ideas about how to bring some form of control on farm gate sales to the government's attention.
Heather Ramsay, based in Queen Charlotte City, is a contributing editor to The Tyee.