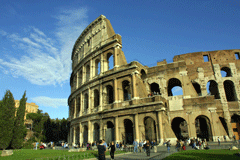 Hello from Rome. In view of the security situation in Canada, I have deemed it best that I leave the country. I'll be touring Italy for the next five weeks, with a side trip to Istanbul. Please forgive my cowardice. I sincerely hope that our nation will survive this latest terrorist threat. If not, please forward my stuff. Best of luck to all of you.
Hey, Rome's no picnic either. I'm only days into my journey, and already I face bankruptcy. As usual here, I've been on a shopping spree, equipping myself with the latest Italian togs, sure to earn me a severe beating down at the Shark Club. Hell, I may get beat up right here in Italy. I'm so fine I'm making them look bad.
Actually, a lot of Italians are taking care of that themselves. European fashion is a wonderful thing but, like a high-speed train, when it goes off the rails the results are catastrophic. Italian men are not afraid of colour. Put another way, many appear to be colour blind. Already I have seen one man with a purple-and-yellow striped tie worn over a blue-and-white striped shirt. Yesterday on Via Nazionale walked a man with a stylish haircut and glasses. His shirt was pink with abstract designs, paired with orange pants and yellow shoes. Orange pants are big here. Damn the torpedoes.
I shouldn't turn on my mentors. It was Rome that first shamed me into developing some fashion sense. Three years ago, on my first visit, I felt like a bus boy at a cocktail party as I looked around at the well-dressed locals while schlepping about in shorts and t-shirt. One day as I sat at a Roman café, I spotted two young men crossing a piazza, dressed in the casual yet classic manner that seems effortless for many European men. I imprinted on those guys like a newly hatched gosling on Mother Goose. They've been my sartorial role models ever since.
Lycra can, in fact, be too tight
Either I've become more observant or something has gone awry in the Eternal City, but these days I notice a lot more male fashion misadventures, often involving soccer gear and too-tight Lycra. Italian shoes are the best anywhere, but some of the horrors in Roman shop windows are jaw dropping. A pair of sky-blue snakeskin loafers displayed on Via Corso slithered into my brain and won't leave, no matter how many sleeping pills I swallow. And it's always possible to buy boxer shorts in the orange-white-and-green of the Italian flag, with an added touch -- the genitals of Michelangelo's David reproduced on the crotch. Seems a shame to hide these beauties inside your trousers.
Still, mistakes and misguided colour combinations aside, it's fascinating to see how differently the male identity developed over here. The North American idea that fashion and masculinity are mutually exclusive simply doesn't hold. Italian men are supposed to care about fashion.
When in Rome
Yesterday, I went shopping at a store called Empresa. Lucas, a young man with matinee idol looks and tousled shoulder-length hair, assured me that the embroidered jacket I was buying was not "too gay." (We'll see -- actually the military style is somewhat reminiscent of 80s-era Michael Jackson, a reminder that there are far worse things for a straight man than simply looking gay.)
Lucas then shared with me his own problems as a fashion-forward gay man in Rome.
His long hair, he explained, is frowned upon these days as local gays opt for more severe looks. And why are Roman gays dialling it back? Because, Lucas told me, straight Italian males are beginning to use mascara on their eyebrows, as well as other highlighting touches. Gay Italians must now stake out other territory.
European fashion, they say, is a couple of years ahead of North America. Not everything makes the trans-Atlantic journey, though. I for one will hold off on any mascara purchases. The pink-orange-and-yellow thing may not fly, either. Embroidered military jackets? Guess I'll find out. That Lucas is a helluva salesman.
Steve Burgess is The Tyee's at-large culture critic.