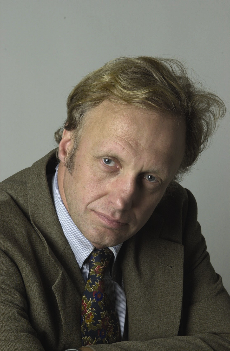 Ian Brown, the Globe & Mail feature writer and CBC radio host, came to Vancouver this week to promote his new anthology, What I Meant to Say: the Private Lives of Men. Brown put the call out asking potential contributors to write candidly about an aspect of their lives rarely expressed and to write for the female gaze.
The idea was to create a male version of Dropped Threads (the popular anthology edited by Carol Shields, written by women, about women, for women), with an aim to attract women readers.
"You say write for women and it's the equivalent of men putting on a tie, they spruce up their style, and as a result, both women and men seem to like the book," says Brown. The book covers a variety of topics from the sacred to the profane, organized by Body, Mind and Soul, all reflecting complexities in men that our current accepted male-bashing culture, intent on portraying men as inept and inadequate, would convince us aren't really there.
The essays are also fairly difficult to explain in sound bites on the radio. So when Brown appeared on Vancouver talk shows last week, he played a little bit into the stereotype of men as perpetual trollers, but somehow made them seem lovable slaves to their biological impulses. One essay, for instance, explains that a man's sense of adventure and longing waits for that moment when the store clerk's fingers rest ever so momentarily in his hand as he receives his change. Or, a man's tendency to believe that the bulbous "B," written by a waitress named Betty on the restaurant check, means her breasts are available to him. (Not all men agree, even in the book.)
The following are excerpts from a panel discussion on What I Meant to Say and on men's private lives held at the Vancouver Public Library last Wednesday night, featuring writers James MacKinnon, Paul Myers and Michael V. Smith, who at turns challenged and identified with the sentiments in the book.
On whether men are necessary
Ian Brown: "In the last 40 or 50 years, things have changed quite a bit for guys. Men are no longer the bread winners or the bosses; this has been upsetting to some of us. We no longer dominate the conversation of the world.
"Nowadays, 70% of people entering business and medical school in first year are women. Imagine what it'll be like in ten years. Seventy percent of the doctors are going to be women, 70% of the CEOs are going to be women because there's just not enough guys going into those professions anymore. Those are radical changes.
"It used to be that men committed 80% of the infidelities, well, now the recent surveys suggest that men are still slightly ahead, 51% but women are committing 49% of the infidelities. It appears to have something to do with working, the more you work, the more you travel, and the more you travel, the more you misbehave.
"Women now initiate sex, and they don't want the ordinary, they want the fancy stuff. Now, young men are so concerned about performing for women that they take Viagra. These are big changes for men who used to run the world. At the same time, all these age-old problems and dilemmas that have never changed are still there; the physical danger of being a man, of going to war, of going to work - seldom acknowledged but a real problem; the trenchant loneliness of being a man. The sense of physical pointlessness if you're not having a baby and there's no war on, what the hell do you do, exactly; the unbelievable guilt that all the men in this book seem to notice and feel; the sometimes unstoppably physical nature of male desire, which is, believe me, a problem.
On heroes
Ian Brown: "In general, men don't talk about private life because genetically, anthropologically, in our culture, for purposes of survival, the role of male is to stand with his back to the fire with the women and children behind him and to stare out into the night and to see if there is any flickering danger. Well, if you have to pay attention to what is going to bite your head off or bite your offspring's head off, you're not thinking a whole lot. You're not chatting with your neighbour. It's too dangerous to do that, it's too distracting. So, we have no vocabulary, we have not worked up a couple of sentences that would let us understand what the hell is going on with one another."
Michael V. Smith: "One of the essays talks about the cultural idea of heroes and how we give the idea of hero to our sons and then we grow up to be these failed men because we aren't heroes. The story is all about the experience of being a volunteer fireman who keeps trying to save people's lives and doesn't save any of them."
James MacKinnon: "I wouldn't be upset at all if the whole notion of hero was taken out of the male realm altogether."
On strong and silent
James MacKinnon: "If I wasn't going to be nervous then I wouldn't want to be in it. Someone talks about inner turmoil being definitive to male experience; I think it actually defines human experience. I would want to really try to drag myself into a frightening place, I don't know where that would be but that's where I would want to go."
Michael V. Smith: "I would write about alcoholism, public anonymous sex, public nudity and drag. I often say I'm a confessional artist because I think it's really important to talk about the things that make us uncomfortable."
Paul Myers: "I've discovered that there is this stereotype of "guy" which is inevitably "dumb guy" and if we resist it, we can actually get somewhere. That and I'd like to explore why so-called liberated men still feel squeamish about homosexuality."
Ian Brown: "A journalist in Toronto accused me of being too public in my essay [about why I have gone to see strippers]. He said, people think a book is a private thing. And I'm really convinced that a book is a private thing and this is why men might actually read about this stuff in this book because it feels private."
Michael V. Smith: "I think we live in a culture where we need to create more permission for ourselves."
James MacKinnon: "We do need to build a certain culture of permissiveness so we can figure out where we are on this gender spectrum rather than the two different positions. It's only through permissiveness that we can decide what our private realm is. I think it's important to decide for yourself what your privacy limits are.
Ian Brown: "While editing this book, I began to realize how frightened men are of masculinity, sometimes with good cause. I mean, it's a dangerous thing. Men are strong and powerful exoskeleton types. So we have this general fear. That is part of the reason we gravitate to privacy sometimes."
On the lit of private life
Ian Brown: "There really has not been a huge tradition of the literature of private life, written by men. Men tend to go for the bang bang, shoot 'em up, a shot rang out, somebody dies kind of thing. Whereas women, restricted in their lives as they were, were forced to write about their private lives. That's the tradition that is available to all of us. There is a slight tradition in essays of men writing about private lives; Kaiko, the ancient Japanese writer; Montaigne, Chesterton wrote about his hat blowing away -- that was a big one. Hemingway wrote about bull-fighting and his own personal relationship to it. E.B. White wrote beautiful essays about male private life. But that's pretty much it."
Carla Lucchetta is a freelance writer / associate producer Citytv's BreakfastTelevision. Her website, Her Kind is here.