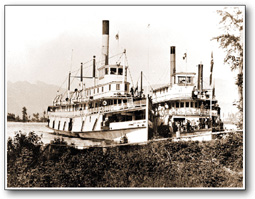 When they were very young and ambitious, my youngest son and his friend Jess Wilson used to spend a lot of time trying to dam Kuskanook Creek. They worked away in their favourite spot, a sandy bank beside the creek, winding down behind the ancient weeping willow beside the workshop where Jess's dad, my childhood friend, Alan Wilson, was hard at work, carrying on the stonework trade that his grandfather had brought from Scotland.
Mountains are odd places -- they look peaceful, timeless and very, very solid, but in fact, they are moving, ever so slightly, all the time. Over the fifty years that our family have lived along Highway 3-A, that runs beside Kootenay Lake from Creston to the Kootenay Lake Ferry, there have been washouts, floods, road slumps, and mudslides at various places, but none of them really disastrous. Then last summer, a fire started by lightning burned the mountain just above Kuskanook. Maybe that was the trigger, maybe not, we'll have to wait to find out, but the mudslide at Kuskanook has hit our small lake community hard because it has destroyed several pieces of local history, and in particular for me, a piece of my own history.
Ancient store wiped away
The old Wilson house, a small white unpretentious house where Muriel and Charlie Wilson raised their two sons, and where they lived into a hearty and ripe old age is gone. They're gone now, an odd blessing that they didn't live to see their house, their possessions of a lifetime buried under twenty feet of mud. Below them, the ancient Kuskanook store, where as kids, we used to buy stale chocolate bars from equally ancient Sam Bysouth is gone as well. It was an art gallery for a while, but it has mostly sat empty for years, a reminder of Kuskanook's glory days. Once briefly, it was the terminus of the railway, and the landing place for the sternwheelers that once plied Kootenay Lake; once, briefly, it had hotels and a church and even a school. Eventually, a fire took out most of the old buildings and the railway and the sternwheelers passed into history.
Besides the store, the beautiful new house of Paul and Diane Corriveau sits twisted and wrenched off its foundations by the force of the mud. Their workshop has slid down the hill. Alan's workshop has disappeared entirely.
On Saturday morning, when our family and various visitors woke up, our first reaction to the news was one of disbelief. We woke to a cold grey morning -- the weather had changed dramatically the night before and I had lain awake for a long time listening to rain pounding the roof of my old farmhouse; my daughter and grandson were supposed to be leaving for Vancouver after a week of happy afternoons on the beach. The power was off, but fortunately, my father has an ancient dial up phone that was still working. Our farm is fairly disaster proof; we have a generator, lamps, a gas barbecue, candles, woodstoves and freezers packed full of food. But information was what we needed.
Rumours take wing
In any disaster, rumours fly faster than birds -- we heard that there were three slides, no just two, all the houses at Kuskanook were gone, then no, just one house, no, both the Wilson houses, no just Charlie and Muriel's house. But what had happened to the people? The Proviincial Emergency Coordinator knew that the police and Provincial Emergency Program volunteers had gotten everyone out but not where they had gone or how to get in touch with them.
As the day wore on, a steady procession of boats headed down the lake to look at the slide and turn back home again. Cars and vans full of tourists, who hadn't yet heard the news roared past my house, then came back a few minutes later, frowning and driving more slowly. The gravel trucks were running by the afternoon, hauling away material from the first and much smaller slide. The power came back on and we all went to the beach and sat there in the grey afternoon, watching the creeks across the lake slide safely down Steeple Mountain.
Charlie and Muriel's house used to sit on the Main Street of Kuskanook, which was fortunate because it meant that the in the winter the snow got plowed and in summer, the gravel road got graded. Across the road, their son Alan built his own house and he and his wife Joanna raised their son and daughter there. I ran in and out of their house for coffee at least three or four times a week.
Splintered memories
Actually, I spent a lot of time in both houses. Now Alan's house is still there but empty and Charlie and Muriel's house is a mass of splintered boards. Alan didn't live to see this disaster either. He died of brain cancer two years ago.
It's hard to know how to mourn a house. It's not like losing a person -- a house is just a mass of boards and nails and concrete which can be rebuilt, but it is so many other things as well, a box of memories, a place where we shared many Christmas dinners with both our families, where Alan and I read comic books and played cowboys and Indians, a place where Charlie and I swapped stories and lore about the history of Kootenay Lake, and Muriel cooked elegrant dinners.
For now, it's enough to know that everyone is okay. The stories of the slide are still swirling around the community: who was where, who did what, how various people got out, the heroism of the provincial rescue people. That night my Dad and I talked about our own creek, and how safe it night be. There are the remains of another huge slide just a half kilometre south of our farm.
It will take a while for the necessary information about why this happened to filter out; for the necessary compensation to be sorted and for people to decide what to do. For now, we're still waiting the road to open, watching our supplies of necessities like milk and bread, and wondering when we'll need to get to a store.
The trees and brush will grow up over the slide and in a few years, most people will forget except for those of us locals who have lived here a long time, who have watched the creeks rise and fall again, and who know that however solid and peaceful things are looking, mountains are never places to take for granted.
Luanne Armstrong lives, writes and farms in Kuskanook. She teaches Creative Writing at the College of the Rockies.