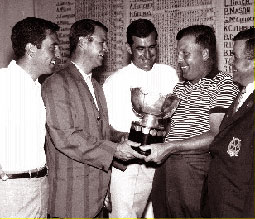 What ever happened to guys like Gil, Bud, Hank and Merv?
You probably knew one of them, or met one of them at work. If you ever stopped into a construction trailer on a job site, Gil was always the one behind a desk, buying materials. Or getting the bulldozer over here before Monday.
They were never the foreman, never the worker, always the guy that ordered stuff or coordinated stuff.
These guys, why, they invented "personable."
Hank, Bud, Gil. Always personable and direct. Never salesmen, they were buyers. They'd buy stuff and get the best deal. Usually by being personable.
"Why Charlie, I know you can sharpen your pencil and cut me deal on 20 pallets of mix for this job."
Merv invented personable, Hank invented the wink.
Gil, Bud, Hank and Merv. Maybe you knew an Earl.
It always seemed to me like they modeled themselves a little after John Wayne. They way they smoked, the way they chuckled that smokers-chuckle, the way they had that twinkle in their eye when they told a good joke. Merv was always a great joke teller.
Those kind of guys, they were always in their 50s. Never 40. Never 60. Fifty. Fifty-odd.
"Why I just turned 53, gonna go out for some drinks with the wife and celebrate at the steakhouse."
"Last year, I had just turned 57 when I got that new Buick. Goes like a rocket."
Hard liquor only
They always drove a Buick or Merc. Usually a station-wagon. Usually had a fold-out bar in the back. Tailgate party when they would go hunting or fishing.
Hank, Buck, Merv, Bud or Earle always were married to wives named after flowers: Ivy, Violet, Rose, Iris, Daisy, Dahlia, Flora, Lily.
"Hank and Lily come over sometimes for drinks with Dahlia and I."
"Camellia and I took the speedboat out on the lake."
Lily and Hank. Iris and Merv. Violet and Bud.
They'd always have you over for Sunday dinner. You'd arrive about 4 o'clock and have a drink. Never wine. Always some hard liquor like scotch or rum or gin or vodka. Beer was for camping or after cutting the lawn. Beer was not a "drink." Drinks were served before dinner to break the ice.
Merv would show you his new Merc' station-wagon with wood trim. Then he'd show you his new fishing rod and lure and maybe wander into the rec room where a stuffed and mounted Marlin would be centre of the room ... and centre of discussion.
"Sure is a beaut."
"Yup. Sure is. Iris and I were down in Florida with Violet and Hank. We rented a boat and I caught that fellah."
The ice would tinkle in his glass of scotch. The cigarette would perch in his fingers and his eyes would twinkle when he laughed.
Then he'd take you aside and show you the slightly tacky but really expensive flower vase that he'd bought for Iris when they were down in Florida. "Iris was pleased as punch when I bought that for her. It means a lot to her."
Where do I join?
If Iris and Merv had kids, the girls would always be named after the months. June. April. The boys would always be named after cowboys. Jesse. Buck.
Every once in a while now you come across one. Not often. Not as often as you used to.
Usually by the swimming pool of a Holiday Inn when you're traveling. Daisy will be swimming, Earl will be sitting in the recliner, scotch in one hand, smoke in the other. Smiling and shooting the breeze. Happy to talk with you, find out where you're from.
"'Zat right? We once had a job up there. Nice town. Nice fishing."
I miss those guys.
I was fortunate enough to have worked with or around guys like that. I knew Bud. I worked with Gil. I worked with Merv. Once sat in the construction trailer while Earl cut a deal on some plywood.
You know, I think I could be one. I'd like that. To buy a Merc' station-wagon, find a lady like Ivy. Or Iris. Settle down to a house, not quite in the suburbs, not quite in the country. Wood paneling in the rec room. A Marlin there on the wall.
Do they still make Brylcreem?
I'm gonna take up smoking. Stop drinking wine. Just buy scotch, rum, vodka and gin. Work on that nose by drinking. Work on that wink. Work on perching a smoke on my fingers. Get that smoke to perch there like a budgie all day while I buy stuff over the phone.
I can do that. Being in my 40s, it's something to shoot for. I can work the desk, work the phones and be personable. I can get Charlie or Barney over at Mainland Supply to cut me a deal on 20 feet of roofing material. Why, I can sweet-talk Ernie over at Fairview Cement to cut me a deal on 500 yards of paving stones.
We went fishing last weekend, Charlene and Ernie, Rose and Bud, Ivy and Hank. Took the boat out and caught some trout. Ernie's a good guy. Yup, gonna phone up Ernie and twist his arm on that pallet of mix.
Barry Warne is a writer who works at the School of Journalism at UBC.