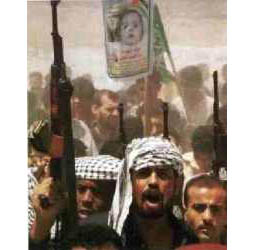 Shuk-shuk-shuk-shuKUH! Forty kilograms of bananas rain onto my shoulder. My knees buckle slightly and as I turn toward the trailers, I look back to see Wisam standing there, grinning.

"Tell Talat he's a hamaar (donkey)," he says.

Dutifully, I carry bananas and message over to the trailers and relay the tallyman's insult.

Talat laughs. "Call him a weld al kelb (son of a bitch)." He breaks off a banana and throws it deep into the rows of trees, where Wisam waits. Often, Wisam ducks behind a tree or slices through the banana with his scythe. Today, he destroys it with a precision kick.

It's hot today, around 35 degrees. Neither the Mediterranean breeze coming in from the west, nor the hills dividing Israel from Lebanon to the north are doing much to cool us down. We are working on the Hanita kibbutz's banana farm. There are maybe a dozen of us; volunteers, kibbutzim, and Palestinians, of which Wisam is one.

The Palestinians are paid by the kibbutz to come in each day from their village to work on the fields. They do the same work as we volunteers: hauling bananas, removing rotten ones, counting trees. I think they work just as hard as everyone else, and goof off just as much as everyone else. Others disagree, referring to the Palestinians as "lazy cunts," or worse.

Not Wisam. Although quick to laugh, he knows how to work, too. It is reflected in his martial arts training. He is a karate black belt who teaches his skills to Palestinian children, helping them learn to fight intelligently, and, I hope, wisely. Wisam is a recent university graduate who speaks three languages well, and is bright and personable. Yet here he is, working for a minimal wage on an Israeli farm.

He betrays no anger over this situation, and even has Israeli friends.

Religion and ecstasy

When we come back to work one morning after a holiday weekend, Wisam asks me how I spent the time. I return the question and he grins, dark eyes peering out from beneath his red and blue baseball cap. "It was great!"

He goes on to describe a party he'd attended at another kibbutz, where the sun was shining, there was a pool, and best of all, the drugs were good. He'd spent the rest of the day basking in the sun, high as a kite flown from another kite, a Palestinian doing ecstasy with Israelis.

Wisam is wiry, short, clean-shaven and dark-skinned. On his arm is a tattoo of a strikingly European face of Jesus bearing his crown of thorns. That Wisam is a Palestinian Christian may account in part for his ability to get along with Jews. He once explained to me that things are easier in Israel for Palestinian Christians than for their Muslim counterparts. It is a difficult situation, though. Any rapprochement between the Jews and Palestinian Christians seems like co-option to Palestinian Muslims. This means that it is hard for Wisam to belong even to a group that finds it difficult to belong.

Wisam's boss is Victor. The unshaven fat man is never without a cigar perched between his lips, through which he pushes frequent, enormous belches.

What Wisnam and Victor have in common is that both are strangers in this country. One of them was born in Israel, but is an outsider by virtue of his ethnicity; the other is a Swiss émigré and converted Jew who moved to the kibbutz to raise a family. One of them gets to be the banana boss, making the decisions that determine the life of the other. If it frustrates Wisam, he never lets me see it. In fact, the two seem to like and respect each other.

That it frustrates the other Palestinian workers is undeniable. Several mornings at breakfast, our peaceful routine of avocado scraping and egg tapping is interrupted by the Arabic-accented Hebrew shouts of the eldest Palestinian. When I ask someone what the yelling is about, I learn that the Palestinians are upset because Victor is planning to bring in Thai guest workers to work in the fields. Victor feels he must do this because volunteer numbers are declining, and the Thais are cheaper than the Palestinians. The Arabs are not fools, and they see where this will lead. The final act of protest I see before leaving the kibbutz is a boycott of the end-of-season barbecue, which deprives me of the chance to say goodbye to Wisam.

'Independence' and 'catastrophe'

Instead, my last memory of him becomes a conversation we had shortly after his ecstasy trip at the holiday party.

The name and meaning of this particular holiday depends on who you ask. To Victor, it is Yom Haatzmaut, or "independence day." On April 29th, the eve of the holiday for Israelis, Victor takes the volunteers to a memorial to the Israeli pioneers who founded the kibbutz in 1938, ten years before Israel became a country. He speaks movingly of the hardships faced by these early settlers.

To Wisam, the holiday is al-Naqba, or "day of catastrophe," the anniversary of the 1948 Palestinian diaspora. Although calendar differences mean that al-Naqba takes place two weeks later than Yom Haatzmaut this year, the holidays commemorate the same day in history.

This year's anniversary does indeed prove catastrophic for the Palestinians. Yasser Arafat, the political and spiritual leader of the nation's Palestinians, has called for May 14 to be a "day of mourning." Mass demonstrations take place, and ultimately give way to violence and rioting. Five Palestinians are killed and about 200 injured, the first deaths of the second intefadah.

Although I know it is a touchy subject, I ask Wisam days afterward if he thinks there will ever be peace between Palestine and Israel. His grim-faced response is "They say there's gonna be peace, but I don't believe it."

He pauses.

"I believe in war."

The only way for Palestinians and Israelis to ever get along, he explains, is for them to fight until they can't fight anymore-until the cost is finally so high that one or both sides stops and says "enough."

It was disappointing to hear someone I respected say something so terrible.

It was also 1998, and Wisam's solution had only then truly begun in earnest.


Jeremy Keehn keehn@interchange.ubc.ca is a Vancouver-based journalist who contributes regularly to The Tyee.