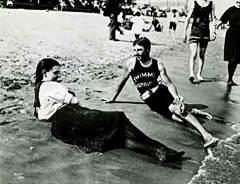 This article is 500 words long. Now imagine trying to squeeze genius into the same space. That's the challenge set by the 4th annual Geist Literal Literary Postcard Contest which the Vancouver-based magazine describes as "the writing contest whose name is almost as long as the entries."
Stephen Osborne likes playing around with literary genres. Back in the late 1970s when Geist was still just a twinkle in his eye, Osborne was part of a group that kicked off the three-day novel competition. If Voltaire and Kerouac wrote classics in such a short time, the thinking went, why not see what others could do?
But when one of Osborne's Geist editors suggested a contest for super-short stories related to an accompanying postcard, he admits he was a bit reluctant.
"I thought it was a little goofy, not much more than a gimmick," he told the Tyee, adding he worried there would not be enough quality entries to publish.
As it turned out, the idea produced 10 times the percentage of quality stories Geist usually expects from its calls for submissions. Osborne credits the actual postcards both for this success rate and for setting the resulting stories apart from the "flash fiction" he sees in other Canadian literary magazines.
"The writers are able to write a lot more clearly and with more definition because there's a certain amount of form involved," he said. "They've got something to focus on."
In addition to writing and editing, Osborne is also a teacher and he thinks the contest's format is an ideal tool for helping new writers overcome some of their more laborious style traits.
"People are less encumbered with literariness," he said. "Their voice is more sparkly."
One such young writer is Rachel Knudsen whose How to Enter the Ocean was a prize winner in last year's competition. Accompanying an early 20th century black-and-white postcard of a young couple lounging on a beach, her story tells of the changes undergone by a teenaged girl after a summertime fling with a lifeguard.
Knudsen's entry was fiction -- the contest is also open to non-fiction works -- but she drew on her own experience of a recently ended relationship for inspiration.
"For some reason, the little postcard story helped me to understand what had happened," said Knudsen, who works as a documentary film writer in Vancouver.
She acknowledged that a format that is so unforgiving of any "flab" can be tough but she likes the challenge of making every single word count. In fact, her entry used up less than half of the permitted total, clocking in at just over 200 words.
"It's hard but also really enjoyable to try to get that little nutshell of someone's experience," she said.
A bit shy about speaking as an expert on writing, Knudsen kept it simple when asked what advice she had for this year's hopefuls.
"Just submit," she said. "Don't hesitate to send something in."
The 4th annual Geist Literal Literary Postcard Story Contest is open and accepting submissions now. For more information visit: http://www.geist.com/postcard-contest.php. Winners will be published in both Geist magazine and The Tyee.
Related Tyee stories:
Summer Reading
Short summer reads from Geist and The Tyee.
Six Deaths
First in a series of short summer reads from Geist and The Tyee.