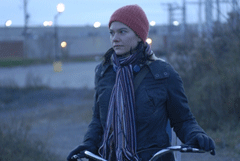 Canada's Top 10
kicked off in Vancouver at the Pacific Cinémathèque on Feb. 13th with a presentation about David Cronenberg and his brood of films. The 10 films are chosen by an expert panel to be the best this country produced this year. If you missed the opener, don't worry. There will be plenty more, including Cronenberg's Eastern Promises, Denys Arcand's Days of Darkness (L'Âge des Ténèbres), Richie Mehta's Amal, Peter Raymont's A Promise to the Dead: The Exile Journey of Ariel Dorfman, Bruce McDonald's The Tracey Fragments, Martin Gero's Young People Fucking, and a whole mess of shorts including I Met the Walrus and Madame Tutli-Pulti, both nominated for Academy Awards this year. The films run until Feb. 22nd and are an embarrassment of riches.
Tucked in amongst the more splashy offerings -- a bucked naked Viggo and the f-word -- is a quiet gem of a film from a young director named Stéphane Lafleur. Continental, a Film Without Guns, or in the other official language Continental, un Film sans Fusil, picked up the Best Canadian First Feature Film award at the Toronto Film Festival and the Borsos prize at the Whistler Film Festival. It's not hard to see why; the film has a peculiar power, part sadness, part whimsy, and something deeply mysterious. It is also almost insanely Canadian; no guns needed. When Stéphane Lafleur spoke a little bit about his film at the Whistler Film Festival, he seemed very much like the film he'd made, wandering, discursive, but deeply charming in an idiosyncratic fashion.
Walk in the woods
Continental begins with a businessman named Paul falling asleep on a city bus. When he wakes up, he's alone on a side of a dark road. He gets off the bus and edges slowly across the road into the woods, seemingly drawn by the busy teeming darkness, thick with the sound of birds and the mysterious rustle of the forest at night. Paul walks into the trees and disappears, and in so doing sets off a series of random points of connection between four different people.
The noisome life of the woods that draws Paul in stands in stark counterpoint to the lives being lead by the film's other protagonists, a group that includes Louis (Réal Bossé), a young man who is hired to replace the missing Paul at the insurance company where he worked. Louis takes up residence at a hotel where Chantal (Fanny Mallette), works as night clerk. Just down the street is Marcel (Gilbert Sicotte), an aging storekeeper, recently split up with his wife and seemingly in the midst of midlife crisis. When he's told he has the option of very expensive dental surgery or dentures (much cheaper), Marcel sets off to resume his gambling career to raise some cash.
In a colourless urban setting, populated by cement block buildings, stores going out of business, and bland hotels, these characters exist in state of suspended animation, like somnambulists, drifting through life, not fully awake nor asleep.
'Men disappear'
Meanwhile, Paul's wife Lucette (Marie-Ginette Guay) is trying to cope with his sudden disappearance. "Men disappear when they want to start something new," is what the police tell her, but she's having none of that. Despite being pole axed by grief and confusion, Lucette busies herself by putting up posters offering a reward for information about her missing husband, putting away his things and trying to get on with her life. She even goes out one night to a dance where they perform the continental; a dance where everyone stands in a line but no one actually touches.
But every so often her phone rings and on the line is the sound of the dark forest. Whether these strange phone calls are messages from her missing husband or something infinitely more mysterious, they provide a sense that outside the grey confines of daily life is something else, something weirder, wilder and filled with eager energy. Suddenly Paul's disappearance begins to make a great deal more sense, anything would be better than the bleak anomie of contemporary life.
Continental is truly a film of moments strung loosely together, but this isn't necessarily a problem. At the heart of the story is the unacceptable fact of loss, the idea that something that once was, is now gone, leaving a hole in space that practically hums. Every character is coping with its effects; Lucette simply more literally than the others. Whether it's youth that is missing in the case of Marcel, or in Louis's experience, purpose, the most deeply sad of all of these is Chantal, a woman so desperately lonely that she leaves messages for herself on her answering machine and calls the Jiffy Popcorn comments line just to hear a human voice. Love is gone and nothing can take its place.
Every night Chantal rides home to her small apartment, the empty child seat on the back of her bike like the haunted remains of a previous life. Or perhaps, a life that never happened. When the affinity between Chantal and Louis begins to slowly develop (she gives him his wake up calls at the hotel), it seems as gossamer and fragile as new life, like the green fuse of a flower. You can't help but hold your breath when they speak to one another.
Funny thing, random chance
Human frailty, sad vanity and loss aren't the happiest of subjects, but there is a great deal of humour in Continental, whether it's the middle-aged couple at the hotel who try to invite Louis into their sex life, Lucette setting Paul's stuff on fire in her backyard BBQ, or Chantal accidentally (or maybe not) dropping a small baby on its head at a party.
These fragments of weird human behavior and curious sly moments, as affecting as they are strange, stick with you building a sense of a world that is governed not just by caprice but something more purposeful. Slowly the connections between each character begin to emerge, random points of intersection that give rise to more meaningful interaction.
When Chantal's answering machine (upon which she has surreptitiously recorded Louis's voice) breaks down, she takes it to Marcelle's decrepit store to be fixed. Real human contact happens accidentally, it slips in sideways, as when Marcelle answers Lucette's missing person ad and gives her false information about her husband in order to claim the reward money. But somehow even this duplicity has an edge of sweet surprise, as Lucette ends up following the same path that claimed the missing Paul.
Love is the most mysterious connection there is, a point made quietly and subtly in the film's final moments when Louis and Chantal meet for the last time. Lying on single beds, separated by a few feet of space, they are still somehow deeply together, two souls conjoined. Continental: A Film Without Guns is beautiful in a way that you didn't expect. Much like life, it may appear to be random, but there are patterns, curiosities and ultimately meaning.
Related Tyee stories: