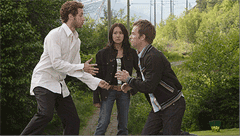 Many famous filmmakers have been inspired by the cities in which they find themselves. Examples abound: Roberto Rossellini's Rome, Open City, much of Woody Allen's best stuff, the early work of Martin Scorsese, Wim Wenders' Berlin, and so on. To the list of major metropolises that have taken a star turn (London, San Francisco, New York, Paris), you can now add Vancouver.
Writer Douglas Coupland and director Paul Fox's film, Everything's Gone Green, and Roger Evan Larry and Sandra Tomc's thriller, Crossing, (both opening on Friday) share the same turf, but they're on opposite sides of the city -- and in this case, East Vancouver meets, and beats the crap out of, West Vancouver.
West Van is where Douglas Coupland grew to manhood, and his unique mix of ennui and entitlement informs much of the underlying ethos of Everything's Gone Green. The central character of Ryan (Paulo Costanzo) is a familiar type: the young man trying to find his way in the mean old world. What does he really want other than a hot and suitably quirky girlfriend and a little freedom? Not that much, apparently. After getting canned from his microserf job, Ryan starts work for a lottery magazine and falls down the rabbit hole of local scams. Seems like everybody is on the make in this town. All of Ryan's family and friends are working some sad little scheme: his brother is a real estate scammer and his best friend -- a Ross Rebagliati type -- has his own undercover operation. Even his hapless parents are flailing madly about trying to find anything that will keep them in the style to which they are accustomed. Vancouver is one big fake out. And behind the post-card scenery, it's all a scam, a hustle. There's only a cheap city that whores itself out as a body double for LA, all the while maintaining it's still a world-class centre. The truth seems to be that many people are living on borrowed money, and hiding grow-ops in the basement.
Pretty doppleganger
"Pretty but shallow" is often a complaint about Vancouver, and Everything's Gone Green suffers from the same problem. It's photographed well and Vancouver certainly looks lovely, but Coupland and Fox could have done far more than merely scratch at this surface. The film is like a kitten batting its velvet paws at something: it's more cute than sharp, and ultimately there is little sting.
The observations that might have vaulted the story into something more than another coming-of-age angst tale never really materialize, and any effort to capture the ineffable character of the place and its citizens sputters out. The people are simply Vancouver "types" whether they're slacker potheads, cute Chinese grannies or greedy real estate hustlers. Surface is all you get.
If pretense, however, is the underlying thematic idea, then maybe that's the point. In the same way that Vancouver dwellers try to figure out who they are and who they ought to become, the film itself turns in circles. There is a void here, some cold spot at the heart of things that keeps you from really feeling much of anything: no love, no hate, mild annoyance tempered with even milder affection, which is actually what Vancouver makes me feel. So if that's what Coupland was after, he succeeded.
Crossing is also set in the 'Couv, but this film has a very different take on the city. Beneath the pretty surface, there beats a pervy heart. When we first meet Daniel Cimmerman, the film's central character, he's eyeballing a beautiful woman walking down the street. But it's not the woman that draws his eye, as much as her scarlet stilettos. Daniel has a job as a banker, a lovely young fiancée and a rather large secret. When he returns to his home to see his dying father, he assumes the lead role in his family's low-rent crime syndicate. With the words of his dead daddy, "Don't die ashamed," ringing in his pretty ears, Daniel sets out to buy a thin wash of respectability by blackmailing a banking executive who has a gambling habit. Seems everyone in Vancouver has a secret they're trying very hard to keep. The deal goes sour when Daniel is jumped, and then humped in a back alley by two hired hoods.
Mean Vancouver
One toughie played by Bif Naked (a name that always makes me think of frat boys and outhouses) is a transvestite thug with a port-wine stain, and the biggest blackest Elvis pompadour this side of Vegas. In the midst of roughing Daniel up, he/she calls him Jennifer, and makes him talk about how much he likes silky stockings. To Daniel's seeming surprise, he likes this. Herein things get really twisty. A stripper named Davina (Crystal Bublé) is hired by an evil pimp mastermind called Uncle Bunny (who looks eerily like Brian Wilson in his bedtime days) to get the dirt on Daniel, which she does, with bells on, or more literally, frilly panties. It's his desire to wear girly things that proves Daniel's downfall (isn't that always the way?). But in coming undone, Daniel discovers his true self, and ultimately accepts his own inner feminine. If you want to take like a girl, then have the balls to say so, seems to be the final statement.
Crossing is not without some problems, namely bad sound in spots, and gangsters with accents that are a tad on the hysterical side. Example: "You theeenk you have pot to peeeess in if I don't say so!" But the sex is actually surprisingly erotic, and Sebastian Spence brings a silky reptilian charm to the role of Daniel.
This is a decidedly different version of Vancouver, although it is shot in some very familiar environs. The Dominion Tower stands in as the bad guy's hideout, the Downtown Eastside plays itself, and even The Emily Carr Institute of Art and Design gets a little nod. Crossing is like East Vancouver, maybe even Surrey, or New West in character: it's scruffy, uneven and gonzo nutty in places, but it has a certain charm, especially in the more outré exchanges between Daniel and his hooker girlfriend.
The film makes good use of typical gangster motifs (the double cross, the whore with a heart of gold, the old "Kiss Kiss Bang Bang") but in its quieter introspective moments, there is a glimpse of something more interesting. Daniel and Davina's pillow talk about growing up in Vancouver is one of the most engaging scenes in the entire film. All the neo-noir trappings fall away, as the pair exchanges their life stories. It reminded me of old school Vancouver, a time when East Van was still the mean streets, and West Vancouver wasn't even on the map. I miss that place, but it is rapidly disappearing. This erasure of place, that Coupland celebrates, is the same one that Fred Hertzog's photos capture, a time when the city was just itself, and wasn't trying to be someplace else.
Alphabetville hits Vancouver
"Nothing is as distant as the recent past," someone once said, and in Vancouver, that notion is amply clear. But what will we do when we don't have the Downtown Eastside to click our tongues over any longer? No rough colour, no more setting for noir at all. It may be akin to what happened to New York after the big clean up when Alphabetville morphed into loft apartments, and the Meatpacking District turned into restaurants and lounges. Some New Yorkers still bemoan the loss of their hard dirty city and the good old days of junkie transvestite sex workers, muggings and Times Square sleaze, while others took the money they made on real estate and moved to the Hamptons. Coincidentally enough, both Crossing and Everything's Gone Green end with their protagonists leaving Vancouver, Daniel and Davina in a getaway car that looks to be straight out of 1975. People change, and cities change; you either accept it, or you move on.
But in our upwardly mobile quest for title of world-class city, have we lost our funky, pervy real heart? The new Vancouver is a city, at least in Coupland's vision, that is constantly reinventing itself and playing strange games of dress-up play-acting. If you pretend long and hard enough, you might convince yourself and everyone around you that reality and fiction are one. It works for a while, but as Daniel learns in Crossing, you can only deny your true nature for so long. The frilly panties will eventually tell.
Related Tyee stories: