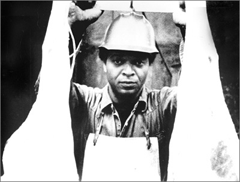 It's a neat trick for a film to be over-hyped and ignored simultaneously. Killer of Sheep pulled it off, creeping quietly into the Vancouver Film Centre Theatre this week to play for rows of empty seats (it concludes Thursday). Yet this 1977 student film from American director Charles Burnett also arrived trailing glory, including a 2002 designation by the National Society of Film Critics as one of the 100 essential movies of all time. Lost for years in legal wrangling over the soundtrack rights, Killer of Sheep has finally reemerged to tour the art houses.
Too bad it has to drag the weight of being on the essential 100 list. Killer of Sheep is a modest, poetic meditation on hopelessness in the inner city. It's unlikely to make your own all-time favourites list, but those who are serious about film may find Killer of Sheep quietly compelling.
Set in L.A.'s Watts district, Killer of Sheep is essentially plotless, a series of sad, funny vignettes in black and white. The movie opens with a tight-focus shot of a young man being scolded and slapped by his drunken father, apparently for not standing up for his little brother in a scuffle. The young man is not the central figure of the film, and the incident is never referred to again. In this odd way Burnett sets the tone right off the bat. Killer of Sheep is about a place and time and nothing in particular.
Apex of loungewear
For the most part the film centres on Stan (Henry Gale Sanders) and his attractive, frustrated wife (Kaycee Moore). Stan works at a local slaughterhouse. He's got plans, though they're not exactly big. Putting a new engine in an old car is pretty much top of the list.
Incidents that would kick-start plots in other movies come and go here with barely a ripple. Stan is visited by two thug friends who want to involve him in some sort of felony. Stan's wife runs them off. Nothing more comes of it. Life, such as it is, goes on.
The big plan to acquire the new engine goes sadly, stupidly awry, but only after we've met a roomful of losers and seen a truly spectacular example of 1976 loungewear.
Kids play in streets and vacant lots. Games include throwing rocks at each other, lying under train wheels, and jumping from roof to roof along rows of houses. There are no horrified shrieks from parents. Nobody gets hurt. (I didn't grow up in inner city L.A., but these scenes brought back plenty of memories of a less structured, less paranoid age when my friends and I held serious dirtball fights in the fields and did dangerous things around construction sites.)
Starring role for jazz
The soundtrack that prevented Killer of Sheep from being released until now was worth the fight. Dinah Washington sings "This Bitter Earth" while Stan and his wife dance -- and after an indifferent Stan leaves her aching. Louis Armstrong's classic "West End Blues" toodles along during a big racetrack outing that goes predictably off-course (inspiring one character to demonstrate the street roots of rap music circa 1976).
Director Charles Burnett has not gone on to a stellar career -- 1990's To Sleep With Anger is probably his best-known work aside from this. The acclaim surrounding the re-release of Killer of Sheep may help revive his career. For audiences though, it's almost a shame that the movie has been so hailed. Killer of Sheep is best appreciated as a small cinematic poem. If you live near Vancouver, you have a couple of days left to catch it.
Related Tyee stories: