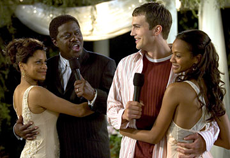 Is there anyone whiter than Ashton Kutcher? I don't just mean in the pigment category, I mean in the more ephemeral quality of whiteness meaning white bread, Casper, cracker, birdshit. The boy is white in the worst way possible, he's wiener white.
Kutcher is the star of Guess Who, the sort-of remake of Guess Who's Coming to Dinner? -- the 1967 film with Katharine Hepburn, Spencer Tracy and Sidney Poitier -- which asked whether race mattered. In 1967, the answer was an unqualified yes, and in 2005, the answer is still, an only slightly less qualified, yes. Simon Green (Ashton Kutcher) and Teresa Jones (Zoë Saldaña) are young lovelies in love who visit her parents on the weekend they're celebrating their 25th wedding anniversary. The parents, Percy and Marilyn Jones (Bernie Mac and Judith Scott), are staging an elaborate party, complete with a metrosexual party planner, and fireworks of every variety: explosive and emotional. Enter the whitebread and watch Daddy's eyes begin to pinwheel.
Bernie Mac (playing the Spencer Tracy role) follows in the Bill Cosby school of big house, nice kids and father knows best. The film is almost a carbon copy of Meet the Parents, complete with doltish boyfriend who tells ridiculous lies and gets caught, an over-protective father, and a stiff car ride with musical accompaniment. It all feels a little too familiar, which is why one scene in particular jumps out. At a family dinner, Percy Jones coerces Simon into telling black jokes like: why don't black people like country music? Because every time they hear the words Ho Down! they think someone shot their sister. hahahaha. Simon's jokes get a few laughs, but when he goes too far, the ugly undercurrents reach up and bite him right on his flat white ass. The scene is the only one that actually demands any attention. It strips away the comedy for a moment and makes you realize that beneath the humour is something unsettled and unresolved -- the writhing bag of snakes that is American history.
Screenwriter William Rose, who penned the original Guess Who's Coming to Dinner, is co-credited with the screenplay for the remake, so it's interesting to see what has changed and what hasn't. Certainly the positions are reversed. Mac is the man, big house, big car, and money enough. But when his little girl brings home a big white dork, you can understand his dismay. He sets out to undermine the boy, and the joke is that racism, reverse or otherwise, is for everyone.
A too smoothed Rock
Vancouver writer Wayde Compton, who is black and the author of Performance Bond remembers the original film less than reverently. "I've rarely seen two leads with less on-screen chemistry between them than Poitier and Houghton," he said in an email. "Poitier looks so stiff in that film, like he's half expecting that the cops are going to bust in on the shoot and take him away in handcuffs. I don't know any white women who married black men in the sixties who could possibly have been that wimpy. No, all the white women of the Civil Rights baby boom that I know -- and I know quite a few -- had moxy for days. There was no doing it otherwise. If I could go back in time to '67 and re-cast the film, it would've been Yaphet Kotto and Mamie Van Doren, a tough, big-boned leading lady. That would have been verisimilitude. And those two snogging on screen might actually have turned people on a bit, which would have made the movie's simple polemic a lot more intense." Which is a problem in this film as well, any sensible woman would take one look at Simon Green, and think "Girl, no way." The real love story, is between Simon and Percy, and it is portrayed that way, quite literally, they sleep together, they dance together, and finally they are wed together.
With visible minorities soon to surpass the majority of the population in major Canadian cities (Toronto and Vancouver), and 12 black Cardinals in the running to become the new Pope, you might think maybe race doesn't matter anymore. And maybe you're right. It's certainly no longer marginalized in quite the same way in Hollywood circles. It's been almost 20 years since Robert Townsend produced Hollywood Shuffle (1987) through the creative use of credit cards, but in some ways, the film is still relevant. Bankable Hollywood stars like Denzel Washington, Will Smith, Bernie Mac, even Ice Cube, having put his NWA days behind him, have made the domesticated black man a family favorite. Are We There Yet? made buckets of cash for Ice Cube, who went straight outta Compton right into the suburbs.
This is not a new trend, almost every male black lead has done something similar, including Bernie Mac, who is ostensibly the star of Guess Who. It is interesting that Mr. Mac has been so tamed since his days as one of the Original Kings of Comedy (Spike Lee's documentary about the comedy concert tour). The film also featured Cedric the Entertainer and Steve Harvey, both of whom have had success with more benign renditions of their onstage shtick, but it's Mr. Mac who is perhaps most changed. His stand up material was the least family friendly (with a long bit on the multiple uses of the word motherfucker). But play nice is its own faustian bargain, as Chris Rock found out when he was chosen to host the Oscars this year. People thought things might get interesting, but Rock was so neutered he might as well have been a black Ken doll, with a smooth plastic bump where his funny business had been.
Whiney whities
Race is a tricky subject, and hence it is one that filmmakers return to time and again, whether it's a comedy (White Chicks) or tragedy (O). Race relations also take center stage in Neil LaButes's new play This is How it Goes with Ben Stiller, who returns to his home town to visit an old girlfriend who has married a prominent black businessman. The play revisits the Othello story, but like most of LaBute's work its central premise is that men are creepy, whatever colour they are. This is also the lesson that Guess Who offers up. Black or white, men are liars and fools, as their women folk are only too glad to point out.
Male failings are what largely preoccupy the women of The Beauty Shop, a spin-off of Ice Cube's successful Barber Shop series, in which he both produced and starred. Like the Original Queens of Comedy, it is the female version of the male original. And female is it. When not obsessing over their hair, these girls are dissing men, up, down and sideways.
When the film opens Gina (Queen Latifah) has moved to Chicago so that her daughter can attend music school, dad is dead, and mother-in-law is trying to control an out of control teen (played Keshia Knight Pulliam who was once upon a time Rudy in the Cosby show). Now she's just plain rude, with pants down to her burning bush, as her mama says. Gina makes her money tending the tresses of rich white women played by Andie MacDowell and Mena Suvari, who, like Mr. Kutcher, are just about the wieniest whiniest whities I've ever seen. I'd rather be a sistah. And so apparently would everyone else. Gina's talent earns only spite from her egomaniacal bossman, Jorge the Austrian hair fascist who comes to his Aryan heritage by way of middle America. He informs her she is his moniker. She hears it as something else that begins with an 'n'.
The film breaks down like you'd expect with few surprises. White and black are entangled in the hairiness, but eventually the Queen reigns by getting back to her roots, haha, Roots. Get it? There isn't much to be offended by, but that hasn't stopped the message boards of IMDb from buzzing with accusations of racism of every variety
Pope of colour?
When even the whitest of white men, Woody Allen, is including a black character in his most recent film (Melinda and Melinda) perhaps the times they are a changin'. Or maybe not. There was only one Bamboozled, but there was plenty of Soul Plane, Undercover Brother, White Chicks, Friday, Barber Shop, State Property (1&2) King's Ransom, XXX: State of the Union. Even Diary of a Man Black Woman (Sic), Tyler Perry's one man industry of soul food pop culture, has become mainstream. The funniest, okay, the only funny part, of this year's Oscar telecast was Chris Rock interviewing people at the local cineplex about their favorite films. If you listened closely you could hear the rustles of unease amongst the industry professionals.
Halle Berry and Jamie Foxx may win academy awards, but so long ago, she was starring in B.A.P.S and he was doing Booty Call. It's not white audiences but more often black audiences who go to see movies that trade in what Spike Lee might call those old minstrel show stereotypes. These stereotypes are so old and so heavy that they can't be lifted all that easily. But they can be repackaged endlessly. After Neil LaBute finishes his play about race, he's set to film the screen adaptation of Dem, William Melvin Kelly's 1967 novel about a white man whose wife has a black baby.
How'd we get back to 1967 again? Perhaps, we never really left it. Even if the next pope is fact a person of colour, will he do anything different from the old white guys who preceded him? Black may be positioned as a place of resistance to the dominant hegemony. What's that? Hedge your money? They don't make movies in black and white anymore, just green all over.
Dorothy Woodend reviews films for The Tyee on Fridays.