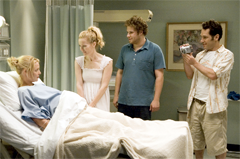 You might think filmmakers Pedro Costa and Judd Apatow would have very little in common, and you would be right, because mostly, they don't. Other than the fact that both men make films, they're worlds apart. But there are some strange links between the two, or maybe they're only linked in my brain by coincidence and proximity. I saw Apatow's film Knocked Up and then I watched a number of Costa's films, and the curious schism between the two echoed back and forth like a cosmic ping-pong ball.
The experience of seeing Knocked Up was a strange one. The theatre was sold out, and the place was packed with twittering couples and gangs of twenty-somethings. The pre-movie show was composed of more advertising than I've seen in a very long time, and sitting there, I felt saturated with images of pretty people driving around in their hybrid SUVs; ads for condominium developments (some within a few blocks of the movie theatre), and even more product pushed by good-looking couples at parties and BBQs . Everything was glossy, everything was clean and new. When the movie started, it didn't actually look that different from the slew of ads that preceded it.
If you're not familiar with the premise of Knocked Up, you could always ask Rebecca Eckler, but the gist of the story is that a young, beautiful woman, on the cusp of infotainment stardom, gets drunk one night, has sex with a schlub she barely remembers, and ends up pregnant. This odd couple decides to try and become a real couple for the sake of the kid, and the film duly documents the trial and error of their courtship. Simple, really ... so what's the problem? Maybe I simply don't trust the middle-class, but there is something deeply creepy about this film. Or maybe it's because it's a little too easy; you could almost drown in the wave of its warm fuzzies it slathers you with. It is funny, however, I will give Apatow that, but the jokes surround something disturbing. Like hiding medicine in a piece of candy, you only realize you've been slipped something when the bitterness hits the back of your throat.
Men behaving badly
Comedies seem to have taken an odd turn lately, or maybe they've just looped backwards, with a few rude jokes thrown in to make them seem hip. But when the story of Noah's Ark is played for laughs, you know something weird is going on. Knocked Up is a little more cleverly written than your average sitcom, but the same tired clichés about men and women are trotted out. Aside from the fact that the main character decides to have sex without a condom with a woman he's barely met because he thinks she asked him not to wear one, there are multiple other double-standards of behaviour. It's okay for men to take psychedelic mushrooms and run off to Las Vegas, but women who're older than 22 should stay the hell out of nightclubs. The male characters, for all their scatological, blue language, are still an inherently conservative group. The fuck-talk, bong-hits and porn bits are used to give the film a light coating of rebellion, but the morality is strictly old school. It is women's job to make men grow up, and it is men's job to buy women $1400 cribs to put babies into. The same quality was true of Apatow's previous film The 40 Year-Old Virgin, where a conservative, patriarchal interpretation of traditional morality was surrounded by a steaming loaf of raunch. It might look slightly risqué but the message remains the same: get married, stay married and buy lots of stuff.
By the end of the movie, the sanctity of marriage and the joys of family life are firmly reestablished. Our slacker pot-smoking hero leaves behind his drugged-out ways, gets a real job and a nice clean apartment. He cleans up good, and indeed, everything in the entire movie is clean. Even giving birth is clean. An insert of the baby's head crowning is supposed to be daring and real, but the shot might well have been Barbie giving birth. There is no pubic hair, no blood -- it's like a beach ball emerging from a peach. How can you make the most primal of animal activities seem plastic? Leave it to Hollywood -- they could sanitize a sewer. The film socks it to you at the end with the cutest child imaginable, the underlying message being how could you even imagine getting rid of a child so sweet? Everything gleams with good health, houses are huge, cars are enormous, women are beautiful and children are adorable moppets: it's like one long condominium ad. It's all clean, lovely, and utterly fake.
'Ugly beauty survives'
Frederick Franck writes in his book Zen Seeing, Zen Drawing: "In the decayed slums of New York, London, Brussels, an ugly beauty survives, a smelly backdrop to human life. It has vanished from the deserts of uptown "urban renewal's" sheer glass, concrete and steel cubes, celebrations of big money that rejects all Humanness."
Humanness is present in all its many forms in the films of Pedro Costa. "Pedro who?" you might ask. The serious cineastes, the people who know their stuff, have long been down with Pedro. I do not count myself among their number, I am only recently acquainted with Costa's work, but a complete retrospective of his films is screening at the Vancity Theatre in Vancouver (June 18-20, 23-25, 28). They may not come again, so if you'd like to become one of the cognoscenti, now is your chance. And if you'd like the fullest possible Pedro Costa experience, you're in luck, because on Saturday June 23rd, the films In Vanda's Room and Colossal Youth screen back to back, which is approximately 333 minutes (or five and a half hours) of film.
The totality of Mr. Costa's vision deserves to be witnessed on the big screen because his films are seriously beautiful. I use the word "seriously" with intent because they're not always easy to sit through; traditional narrative goes out the window, and there are times you might feel like screaming at the screen, "Let me out of this place!"
This is especially true in the case of In Vanda's Room, which is set in the slum of Fontainhas (on the outskirts of Lisbon). Much of the action, such as it is, takes place in a single room where two skeletal women do little more than smoke a lot of drugs and talk. Vanda and her sister Zita exist on the thinnest margins of society, a place that is being systematically dismantled, brick by brick, as their slum is razed around them. The noise of this destruction -- coupled with the babble of children, radio pop songs, TV shows, and people yelling -- forms the soundtrack for the film. And the reality presented -- drugs, blood, shit, puke, garbage, dirt, snot, fleas -- shows that even the most degraded life still has beauty, and not just a little bit, but heaps of it. In Vanda's Room won the FIPRESCI (Fédération Internationale de la Presse Cinématographique) prize "for presenting life in its near-original form." What does that actually mean you ask? There might seem to be little distinction between art and life, but art is still the most important element.
'Colossal Youth'
In Colossal Youth, the former inhabitants of Fontainhas have been relocated to an antiseptic new housing project on the outskirts of Lisbon. All the hardscrabble squalor of their slum is vanished, replaced by blinding white buildings, as austere as they are bleak. But even here, Vanda is still sitting in her room, talking loudly. She's significantly larger than she was in Costa's previous film, and she has a new daughter, but other than that, little has changed. The central character in Colossal Youth is a man named Ventura, an elderly man, who, like Charlie Chaplin's little tramp, is possessed of a curious dignity. Ventura wanders the city streets and alleyways like a ghost, ostensibly searching for his children. Whether they are genuinely his kids, is never really made clear.
Scenes unfold slowly, Ventura plays cards with one son, has dinner with another, and recites a letter based on a poem -- you begin to wonder what is the point of all this. Poverty might be the meat of Costa's film, but again that's vastly oversimplifying matters. "Don't forget" is closer to the underlying message, as the past is systematically dismantled, and there are fewer places for people to simply exist unmolested. When Ventura visits a museum, the security guard kicks him out because he doesn't belong (in many ways). Ultimately he is a displaced person, cut off by a world that has little use for human frailty or weakness.
Colossal Youth, the sort-of sequel to In Vanda's Room, presents a few of the same characters, but the tone is quite different. The crude energy of the previous film has been transmuted into something far more elegiac and formal. The final version was culled from over 320 hours of footage (some scenes took 80 different takes) and it's that level of attention, of trying very hard to see, that is the film's most important aspect. Many of the scenes look as if they were painted, not filmed. Like late Rembrandt, the film's sad worn faces are lit with beatific glow of Renaissance painting. There is a strange type of anonymity to this film, as if the personality behind the camera has utterly vanished, allowing what is depicted, to be genuinely seen, not just looked at. There's a critical difference. Watching Colossal Youth, you recognize the smell of art, the feel of it, like the sensation of the subway underneath your feet. Like some immense force moving, unseen, but felt, like vibrations, or emotion. "Art is not what expresses personality, but what overcomes it," wrote T.S. Eliot, and Costa has achieved that.
Glossy crumbling
A crumbling section of Lisbon, might seem worlds away from the high gloss of Hollywood and it is, but the people depicted in Costa's films are also engaged with family, morality and a way of life. In a 2004 lecture given to a Japanese film student, Costa stated: "I believe that today, in the cinema, when we open a door, it's always quite false, because it says to the spectator: 'Enter this film and you're going to be fine, you're going to have a good time,' and finally what you see in this genre of film is nothing other than yourself, a projection of yourself." It's not a fair comparison probably to juxtapose Costa and Apatow as filmmakers. Really, they are engaged in very different practices, but it's an interesting exercise to see such different uses of the medium, because you realize, or maybe re-realize, exactly what you're being sold. In the words of Mr. Costa, "I would say that the one thing we can't do in the cinema is be in the business of selling feelings. What do I mean by that, the business of selling feelings? Roughly speaking, it's practically all the films that are made today in America. They are trading on your feelings."
The idea of making you identify with the people onscreen, in the case of Apatow, means buying the underlying philosophy in some sense. But what is that type of sanitized fantasy world against the mucky, dirty, wrecked beauty of human decay and rebirth. It made me think of the endless ads for gleaming immaculate condominium developments peopled with laughing gorgeous models, who look around their palaces of dreams and see nothing. Wittgenstein wrote, "The mystical of the world is that it exists." Art and life might be parallel trains running beside each other, to paraphrase Mr. Costa, but sometimes all you can do with the mystery of being is to simply see it. Really see it.
Related Tyee stories: