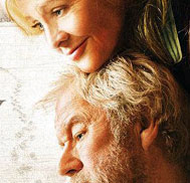 The 13th annual Victoria Independent Film and Video Festival begins today. So, if you're not already aboard a B.C. Ferry, bound for our province's capital city, what are you waiting for?
'Tis the season; the film festival season, that is. There are plenty of them crowded into the next few months -- Berlin, Rotterdam, Cannes and so on. Critics, programmers and distributors are busy sniffing out the best films in the bunch. Or sometimes just the smelliest it seems, if the recent Sundance stink over Hounddog (the film in which little Dakota Fanning is raped), or An American Crime, which detailed the 1965 torture and murder of a teenage girl, is any indication. If you're being paid to trot off to Rotterdam or Park City and watch films all day then bully for you, but for all the sound and fury surrounding the big festival events, it is sometimes the smaller ones where the spirit of the festival still lives. Or least that's what I like to tell myself.
I am Canadian!
Victoria has a splendid selection of Canadian feature films this year, beginning with Sarah Polley's directorial debut Away from Her. Really, you can't get much more Canadian than the combination of Alice Munro and Gordon Pinsent. Based on Munro's short story The Bear Came Over the Mountain, the film is the tale of Grant and Fiona (Pinsent and Julie Christie), a couple who've been married for 44 years. When Fiona becomes increasingly confused with the onset of dementia, the decision is made to place her in a long-term care facility. But that's just the bare bones of the story. The myriad details of love and marriage, loss and age are addressed in the way that only a writer of Alice Munro's ability can muster. That the film does justice to the original short story is saying something. Away From Her just finished playing at Sundance to much acclaim, so embrace your hometown Road to Avonlea girl; she done good!
The last time I saw Barry Pepper, he was crying in the middle of the Mexican desert, so it should be interesting to see him in an entirely different light, namely the thin glare of the arctic sun in Charles Martin Smith's The Snow Walker. Although this is not a new film, Mr. Pepper, along with host Vicki Gabereau will be present to answer questions after the film's screening on Saturday, Feb. 3. The intent in showing Snow Walker is part of the festival's stated mandate: "To put the spotlight on wonderful films that you might otherwise miss."
With this notion in mind, the festival is also screening animator Gilbert Taggart's film The Four Seasons. Mr. Taggart passed away recently, but was a long-time fixture in the local animation community. Other Canadian films include: Joe Moulin's Citizen Sam, Daniel O'Connor's Run Robot Run, Acts of Imagination (another first feature from Carolyn Combs), Nilesh Patel's Brocket 99: Rockin' the Country, Reg Harkema's Monkey Warfare, Ho Tam's Book of James, Patrice Sauvé's Cheech, Mike Hoolboom's Fascination (about the life and times of art star Colin Campbell), producer Camelia Frieberg's first film A Stone's Throw, and Carl Bessai's Unnatural & Accidental. Canadian horror is also well represented with Andrew Currie's Fido (which also just finished up a stint at Sundance) and director Maurice Devereaux's The End of the Line, a film that gives new meaning to the term "crazy Christians." There are also a slew of short films, or should that be slough, on offer.
Suffice to say, there are a great many Canadian films being shown, and many of them are very good. So, a celebration is in order. Let the party begin, at the Empress Hotel, no less.
Other countries, other films
If you choose to go see James Longley's documentary, Iraq in Fragments, which will make you despair of Americans, you might want to follow it up with Beyond the Call, to shore up your splintering faith in humanity. "The very best and the very worst," is how someone once described the U.S. to me, and the men in Adrian Belic's documentary fall into the former category.
The film follows three men (Ed Artis, Jim Laws and Walt Ratterman) on their round-the-world humanitarian adventures (through Knightsbridge International) as they dispense money, food and medicine to people who live in some of the most dangerous places on earth. Possessed of a stubbornness that allows them to waltz boldly into situations that more rational people would steer a wide berth around, each man is a genuine, bona fide eccentric, and as such they provide interesting examples of a certain strain of American hard-headedness. In an era when some Americans appear to love luxury more than life itself, Ed forgoes going to the dentist ("Ibuprofen is cheaper," he says), arguing that the $700 it would cost for a root canal could be better spent on rice: "Do you know how much rice you can buy for $700?"
The credo that the personal is political and vice versa is more than just cheap words here. Although some of the more complex questions about funding and politics aren't addressed, the end results are still worth witnessing simply to see Yankee ingenuity put towards a good cause. People feel powerless or unable to act in the face of history, but these men prove that even a little bit of action can have enormous results. The plainspoken, contrary cussedness of each individual reminds you of the best aspects of the American people. Tell them that it's black, and they'll insist it's white, a quality that just might be their saving grace.
Ten Canoes, Candy and 2:37 make up the Aussie film contingent at the festival, and of these three, Ten Canoes is the most lovely to look at. Cinema Aspirins & Vultures is Brazil's 2006 Academy Award entry; here is your opportunity to be well informed on the international films in contention before the big Oscar day on Feb. 25.
Films for fun
Colma is a bedroom community of San Francisco, filled with graveyards and people anxious to leave it behind. It is an unlikely place to set a musical -- there are no showgirls or flashy costumes -- but Colma: The Musical is sweet, odd and utterly charming. The film focuses on three friends: Billy, Rodel and Maribel, each mired in the past, and pining for the future. What else is there to do but sing about it! Directed by Richard Wong and written by H.P. Mendoza (who also penned the tunes and stars as Rodel), the film is a reminder that independent film can come up with some truly never-before-seen stuff. Packed solid with immensely catchy songs, and peculiar characters, Colma: The Musical feels like a fresh breeze blowing through the theatre. Another equally lovely and loopy musical adventure is Air Guitar Nation. Go and see both films; you won't be disappointed.
Orchestra Seats is director Danièle Thompson's love song to Paris. A multitude of characters meet and eat at the restaurant where a lovely young woman named Jessica (Cécile de France) works. Shades of Amelie perhaps, but this film is more than just puff pastry and passing sweetness. The director, working with a script by her own son, has fashioned a complex, multi-layered film about a small world inside Paris (the Avenue Montaigne and the people who inhabit it). There is a complicated centre to this confection, but the magic that is Paris comes wafting through like sweet perfume.
Sleeping Dogs Lie is Bob(cat) Goldwait's directorial debut, and it's a timely topic, given the recent press over ZOO, Robinson Devor's film about the sex farm in King County. Forgive me an aside for the moment, but it occurred to me the other day that the strangeness of this story may be attributed not only to the death of one of the participants, but also perhaps to the horse-sex practitioners in question, who were men. Had they been women, they might have simply been another joke in a Kevin Smith movie. But I digress; anyway, suffice to say Sleeping Dogs is a comedy of rather questionable taste. The act in question might leave you a little uneasy while eating your popcorn. Forewarned is fore-something I suppose.
Another festival favorite is The Puffy Chair. Made on a shoestring by the Duplass brothers, it's a sweetly quirky story about two brothers, one increasingly fed-up girlfriend and a big puffy chair. What more could you possibly want? One of the films I'm most looking forward to seeing is Darkon. The film screened last year at the SXSW Film festival to much hooting and hollering, and it looks to be a great deal of fun. Rolling Like a Stone also looks promising, as does Julien Temple's documentary Glastonbury, about the British music festival that makes Woodstock (both versions) look rather mild by comparison.
I have often heard people say, "Oh, that film sounds very interesting! But it will never play in (insert tiny town name here)." This is where film festivals are important, they can, in effect, bring the world to you. Victoria is a case in point. Many of the films presented, although they might have played elsewhere (Sundance, Toronto, SWSX, or even little old Vancouver), might only show up on Victoria's big screens for this. Also present are a great many of the filmmakers themselves. So take the opportunity, go get in line for the chance to see something other than the latest Ben Stiller project. You'll be happy you did.
The Victoria Film Festival runs until Feb. 11.