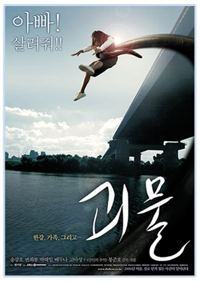 "May you live in interesting times," is an apocryphal Chinese curse, disguised very thinly, as good wishes. It also sums up our current cultural moment. But for every sad, drear, dark, wretched example of rank injustice, there is some crotchety little pack of humans fighting back with whatever is at hand. Maybe it's art, or grassroots action, like saving heirloom species of tomatoes, rescuing spotted owls, singing songs or writing poems. Somewhere at this moment, humans are marching in marches, refusing to back down, taking the high road (on their bikes). Damnable consternating humans, you have to love them, what else can you do, really? Contradictory, complex, rebellious, who thought up such a creature?
Last week, I brought you the best of the bad news films at this year's Vancouver International Film Festival. And now, here's the good news...
Sex and the human heart
Lots and lots of it. John Cameron Mitchell's Shortbus enflamed (engorged?) Cannes audiences with its depiction of a group of New Yorkers who reclaim the joy of life in the raunchiest fashion possible -- upside down, inside out and in every conceivable position.
Vancouver's favourite daughter Sook-Yin Lee bares all, as Sofia, a married New York sex therapist who can't get no satisfaction, as it were. Physician fuck thyself, you might think. Two of her patients are James and Jamie, a gay couple who're considering adding a third member to their sexual adventures. (Let's see how many bad puns I can work in here.)
Rounding out the pack is Severin, a dominatrix who works at Shortbus, which is the name of the underground sex club-cum-salon at which this group of dysfunctionals looking to get functioned convene. In amidst the uncoupling, recoupling and occasionally group coupling, the mysteries of the human heart are uncovered, along with just about everything else. Those with small bus issues, cast aside your inadequacies and embrace the juicy pumping heart of this oddly sweet film. We all are all in this together, each looking for love, sex and preferably both. One of the characters sums up this quest thusly: "A motherboard filled with desire that travels all over the world. That touches you. That touches me. That connects everybody. You just have to find the right connection..." Plug meet socket, and socket meet other socket.
Life music
If there is one reason to go on living, it's the chance to hear some great music. Really, what would life be without it? One of the keenest joys of this world is sound -- glorious, beautiful, wonderful, gorgeous sound.
There are plenty of films that may rock your world, but the one to get tickets to early is loudQUIETloud: A film about the Pixies. YAYYAYYAYAYYAYYAY. If you're a Pixies fan don't waste any time, hasten to the theatre, because this will be as close as you're likely to get to see the band play, before they break up once again. Although there has been a veritable onslaught of music documentaries lately (everyone from Townes Van Zandt to Roky Erickson), loudQUIETloud is a scream, and easily one of the better films about the business of rocking out. Black Francis and Kim Deal, who fronted the band, went on to solo careers, but the Pixies overshadowed almost all their subsequent output. Although the Pixies imploded after only six years, they resemble the first Velvet Underground record. It only sold 100 copies, but it seemed like everyone who bought the album went out and formed their own band.
Colma: The Musical is a charming film that is variously quixotic, sweet, odd and chock full of catchy tunes that stick in your brain with fierce tenacity. Located just outside of San Francisco, Colma is one of those places everyone loves to hate, especially the people who call it home. Rodel, Billy and Maribel are a threesome of post-high school friends facing down impending adult responsibility with varying degrees of fear and hope. Billy, an aspiring actor, gets a part in a local play and gets a new girlfriend, but he's still stuck on his ex. Maribel just wants to get laid and party with college kids, while Rodel is hiding a secret from his traditional father. What else is there to do but sing about it? And sing and sing. H.P. Mendoza, who stars as Rodel, penned all the songs, and director Richard Wong brings a smartly good-hearted approach to a hoary old story of leaving home. It's a lovely combination, and one that doesn't seem to come along too often. You may find yourself humming "Colma Stays" for weeks afterwards.
The holy and the horrifying
Last year at the VIFF, U-Carmen eKhayelitsha turned Bizet's warhorse on its head. This year, director Mark Dornford-May and the South African theatre company, Dimpho Di Kopane take on an even bigger challenge: reinventing the story of Jesus in Son of Man. This film is stunningly beautiful, and the fact that Jesus' experiences fit so perfectly into the contemporary black township points to the inherently political nature of this story. The holy and the horrifying exist side by side. Mary is visited by the Angel Gabriel in a classroom filled with the slaughtered bodies of children. Jesus and his apostles, (both men and women) fight the police in running battles in the street. Every miracle Christ performs is depicted in colourful graffiti on the whitewashed walls of the town. This film packs a visceral impact, but ultimately it is the moments of strange beauty that remain: small boys covered in white feathers climbing towards Calvary, or Mary tenderly washing her infant son in a tin bath.
Jasmine Dellal's documentary When the Road Bends (shot by the legendary Albert Maysles) takes its title from a Romani proverb that states, "You cannot walk straight when the road bends." In this case, the road bends across North America as five Gypsy bands from four countries tour the continent on a six-week concert tour called Gyspy Caravan. The different musicians come from far-flung locales including Macedonia, Romania, India and Spain, but all of them carry in their hearts the spirit of the travelling, itinerant musician. This gypsy soul unites a diverse group of players including Queen of the Gypsies, Esma Redzepova, the traditional Indian folk troupe Maharaja, Fanfare Ciocarlia, Taraf de Haidouks and the Antonio El Pipa Flamenco Ensemble. Over the course of the tour, as the different groups come to know and respect each other, they also begin to collaborate musically, which leads to a fascinating combination of styles both on stage and off.
Sounds of the soul
I saw Mozartballs last year at the Victoria Film Festival, which took place on the composer's birthday. To celebrate the film's premiere, the organizers brought out an enormous cake, ablaze with candles. When they blew them out, the fire alarm began to ding, and chimed intermittently throughout the entire film. It was all somehow wonderfully appropriate for this loopy, happy film, full of people who credit the music of Wolfgang Amadeus Mozart for giving them a reason to live. It is a startling sweet affirmation of the spirit of the composer, and the power of music to reach out over the course of generations and vanish all time and distance in an instant of simple joy.
Voyage in G Flat Major follows the journey of a genteel elderly French man named Aimé, as he takes the trip of a life to Morocco with his grandson. This is an extremely gentle film with a lingering sweetness that nudges deep into your brain. As grandfather and grandson travel across the Moroccan countryside, they also take a journey back in time through Aimé's life: his early exposure to music, his career as a violinist with a symphony orchestra, falling in love, and marriage. But it's the smaller moments, his wish to live in a lighthouse, the way food tastes when you're far away from home, the necessity of packing, tiny daily observances that create a portrait of a life lived in exactitude, quiet and gracious. Music is ultimately this lovely man's redeeming passion, embodied in the sound of a G major chord that resounds in his brain, like a clarion call to life in all its infinite mystery.
To Play and To Fight, Rampage and The Sound of the Soul: The Fez Festival of World Sacred Music are also worth checking out, but if you'd like no sound at all then enter Into Great Silence, a look inside the beautifully austere monastery of the Grande Chartreuse and simply rest your ears.
Family unties
Although there are times when you'd like to run far away from anyone related to you, family, for all its complexities, makes life worth living. Really, what else do you have to live for, or occasionally, in spite of?
Pedro Almodóvar's latest film, Volver, takes the director and his cast back home again. This is a woman's picture in the best sense of the term, anchored by bravura turns from Penelope Cruz and Carmen Maura. Something of a departure for the Spanish auteur, it also seals his status as a cinematic master. Never that this was much in doubt.
In Toa Fraser's debut film, No. 2, an elderly lady (played by the inestimable Ruby Dee) wakes up and decides she wants a feast! In imperial manner, she demands of her various grandchildren that they give her a party full of eating, fighting, flirting, dancing, singing and carrying on. This tiny grand dame gets all that and more in No.2, a rollicking, raunchy tale of the ties that bind. Toa Fraser adapted his stage play of the same name, and gathered a fine cast to give fierce life to the story.
Anne Makepeace's documentary Rain in a Dry Land follows two different Somali Bantu families who relocate from a Kenyan refugee camp to new homes in the U.S. Their ordinary struggles with money, housing, school and jobs take on especial significance in light of the families' previous experience (family members lost, raped or murdered). As they seek to find a place in a complex new world, you can't help but get caught up in the daily dramas of their existence.
So Much, So Fast is the story of Stephen Heywood, a young man who was not even 30 when he was diagnosed with ALS (Lou Gehrig's disease). Filmmakers Steven Ascher and Jeanne Jordan followed Stephen and his family over the course of five years, during which his death sentence was seemingly commuted to its opposite. As his younger brother, Jamie, single-handedly starts one of the first independent medical research labs, Stephen is busy getting married, having a baby, being a father and building a house. When asked what he would do differently in the five years since his ALS diagnosis, he answered, "Have more sex on film."
Triumph of the human spirit and all that jazz
Just when things look very dark indeed, something happens that turns everything around and opens up new worlds of possibility. A gesture, a bit of help, or long-term support and friendship, this group of films shows that the people have an almost limitless capacity to surprise you.
Jimmy Mirikitani was an old Japanese artist, living and working on the streets of New York City, when filmmaker Linda Hattendorf first came to know him in The Cats of Mirikitani. But Sept. 11 changed everything for this unlikely pair. When Linda discovered Jimmy sitting alone in the debris and the dust on that dark day, she brought him home, and embarked on the most unlikely journey of discovery. As Jimmy sits in her tiny apartment, the play of light and images from the nightly news washes over his face. It is a striking image, as a man who lived through Hiroshima and the Japanese internment camps after WWII, and it's almost as if history is repeating itself in the course of one human life. As Linda and Jimmy search for his lost family, the twists and turns of his life story become more apparent and the full scope of his tragedy takes shape. But life has a curious habit of unpredictability, those who appear lost forever are finally found, and occasionally you can go home again.
The Trials of Darryl Hunt is one of those stories you find yourself watching on the edge of your seat, thinking this can't possibly be true. But fiction has nothing on reality in terms of bizarre twists, malicious misdeeds and plain old injustice of the black and white variety. When Darryl Hunt was 19 years old, he was arrested for the brutal murder of a young white reporter named Deborah Sykes in Winston-Salem, North Carolina. Hunt spent the next 20 years of his life trying to prove his innocence, and documentary filmmakers Annie Sunberg and Ricki Stern captured more than a decade of his struggle. If you've never seen a lawyer cry before, this is the film to catch.
Methadonia follows the struggles of a group of recovering heroin addicts (now in a methadone program) in New York City. It may not sounds like the jauntiest of rides, but it is worth it to witness how far down you can go, before you come back up again. The combination of a new class of drugs (benzodiazepines) and methadone has created havoc with users, since taking them in combination creates the equivalent high of a heroin rush. As the various members of the group try and fail and try again to get clean, their sheer tenacity to go on becomes almost thrilling to behold.
And Dorothy's big pick...
And finally...if you can only pick one film to go see at the VIFF this year, perhaps it ought to be Bong Joon-Ho's The Host. It has everything: pathos, heroism, a few jokes and a bloody huge monster! What more could you possibly want from a film? It's good to be ALIVE! Especially to see other people get eaten.
Dorothy Woodend reviews films for The Tyee every second week. She is also the associate editor of publications for the Vancouver International Film Festival.
Related Tyee stories: