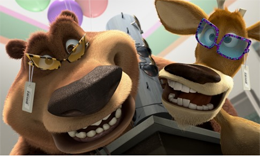 I think I'm having a breakdown. The final touch, the coup de grâce, as it were, was a kids' movie.
I wasn't going to take my son Louis to see Open Season, but he begged and pleaded, using the time-old saw, "But all the other kids have seen it." So, off we trotted and into the abyss I fell. Open Season is just about everything that's wrong with modern culture. That's a lot, you might think. Okay, I'll winnow it down; Open Season is the very worst that modern culture has to offer. That's still a lot you say. Okay, two words then: Ashton Kutcher.
I won't bore you with the plot details of the film. If you've seen any ads, you've probably gleaned pretty much the entire premise: it's the old story of animals versus people. A bear named Boog (voiced by Martin Lawrence) is raised by a park ranger (Debra Messing). Boog is an animal who has come to love his own captivity (like an prisoner institutionalized love to his cage). The comforts of civilized life -- indoor plumbing, three square meals a day -- make life is easy, and old Boog is coddled with the age-old cozy handcuffs of security. Until, that is, a deer named Elliot (Ashton-please butcher-Kutcher) enters his world, and turns it on its head. Elliot (or idiot as he is referred to throughout the film) teaches the bear to embrace the wild animal within and return to his true nature. End of story.
All the set pieces are there: the Borscht-belt shtick that was old-hat when I was little, a few sentimental lessons learned, a villain soundly beaten, catch phrases masquerading as writing (example: "my bad"), scenes taken from other films (a little Braveheart), one big epic battle between the forces of good and bad, and everyone goes back to their respective places. Just another assembly line movie that kids drag their parents to after having been seduced by one too many toy tie-ins at Burger King. It's a product, made and marketed to children, imminently forgettable, with nary one genuine moment or original idea. So, what's the problem? Pay your money, take your chances and quit your bellyaching. This sounds simple enough to do, but there are a few issues that won't go so easily away.
Wandering minds want to know
While sitting through kid's movies, one's mind has time to wander, to question the nature of the universe, to ask imponderables -- like why is it inappropriate to fill adult films with racial stereotypes, but perfectly acceptable to do so in movies made for kids? Black people are lazy, Chinese people are greedy, the Scots like to drink, and the French are cowards. As long these ideas are clothed in cartoon-colours, they are somehow supposed to be innocuous, funny even. Propaganda that adults would balk at imbibing goes down in one swallow with children, often because they don't know any better. This is not a new idea but sometimes the sheer proliferation and the hard heavy sell of popular culture aimed at kids needs a firm critique on the behind.
Another curious aspect of the film is the sinking feeling that you've seen this all before. That's because, in fact you have seen it all before. Within the past few months, there have been a number of animated films with a very similar story line (i.e., animals in conflict with civilization). Over the Hedge told a similar tale about animals wanting what the humans have -- namely junk food and suburban track houses. Even the characters are pretty much interchangeable, such as a German house pet, who just wants to be free, trash-talking skunk chicas, and a hunter who shoots wee creatures for the sheer love of it. In Open Season, the villain is a mullet-headed red neck, while in Over the Hedge it was an exterminator with an out-sized lust for the kill. Another recent film, Barnyard, featured a story in which animals coveted the human world. Although Barnyard had a few even more troubling things about it, not the least of which was the deeply unsettling image of macho bulls sporting huge udders (there was something almost Cronenberg-esque about those big pink appendages). This may have engendered some deep confusion on the part of young minds. But again, the subtext of the film was the idea animals actually want to behave like people. What does this mean exactly?
Animal children
Part of this animal obsession is arguably socialization: animals stand in for children in kid's movies, since they are the characters children are supposed to relate to. This makes a certain type of sense, both are wild creatures, being socialized into civilization, taught to ape grownup things such as driving cars, living in houses, and buying stuff. If being an adult means buying into the culture, it is also about being tamed and trained to do what is expected.
But have you ever wondered why so many films made for children take as their fundamental subject the difficult lives of animals in the first place? Obviously there is the historical literary tradition from which to draw upon, as well as a sense of disenfranchisement, a feeling of being other, subject to the all-powerful whims of adult society. A state that most people remember and can empathize with. But in the classic animal tales -- Lassie, The Yearling, Old Yeller, Black Beauty -- there is often a component of tragedy, as if the animals stand in for the kids themselves, whose lives are precarious, fraught with problems, and often cut short. Here was a means to inoculate children to the harshness of life, the hard truth of injustice and death, suffering and grief.
If you extend this analogy to contemporary kids' fare, what are the lessons being offered? Anthropomorphizing has been around a very long while, hard-used even before old Walt Disney set pen to paper to steal everyone else's ideas. But the new lessons often seem to be that the natural world, for all its naturalness, is a pretty crappy way to live. The charms and ease of civilization -- the chocolate bars and the chainsaws -- are what make life more pleasant, and infinitely easier. The natural world, the one that Bambi grew up in for example, has grown far closer to civilized world; perhaps they aren't even separate anymore. But do modern children relate in the same way to tales of put-upon animals? If Louis is any indication, perhaps not; the empathy is simply not there. And really what child could possibly relate to Gary Shandling or Martin Lawrence even in fur-face? I don't even get Martin Lawrence, and I am fully grown.
Animation fatigue
The exhaustion of the animated genre is clearly evident, but even more troubling, is the fundamental lack of respect for children's intelligence. If they were any good at organizing, perhaps modern kids might take to the streets, protesting this lack of suitable content. Because it truly feels like a desert out there. Kids want to go to the theatre to see movies, the same as anyone else, but there is so little you can actually bear to take them to. Even the Vancouver International Film Festival, which finishes up today, has nothing much to to offer anyone under the age of ten. Certainly there are classics of the genre available on DVD, but you can only watch the same movie so many times, before you lose your mind and your child's attention. So parents of the world: what to do? Since your children are arguably reliant on you for guidance, taking them to a few crappy movies, won't warp their small minds very much, most likely, but you feel so ill-used afterwards, is it really worth the boredom and suffering?
Walking through the mall after the movie was over, it struck me like a blow over the head: I hate so much of modern culture. I hate the message that buying stuff is all there really is. I hate capitalism. I hate the city. I hate the mean old lady running towards the bus who yells at Louis and me to get out of her way. I hate the big lie that this is all there is.
It made me think of a long lost feeling from my own childhood, of coming home after a day in the woods: dirty, cold, and hungry. Night had closed around you, but still you lingered outside in the dark and the cold, feral, wild, your eyes shining like lanterns, unable to go into the warmth of the house, to be tamed once more. It was better to be outside, alive and free, even if you knew eventually, you'd have to come slinking into the light, nervous and twitchy as a fox, the huge darkness of the night beyond, still calling out to you.
Dorothy Woodend reviews films for The Tyee every second Friday.