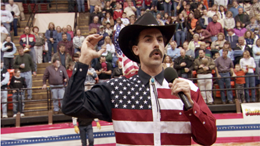 Few recent movies have arrived with the advance buzz of Borat, the big screen debut for comedian Sacha Baron Cohen. Is it justified? Pretty much. But although frequently hilarious, Borat: Cultural Learnings of America for Make Benefit Glorious Nation of Kazakhstan is just good enough to make you wish it was better.
Borat is a newfangled creation of modern cinematic science. TV viewers are familiar with Cohen's routine -- posing as one of several characters, he interacts with ordinary folk and records the results. This time out it's all Borat Sagdiyev. This movie might lay claim to being a whole new cinematic category: the docu-comedy. If Borat is reminiscent of anything, it might be the films of Michael Moore.
Directed by Larry Charles (of Seinfeld and Curb Your Enthusiasm fame), Borat stars Cohen as the uncouth Kazakhstani reporter, Ken Davitian as his producer Azamat Bagatov, and a lot of unwitting dupes who foolishly signed release forms. There's a plot of sorts. Shortly after arriving in New York, Borat catches sight of Pam Anderson on a Baywatch rerun and determines to wed her, Kazakh style. Off he goes, producer in tow, on a cross-country quest to find Pammy and, incidentally, uncover some real live American zeitgeist along the way.
'Drink the blood'
Some of the stunts he pulls off are astounding, such as gaining an invitation to be interviewed on a Jackson, Mississippi morning TV chat show, and another one to sing the national anthem at a Virginia rodeo. More astounding is the sheer courage required to stand in front of that redneck rodeo crowd and express the sincere hope that President Bush will "drink the blood of every man, woman, and child in Iraq." To their credit, only some of the rodeo audience cheers.
Cohen is a fantastic and utterly fearless improvisational comedian. Your enjoyment of the movie will frequently depend on your tolerance for unbelievably awkward human interaction. At a formal dinner party attended by Borat, the hostess must finesse the delicate social art of when to smile gracefully and when to call the cops. (When your dinner guest returns from the bathroom with a bag of his own feces: gracious. When his rotund prostitute companion shows up at the door: cops.)
But the best parts of the Borat movie are when he gets to play straight man. At one point after plenty of crazy Borat behaviour, he staggers into a revival meeting and is suddenly transformed into the most normal guy in the room.
Spontaneous dislosures
Even better are the scenes where Cohen/ Borat simply listens while his interview subjects reveal the appalling contents of their minds and souls: from the rodeo organizer professing his dream of someday hanging all homosexuals to the RV full of drunk college students, America's hope for tomorrow, demonstrating why the America of tomorrow is quite likely screwed.
It's these scenes that raise the bar, making other parts of the film suffer by comparison. Many scenes basically amount to cruel pranks perpetrated on innocent victims. When Borat and Bagatov check into a B&B and discover the old couple running the place are -- horrors! -- Jews, their reaction is funny because we've already seen evidence of their superstitious anti-Semitism (in fact, not so much anti-Semitism as full-blown Jew phobia). But the old couple are so sweet you can't help but feel sorry for them. That may be the very effect Cohen & co. was aiming for. Still, it seems more cruel than amusing.
Other scenes, particularly a disgusting naked wrestling match, aim straight for the sophomore crowd (a group both mocked and catered to at different points). After the high points hit earlier, that sort of stuff is a letdown.
But all is forgiven when Borat finally confronts Pam Anderson at a book signing. Poor, poor, Pam. Did she sign a release, or was she fair game on account of holding a public event? And considering the melee he triggers, how did Cohen stay out of jail? When Cohen actually gets off a climactic one-liner after being pummeled by security, it is clear that no performer this side of Jackass does more to earn your movie dollar. It "make benefit glorious" career of Sacha Baron Cohen.