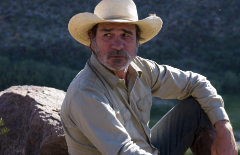 "The men, as they rode, turned black in the sun from the blood on their clothes and their faces and then paled slowly in the rising dust until they assumed, once more, the color of the land through which they passed," says Cormac McCarthy in Blood Meridian.
Blood is only the beginning of the journey in The Three Burials of Melquiades Estrada. After that, comes pain, suffering, being eaten by ants and being set on fire. Times are tough in the new old west, and getting tougher everyday -- especially for the eponymous Melquiades, who has abuse after abuse heaped on him, even after his death.
Despite the occasional gruesomely gleeful tone of this film, (you may find yourself laughing in inappropriate places) it has an odd dignity, most of which comes from Tommy Lee Jones. Lord knows the man was never a beauty, but here he is something to see in all his saggy-eyed, ragged glory; a veritable ruined marvel of pain and regret. His face is a film all by itself. A worn, torn, creased road map to the soul.
Of course, you can't spend two hours and then some simply staring at Tommy Lee Jones. Fortunately, things take a turn for the complicated. The story takes it sweet time, unraveling backwards, forwards and occasionally sideways like a rattlesnake. The plot shifts suddenly with no warning. The first few times this occurs it's a tad disconcerting, but you can adapt. Roll with it, like a tumbleweed, you'll be fine.
Unraveling sideways
The lonesome little Texas towns like those of The Last Picture Show haven't changed very much: they're still lonesome, dusty and forlorn. Into these desolate places rides Melquiades, a Mexican cowboy looking for work. Pete Perkins (Jones) hires him and the two men develop a friendship based on the precepts of hard work and rough hewn honour. When Melquiades is murdered, Pete's grief, in effect, drives him mad. If you're going to lose your mind, you might as well do it in Texas; there doesn't seem to be much else to do out there.
As Pete sets out to discover who murdered his friend, three or four different stories converge; peopled by characters that are driven by forces they don't and can't understand. Like a quartet, each has a song of regret and suffering: whether it's the diner waitress, a fading beauty who sleeps around for fun and entertainment, or the local sheriff, played here by Dwight Yoakam.
Mr. Yoakam is also an exceptionally fine actor (someone give this man more roles). Hunched like an old woman and sporting a reluctant penis, he is mortification and impotence made flesh. The pack of sad balladeers is rounded out by Lou Ann Norton (January Jones) and Mike Norton (Barry Pepper) a young couple, resplendent in their youth and beauty and almost completely amoral. "We were really popular in high school," explains Lou Ann and this sums up everything about her that we need to know: young, stupid and ill-equipped for anything beyond shopping. She and her husband are the quintessential modern Americans, equal parts vanity and vapidity. But there is a brutal history to the land that they live in that is only too willing to grind them down.
'Man land'
Despite the presence of women, this is a man's land: women are whores of one variety or another, either young and bored or older and cynical. When the going gets tough, they are quick to cut and run, sometimes on a Greyhound bus, other times into a dead marriage. That leaves the men with the men, as it was in the beginning and as it always shall be.
When Pete discovers it was the border guard, Mike Norton, who murdered his friend, he kidnaps the younger man, they disinter the rotting corpse of Melquiades and set out across the Mexican border, chased by the border patrol and the Texas police. Pete has made a promise to bury Melquiades in his hometown and he aims to keep it. This journey, like many others before it, blends the sagas of innocence and experience, although in this case, age is battered into grace and humility, while innocence is merely blank.
Barry Pepper does his best to hold his own. He screams, writhes and rolls around the dirt in various forms of overacting, but nothing he can do is much of a threat to the impervious wall that is Jones' authority. The mystery of this quest is something that is initially unclear; it takes the full course of the film to reveal itself. And in the end, it is lovely in its simplicity, a selfless act of friendship, which in this day and age is almost unrecognizable.
Although Melquiades never strays into Brokeback turf, the primacy of men being men together is the unwritten law of the land and it is a particularly brutal form of tenderness, far rougher than Ennis Del Mar and Jack Twist's backdoor love. This is mortification of the flesh, men beating, hurting, grinding each other into the dirt, until at the end, something hard and pure emerges, something that is close to redemption.
What strikes you looking at Tommy Lee Jones' face, etched, so deep and sad that it becomes a visual poem, is that there is a beauty in decrepitude. If the American dream is dying, it is making one hell of a resounding death rattle before it goes. Way out west, things go on like they always have and the scene of Pete Perkins, amiably drunk in a Mexican cantina, listening to warped piano rendition of Chopin, is so bittersweet, you can't help but want to be right there yourself, sipping whiskey in the air that smells of sage brush and dust. Watching the sun go down in blood-red splendor.
Dorothy Woodend reviews films for The Tyee every Friday.