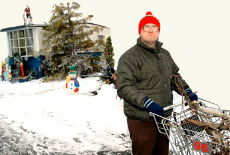 You've opened all your presents, eaten so many cookies and oranges that your pants flew off, gotten into fisticuffs with the in-laws and now you're bored. It's time to retreat to the movie screen and give real life a break. Christmas sometimes brings out the very worst in people; maybe it's a good idea to look for the very best of Christmas movies to soothe your spirit.
But is there really such a thing as a good Christmas movie? Yes, Virginia, there really is a Santa Claus without the clause. Holiday movies are a strange little subdivision of film; a place where movies go to become traditions. But if the notion of watching Jimmy Stewart drunkenly screaming, or Tim Allen blowing snow makes you feel like a little yuletide homicide, then The Tyee, your fishy fiend, I mean friend, has a few alternative tinsel town tipples to suggest.
'The Trailer Park Boys Christmas Special'
In the spirit of drinking, it is appropriate to begin with the Sunnyvale crowd. Even at Christmas, things are pretty much exactly the same in Canada's favorite trailer park: Julian is busy trying to steal his way to inner peace; Bubbles sits alone in his shed, looking at the present his long lost parent left him many years ago, and Ricky just wants to stay in jail, where the true spirit of Christmas lives.
Surprisingly enough, there is some genuine pathos here -- as genuine as the Trailer Park Boys ever gets. In the midst of profanity and stealing, real human goodness raises its head. This is the TPB creation myth writ large. Witness the birth of Randy's pants, Jim Lahey becoming Mr. Lahey, and the first inkling that J-Roc is about to be loosed upon the rap universe. As with most episodes, it remains to Ricky to voice what we all secretly think. Love and family, of whatever variety, is the answer, everyone getting drunk and stoned together. Long may peace reign.
'One Magic Christmas' (1985)
Phil Borsos' take on Christmas is a somewhat odd movie, but it does have a slow charm, not unlike It's a Wonderful Life by way of Wim Wenders. The film stars Mary Steenburgen, as bitter housewife, and Harry Dean Stanton as Gideon, an angel in a long black coat. Sarah Polley and Elias Koteas, in much younger versions, also make appearances. For anyone who has ever been dirt poor at Christmas, this film will strike home with its mixture of adult sadness and childhood innocence. Although the sight of Harry Dean Stanton hanging out in the top of a tree is a tad unnerving at times, the Borsos' way with a camera makes this a lovely film to watch. Suspend your cynical side for a moment, and learn to love Santa all over again. Maybe he'll bring you that Mr. Potato Head you always wanted.
'Babes In Toyland' (1934)
There is something oddly thrilling about this movie, although, I am hard pressed to say exactly what is it. Is it the Freudian wonder of wooden soldiers routing the evil hairy bogeymen? Could be. Is it Laurel and Hardy in drag? Perhaps. Is it the sucky singing of tunes? Yes! That must be it.
The setting is Toyland, a place where Stan and Ollie work in the Toymaker's workshop, but when they make 100 wooden soldiers that are six feet tall, instead of 600 soldiers that are one foot tall, they get canned for the holidays. Santa: what a hard ass!
Poverty is no joke, even in Toyland, where Old Barnaby, the evil landlord, owns the deed to the old lady who lived in a shoe's shoe. The Old Lady, and all of her hundreds of kids, will be out on the street, unless Little Bo-Peep agrees to marry Barnaby. This is one of those films that used to make an annual appearance every year on TV, and it is still a somewhat dubious pleasure, full of oddities (monkey mouses in Zeppelins, giant pigs, bogey men), much like a Marcel Dzama drawing come to life. It is dementedly campy, from a time before camp came to know itself, and this lack of self-consciousness makes one realize how tiresome irony is.
The spirit of the Fleischer Brothers lives. Just be. Just watch. Just enjoy. When the soldiers begin to march, a mad joy runs through me. Revenge, Christmas, and big wooden men, does it get any better than that? Sometimes, it is really best not to analyze too deeply, just enjoy the insanity.
Two Christmas stories
Two of the all-time greatest Christmas films for adults were made by the same guy: Bob Clark. Mr. Clark, we salute you. A Christmas Story and Black Christmas are really all you need to celebrate the holidays, representing as they do, the twin sides of the holiday, dark and light, love and killing.
Black Christmas is a simple story: a psycho in the attic, some sorority girls and Christmas. Add liquid, stir, repeat. The film is famous for inspiring the work of John Carpenter, who used many of the same techniques (POV camera, mysterious slasher) in Halloween. But BC is really in a category all on its own. It is very scary, most especially the phone calls from that naughty Billy boy.
The presence of John Saxon, Olivia Hussey, Margot Kidder and a very young Andrea Martin, round out the proceedings nicely. The writing is also very good and a reminder of a time when movies were genuinely made for adults. "These broads could hump the Leaning Tower of Pisa if they could get to the top of it!" says the hard-drinking sorority house mother, hooked on booze and a number of other things.
The language is blue, the snow is white, the blood is red. But although Black Christmas doesn't overtly state its nationality, it has a distinctly Canadian flavour. The film reminded me, oddly enough, of Jaws, with the careful attention paid to the small interactions of the characters, the converging stories lines and the sense of menace just below the surface.
The film has been the subject of a number of documentaries, and it currently set for a remake right here in Vancouver. But in honour of the Kidder and the Hussey, go and rent the original and shiver and shake.
Canada's Copper Heart Entertainment and 2929 are currently producing the film, but many of Clark's other hits are scheduled for remakes including Porky's (with Howard Stern), and Deathdream with wunderkind director Eli Roth (Cabin Fever). Clark himself is remaking his first film, Children Shouldn't Play with Dead Things. If you'd like even more terror with your tinsel, Wolf Creek opens Christmas Day. Based roughly on the story of Ivan Milat, the "Backpacker Killer," and with allusions to the Falconio Murder trial that gripped all of Australia, it is unrelentingly gore and grim. Just what you may need to feel better about your own life. At least you still have one.
Bob Clarke is also responsible for another Christmas favorite, A Christmas Story, starring Ralphie you'll-shoot-your-eye-out Parker. Pity the Ralphie, cursed with a round face, and even rounder glasses, a piggie of a brother, and a gun fetish that just won't quit. The word festive is close to fetish, and in this case, the two terms start to deliriously mix. Kids and guns, you can't go wrong with that combination. It adds up to a film that is sweet and sappy, yet still entertaining. This is a film that adults and children watch with entirely different perspectives. Bob Clarke, we will forgive you all the Porky's and Baby Geniuses in the world, merely for Black Christmas and A Christmas Story. They are each, in their own different way, perfect holiday films.
Railway Children (1970)
This is everything the recent Narnia film wanted to be and wasn't. Sweet without being sucky, and without the bad touch of Tumnus. It is British to the core, directed by Lionel Jeffries, and starring an extremely young Jenny Agutter (who went on to grace the screen in American Werewolf in London).
This is not strictly a Christmas film, but it does begin with a father being hauled off to prison at Christmas time. The indomitable mother packs up and off they go to the country, where the she supports the family by writing. Soon enough, the kids are hanging out by the railway tracks, looking for trouble. This is a lovely film, in the same spirit as the Secret Garden, or many other British tales of plucky children facing adversity with courage and grace. The adage "they don't make them like this anymore" is especially true, especially when viewed next to the modern plasticity that is the Disney version of Narnia.
Sexmas
Director John Waters said it best, "Christmas is like an orgasm that never ends." It is? Then I've been going about it all wrong. Waters is currently on tour with his one-man show called A John Waters Christmas, based on an essay published in his 1986 book Crackpot. Baltimore's greatest auteur tosses out quips like, "The mere mention of a stocking stuffer sexually arouses me," as freely and joyously as a parade float Santa. A one-man show is simply not enough, we need more men! Wooden ones preferably, but gay cowpokes will suffice.
If you like a lot of XXX in your Xmas, you could rent a whole lot of porn, or you could venture out into the cold to see Ang Lee's Brokeback Mountain, the story of two lonesome cowdudes punching sheep, hitting the hot sheets and finding love. Well, actually love finds them and messes greatly with their heads. Crazy love. It really does do the damnedest things. Sure, people blather on about how Christmas is all about love, but love isn't soft and nice. Love will poke your eyes out just for fun of it. This film hammers that message home with spurs on.
Better to stick with plain old sex. If a dirty Santa turns your little head, Bad Santa with Billy Bob Thornton has some seamy scenes you might like. But the most interesting idea in the entire film isn't its screw or be scrooged message, but the notion that the orgy of consumerism that Christmas has become is far more obscene than anything sexual. Which is a feeling that many people seem to be experiencing almost simultaneously, especially here at the little old Tyee.
Christmas isn't about buying stuff, it's about eating, drinking and getting a little merrier than usual. Forget the cheap sentiment and sanctimony, not to mention the shattered illusions. What you really need are movies that will make you feel better about the human condition, not in a sucky way, but with a celebration of the flinty subversive spirit that lurks in all our hearts. A quality that is infinitely preferable to the corporate Wal-Mart/ Disney/Starbucks aesthetic that would like to run the planet. In the words of Ricky, the patron saint of Sunnyvale "Everybody get stoned, drink your faces off, spend time with your families. Merry Christmas."
You heard the man, get going. Merry Christmas Tyee people!
Dorothy Woodend reviews films for The Tyee every Friday.