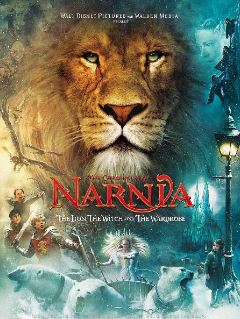 "Holy shit." I've never really thought much about this expression before, except that upon exiting The Chronicles of Narnia: The Lion, the Witch and the Wardrobe, it was the first thing that came to my lips. And it seemed horribly apt.
There isn't a single moment in this film, front to end, that rings true. It reminded me of the Archie comic books they used to give away at the Greyhound bus depot. It wasn't until I was happily ensconced on the bus and flipped open my brand new comic book, that I realized I'd been had. It was a Christian Archie!
A similar creeping sentiment pervades this entire film, a feeling of being lied and proselytized to at the same time. However, it isn't the Christian message that is most troubling, but the fact that the film is so shoddily put together. It's lacking in a certain something called magic. In its place is something else, called marketing. Which is just about the furthest thing from magic.
C.S. Lewis' famous story, despite its sticky allegorical center, has a dry wit that is intensely English. In the movie, that biscuity quality is entirely gone, replaced by CGI and swelling strings.
It is jolly olde England all right; WW II is at its height, and the nasty Nazis are shelling the hell out of the place. Mumsie Pevensie packs off her brood to the countryside, the better to protect the little blighters. The foursome is soon on a train, bagged, tagged and delivered to their elderly uncle.
The Pevensies are: Peter, who bares an unfortunate resemblance to John Boy Walton, minus the melanoma, but with the same mooncalf stare; Lucy, priggish and uptight, with lips swollen up like balloons; Edmund, the only realistically sullen one in the bunch, and little Lucy, who does her best acting with her enormous teeth. One can't really blame the actors for this atrocity; they are after all, only children, it's the adults around then that ought to be soundly spanked and sent to bed with no dinner.
'Lord of the Rings' hangover
Director Andrew Adamson, perhaps chosen more for his name than his directorial chops, previously helmed Shrek 1 and 2, and here, he shows little or no imagination in depicting Narnia. It's all supposed to be breathtaking and beautiful, but it looks a lot like New Zealand, a landscape already mined by Peter Jackson.
The screenwriters' decision to ditch much of Lewis' dialogue in favour of their own is also worth questioning. Perhaps, they think children couldn't possibly relate to characters whose favorite swearword is "beastly"? What happens, of course, is that everything specifically lovely about the book is lost, replaced by generic do-gooding, and the typical Disney fare of anthropomorphic talking animals. Although the Harry Potter movies could easily have suffered a similar fate, they kept their own specificity of time and place, and thus, their charm has remained intact.
But there are even more troubling problems with this film. This book inspired me to spend a great deal of my own childhood hanging out in closets, begging to be let in. I so wanted the moment that Lucy stumbles into the wardrobe and then out into Narnia to be handled exactly right. But Mr. Tumnus, the faun who greets her, reminded me more of some would-be molester than a twee pal for kiddies. The film here tries very hard for innocence and enchantment but all I got was an uneasy feeling of "Don't go with that hairy man, kid!"
'Turkish Delights'
The film also goes to some lengths to draw a connection between World War II and the Narnia skirmishes. When Edmund is convinced by WW (that's White Witch) to give up his family and friends for sweeties, he is treated somewhat like a wartime collaborator. The Geneva Convention should really be invoked here, since the idea that Turkish Delight actually tastes good is a crime against humanity.
The only person who appears to be having fun is Tilda Swinton, playing the White Witch as a combination of Martha Graham and a Hitler Youth member. Mostly, it is her various ensembles that provoke interest; evil is as evil wears and the White Witch and vogue editrix Anna Wintour seem to favour similar fashions.
I kept expecting representatives of PETA to show up and slap the witch in the face with a pie. Which witch am I referring to? I'm sure Ms. Wintour would be wearing Aslan as a coat in the final reel if she was in the movie; however, Ms. Swinton, with her pallor and her crown of ice will have to suffice. At least Ms. Swinton is confident of her character, the same cannot be said of the younger actors, who are in dire need of some direction. They spend a great deal of the film, staring blank-eyed and pouty lipped at nothing. Even the ultimate moment of noble sacrifice, Christ on a cross turns into Aslan on the stone table, provokes little more than an expression of mild distaste from little Lucy.
The only place where things get a little livelier is the big battle, the ultimate clash between the talking birdies and the snarling wolves. Here too, there is a odd undercurrent of animal racism: ugly animals are bad, and pretty animals are good. Hence the spectacle of a big black cow in full battle gear screaming "MOOOOOOO!!!" is sure to strike terror into the hearts of tiny tots everywhere. Even if the story itself was based on the New Testament, Aslan bears more of a resemblance to the wrathful God of the old, when he opens up a can of whup ass on the Witch, he doesn't just kill her, he eats her face off: shades of The Passion of the Christ, but this is a kid's film. For Christ's sake, take it easy on the wee ones.
'Whiff of mothballs'
Maybe it all matters not. While Peter Jackson may consider suing for infringement of epic LOTR territory, children everywhere will probably shrug and go back to playing video games. There is a whiff of moth balls about this film. It seems old fashioned and not in a good way; like something dug out of the attic and relentlessly repackaged. But the world has moved on, and the same old soft shoe shuffle doesn't work quite like it used to. If the movie is supposed to function as a Christian recruiting tool, it's too boring to get everyone "rah rah sis boom bah" over God, and too obvious for even the least suspicious of children. So who, exactly, is it for?
Let's ask this guy. Philip Anschutz, according to a recent article in the Economist, is "a religious billionaire whose aim is no less than to uplift American culture. Mr Anschutz has set up a studio to make moral films for families of a kind he says Hollywood neglects."
Although there has been some media coverage of the film being promoted to Christians and church groups, it is really more about money than God. Especially in Hollywood, where God is money, or as the Economist describes it, "As well as its film-making division in Los Angeles, Walden Media runs an office in Boston which tries to persuade teachers to use its films in classrooms. Hollywood is especially impressed by Walden Media's education strategy. Studio executives see it as a clever way to get children and parents to buy its products." Beware the hard sell, whether it's propaganda, or merely the props for it.
Destinies in the countryside
I couldn't help but think of another kids' film I'd seen recently, Takashi Miike's The Great Yokai War that played at the Whistler Film Festival. There are some strange similarities between the two stories. In each, children are sent to the countryside to stay with an elderly relative, and in each, a destiny is fulfilled with the help of lots of weird creatures along the way.
In The Yokai War, our hero is Tadashi, a scrawny little mite scared witless by the proceedings; he spends most of the film shrieking like a kettle on full boil. But he perseveres, with the help of his Yokai (characters from Japanese folklore) friends, most of whom are not CGI, but actors in good old-fashioned face paint and costume, especially one memorable character who appears to be constructed out of an old sock. The action intermittently freezes to offer sage advice like "Don't try this at home." Usually this involves scenes in which the characters are hanging off the wing of a jumbo jet in full freezing flight. Thanks Mr. Miike, that's very helpful.
Yokai is not a perfect film, but it's got more life in five minutes of creatures fighting and partying and drinking Kirin beer than in all of Narnia. Whether The Great Yokai War ever achieves success in North America as a children's film is highly doubtful, mostly because it is simply too weird, and in a few places the director's horror film past comes sproinging out like a boogeyman jack-in-the-box. One scene in particular, scared me silly, and after watching it you may reconsider getting up to go pee in the middle of the night ever again.
The film also has a rather complex message about environmentalism and recycling, but most critically, it assumes that children aren't idiots. In the end, the hero Tadashi must lie to spare the feelings of a friend. It is the first step on the road to adulthood, a bittersweet feeling that is given careful attention by the director. In the end of The Lion, the Witch and the Wardrobe, the children are right back where they started: children once more. This version of Narnia would like you to stay permanently stranded in feeble-minded fake childhood, and to never put away childish things.
You should politely and firmly say thanks, but no thanks, because if there is one lesson to be learned from this film, it's that, cinematically at least, it's more interesting to feed the Christians to the lions, instead of the other way around.
Dorothy Woodend reviews films for The Tyee every Friday.