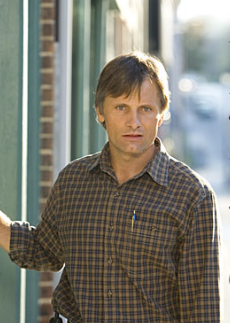 [Editor's note: To read Woodend's picks for the Vancouver International Film Festival, click here, and here.]
Imagine Ward Cleaver as a stone cold killer and June Cleaver as his role-playing wife who likes to don her cheerleader's uniform and pull a 69 with her hubbie, and you'll have some sense of what David Cronenberg's A History of Violence is like.
The most recent film from our little boy Davie is a curious creature, an overtly self-conscious experience: not just for the film, but for the audience. The weirdest part isn't seeing people with their noses blown off snuffling about in their own blood; it's seeing ordinary everyday existence in small town America through the eyes of said Cronenberg. You can't but feel manipulated, but then again, that's the point. All film plays with the audience's emotions, but this one asks you to understand those emotions even as you're feeling them. It's a difficult request, but since it is Cronenberg doing the asking, it behooves you to try.
Tom Stall (Viggo Mortenson) is a family man. He has two lovely children, and one even lovelier wife. He loves his life, plodding into town to open his diner, yakking with the locals, serving good coffee, and having great raunchy sex with his wife at night. Everything is simply peachy.
'Worm in the orb'
But there is a worm in this golden glowing orb, actually two, and they drive into town in a stolen pickup truck. One night these two bad men come to Tom's diner and for no apparent reason and decide to kill everyone. Maybe they don't like the coffee. But before you can say "killing people is wrong," Tom handily dispatches the thugs in a shower of blood, glass and hot coffee. Tom is proclaimed a hero, his gorgeous mug flashed across TV screens around the nation, which soon attracts some unwanted attention from even bigger and badder men.
A man named Fogerty (Ed Harris) rolls into town in a big black car and he too likes Tom's coffee, but he thinks Tom is Joey from Philly. Things progress like you think they will. Is Tom really some mobbed up killer from the East? Has he been fabricating his entire existence from whole cloth? Has he lied to everyone he knows? What do you think?
Like many killers before him, Tom/Joey can't deny who he is. Or can he? Violence sows its seeds deep, and they grow thick and fast. Before long, Tom's teenage son, who used to defuse school bullies with jokes, is pounding them into the ground. "In this family, we don't solve our problems by hitting people," father tells his son.
"No, in this family we use guns," says the teenager.
Smack! A slap ensues, and the violence begins to escalate. Soon, Tom is humping hard on the stairs with his wife, and killing even more bad people, while the buzzing of flies trapped in an upstairs window lends a grisly ambiance to the bloodletting. It's a thin line between love and hate, and an even thinner line between good and evil.
Horrible beauty
If you believe, as the Washington Post says, that "beauty and horror go hand in hand" then go and read all 13 of James Lee Burke's Dave Robicheaux series, that take as their informing idea the notion that violence lies coiled deep inside all of us. Resisting its pull is an ongoing struggle at which we largely fail. This is the tragedy that is at the heart of Cronenberg's film. You can only hang up your guns for a while, before someone needs killing quick. Tom's acts of violence are perpetrated to protect his family and other innocent people, the killers on the road do it because it's a job, the high school bullies do it to preserve their sense of alpha male dominance. But is it all the same stuff when you get right down to it, no matter what the motivation?
There are some high-minded ideas at work here, like the battle between the id, the superego and the poor old ego, forever the middleman trying to make peace. This is turf that films both good and bad have all tramped about in. Clint Eastwood's Unforgiven is the most immediate parallel, but even The Long Kiss Goodnight, in which Geena Davis discovered she had talents she'd never dreamed of, like the ability to kill, maim and wear a lot of black eyeliner had similar elements. It is a quintessential American tale, dating from Shane on, the idea that you must kill to make peace. It's a paradox if there ever was one, and an idea that necessitates two very different version of the same self. Here it is Good Tom and Bad Joey.
Freud weighs in
The idea of a second (secret) self with no conscience is a classic horror film convention and dates way back to Old Siggie Freud and his many theories about why people do what they do. Freud describes the idea of the double "as a censoring agency or conscience: the double thus represents an uncanny otherness within the self, and in advanced civilization it has become "a thing of terror".
Freud also had a theory about when weird things happen in unweird places, something called "unheimlich". The etymology of the word comes from the German "heimlich" (homely) and "unheimlich" (unhomely): meaning that which is familiar, comforting, homelike, and its opposite, the strange, frightening, other, juxtaposed. As Freud indicated, the uncanny is "most unhomely in a homely situation," meaning the interjection of one element into the other is what provokes the deepest level of horror. But the psychology on display in Cronenberg's film isn't simply about the spooks in the attic (well, it sort of is), but more about the spooks inside our own bodies.
Dreaming of the human body
Dreams play a large role here. Tom's daughter wakes up screaming from a nightmare just as another little girl is murdered, the fry cook at the diner marries his girlfriend after she stabs him in the grip of a particularly violent dream, and Tom's character is asked by his murderous older brother, "When you dream, are you still Joey?" In this sense, dreams are more real than the reality they reflect. So too, film, like dreams projected, show us reality warped and melted but still demonstrably true.
That's what Cronenberg is up to here; although the film has an overly facile, glossy edge to it, it's the very polish that makes you question the proceedings. Killers may live in stately homes, full of burnished wood and polished marble, but they are still exactly what they always were. Tom's home-spun existence is equally a front. Is the traditional nuclear family built on top of a pile of dead bodies, corruption and lies? Is small town America afforded its willful innocence through blind oblivion? Maybe. Does violence seed other violence until the entire culture, the entire world is sodden with it? Probably.
These are the questions you're supposed to be asking. "The primary fact of human existence," as Cronenberg terms it, is the human body, and here violence isn't exploding heads or car crashes, it's coded deeply in the DNA of all people, and whether you overcome it, give in to it, and how this matters, is ultimately the largest question of them all.
Dorothy Woodend reviews films for The Tyee every Friday.