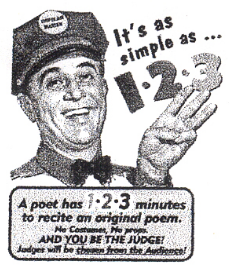 Missed Sunday's Slam Poetry event at Vancouver's Word on the Street book and magazine festival? No worries. Plug in here.
According to the Svelte Ms. Spelt, a veteran Vancouver slam poet, the Vancouver slam poetry scene is the strongest in Canada. He credits this to the slam poetry community - there's no one main organizer but many individuals who each run events and also work together.
Fresh from the 16th annual National Poetry Slam Championships in Albuquerque this August, the Van Slam Team (oldest in Canada) competed on Word on the Street's main stage. The slam was hosted by Graham Olds, and featured Christalene, the Svelte Ms. Spelt, Dunce the Wizard, Brendan McLeod, Kim Shaughnessy, Magpie Ulysses, and T.L. Groves. (And was sponsored by The Tyee.)
To hear the highlights, simply click here.
Slam 411
Click here for more info. And if you're interested in live slam poetry events in Vancouver, check out:
The Vancouver Poetry Slam: held the first, third, and fifth Mondays of the month at Café Deux Soleils (2096 Commercial Drive at 5th Avenue), door 8pm, slam 9pm, hosted by Graham Olds.
Thundering Word Heard: every Sunday night at the Montmartre Café (4362 Main Street), 8pm sign up, 9pm show, hosted by T. Paul Ste. Marie.
Ink: first and third Tuesdays of the month at the Astoria (769 East Hastings Street), 9pm, hosted by the Svelte Ms. Spelt.
Unsweetened and Outspoken: held the fourth Tuesday of every month at Zesty restaurant (920 Commercial Drive), sign up 8:30, show at 9pm, hosted by Kim Shaughnessy.
2nd Canadian Spoken Word Olympics, at Café Deux Soleils, October 11-15.
Vanessa Richmond is the culture editor at The Tyee.
Chris Bouris (who created the audio recording) is a digital media consultant and event coordinator who has produced video media for the Berger Commission on Electoral Reform, as well as other municipal and Federal initiatives.
The audio is hosted by Working TV.
Know of a slam event somewhere else in BC? Please post it below in the comments section.