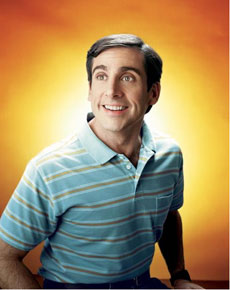 The other day I read a story about a man who died after having sex with a horse. The article was actually about the ethics of reporting such an incident and the responsibility journalists must exercise. But even now when I see a horse grazing in a distant field, I feel a little ill. Now I understand how the how the 40-Year-Old Virgin must feel.
Sex, is after all, kind of gross sometimes.
Andy Stitzer is a forty-year-old man who lives alone with his tuba, shelves of action figures and a sad penis. The integrity of his packaging has not been compromised, although not for lack of trying. Fate has simply not seen fit to deflower Mr. Stitzer.
Every day Andy wakes before his alarm clock, does his vigorous exercises and makes a delicious and nutritious breakfast. There are echoes of Peewee Herman in the opening scene in which our pristine hero bikes to his job at a stereo store.
'The V-chip'
Andy is another film anti-hero in the man-child school of film characters, and like Peewee's pee wee before him, his penis is the real star of the film. It walks, it talks, it crawls on its belly like a reptile. A one-eyed trouser snake to be exact. When Andy's predicament comes to the attention of the four bozos he works with (after he compares a woman's breast to a bag of sand) they take it upon themselves to divest him of his V-chip.
Taking advice from other men is terrible idea, and Andy soon finds himself trying to bed "drunk ass bitches" who vomit daiquiri in his face. In his quest for love, innocent Andy encounters many different subspecies of women -- such as the long-toothed-stereo-store cougar, the superfreak-bookstore hooker, and many other "hoodrats." It's a vast panoply of perversion merely waiting to be penetrated.
After all this raunch, Andy's tidy life -- watching Survivor with his elderly neighbours -- starts to seem, well, sort of pleasant. But life is more than tea and sympathy, and despite his orderly ways, Andy isn't feeling dandy or randy, but doesn't even want to use his handy. "Take it out and play with it," says his friend, but when presented with a huge box of porn, Andy would rather watch Everyone loves Raymond, and not the sexy version either.
There is much to recommend in Virgin. The writing is strong, although a little heavy on the pink and purple prose. Words that end with 'ock and 'ussy can become a little tiresome after a while. And do you really want to hear a five-minute exchange that begins with two men saying, "I know you're gay because..." and simply goes on and on and on. Didn't I already live through this in elementary school? Steve Carell is a likable screen presence and his dedication to vermisilitude in his craft is to be commended. Ripping one's chest mat out by the bleeding roots puts De Niro's weight gain and Hoffman's Marathon Man to shame.
But...but... but...
Like many mainstream movies, there is some strange propaganda happening underneath the penis jokes. Mixed nuts or mixed messages: it's all the same hairy bag, baby. Virgin wants to be chaste but it also has to whore it up a little in order to sell to horny teenagers with a little soupcon of promiscuity. At the same time, the message is, don't do it until you're married.. Wha....? THAT old chestnut? Did George Bush's abstinence only programs underwrite the production or something?
Since sex has become such an intensely commodified thing, it makes sense that the backlash would come, and lash back. Virgin is not the only offering to tout the pleasures of celibacy. Authors Will Smith and Roger Drew recently released a tome to the joys of no sex, a tongue in cheek (and nowhere else) paen to the pleasure of no pleasure. The odd part is that sex has usually been a force for change, a rude disruptive energy that challenges social mores. Witness the most subversive film in the theatre at the moment, (no, not Deuce Bigelow: European Gigolo) The Aristocrats. A dirty, nasty and extremely funny film.
Despite their trash talk "all the hit and quit it, and tap that!'" the men in Virgin, and the virgin men, are largely unnerved by women. When Andy is in the presence of a woman in the throes of a shower-head induced orgasm, he simply looks grossed out. "That woman terrifies me, " he says as his friends come to the rescue. Female desire is still largely "yucky" and the only woman who is actually "good" is the one who doesn't want to have sex at all. You can't help but feel a little sorry for poor old Catherine Keener. She doesn't have much to do other than be the saintly understanding girlfriend. The notion of "sweet dork gets beautiful lady" is a screenwriter classic, perhaps because so many of them wish it were true.
Having it 'both ways'
The notion that sex without love is just not worth the trouble isn't necessarily a bad idea, but there is some serious hypocrisy going on here that undercuts the comedy. Virgin wants to have it both ways, it wants you to be its bitch in the bedroom and a lady the rest of the time. And to its credit, it actually succeeds, part of the time, mostly due to the inherent charm of its star. This is a movie where the boys get to have all the fun, and women are supposed to just lay back and take it. On screen that takes about one minute in the final consummation, but in the case of the 40-Year-Old-Virgin, the film, the audience gets screwed for 90 minutes straight.
Dorothy Woodend reviews films for The Tyee every Friday.