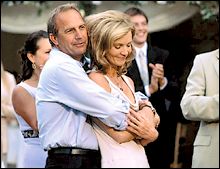 You Mother!
Depending on how and whom you address this word to, it can mean different things. In The Upside of Anger, it can be taken many ways, because Joan Allen is one mother of a mother.
Allen plays Terry Wolfmeyer, a woman whose husband has just left her. He took his wallet and walked out, leaving her with four teenage daughters, an enormous house, and a next-door neighbour who is also an amiable drunk ex-baseball star played by Kevin Costner. Quite naturally she takes to the drink. Alcohol doesn't do much to ameliorate her rage; the more booze she pours down her gullet, the more anger seems to steam out her skin. In this portrait of a mother as a hot stove, she is quite literally fuming.
Things aren't helped by her four daughters. The eldest, (and the most like her mother), is Hadley Wadley (Alicia Witt), who is marrying a moron and carrying his child. The next, Andy (Erika Christensen) won't go to college and takes up with her much older boss, played to pervert perfection by writer/director Mike Binder. Keri Russell, of the Felicity hair, is a wanna-be ballerina with a stress-related ulcer thing and the youngest is Popeye the sailor moon, played by Evan Rachel Wood.
Wood played a similar thirteen year old in 13, where she was every mother's worst nightmare. Here she is a little less intense. Why she is called Popeye we are not certain -- her eyes look perfectly normal, perhaps a little red from all the pot she smokes in her room with her might-be-gay boyfriend, who is also from a broken home and afraid of bungey jumping. It's Popeye's job to watch the proceedings with the innocent pop-eyes of a child, and offer preternaturally mature statements about life, the universe and everything.
Drama queens
This film is jam packed with plot; there's death, birth, marriage, drinking, older pervs, radio DJ's, baseball, life, age, sex, and anything else you could possibly want. This excess keeps things hopping, even if the changes in tone are a little disconcerting sometimes. One moment, Terry is fixing her laser gaze on her daughter's older boyfriend until his head explodes (literally explodes, with his nose landing in her soup) and the next she's howling because one of her daughters might be dying. But then again families are like that sometimes. Drama, drama, drama.
This is a role that an actress of a certain age can bite into, and Ms. Allen tears huge ragged chunks out of it. She doesn't waste one moment of her time on screen; when she's angry she's incandescent, but she also spends a fair amount of time baying at the moon and rolling around in the dirt, sodden with grief and vodka. The lighter moments play a little better, and the scenes with Costner recall some of the best male/female banter in a very long while. If Costner could simply play nothing but washed up baseball stars, he'd be doing ok. He should perhaps pass on pee-drinking webbed feet aqua men characters from now on.
Terry is smart, but sometimes, she is too smart for her own good. When her kids tell her to fuck off, and her boyfriend kicks down the bathroom door to tell her "I'm sick of being your bitch", there is a tendency to feel that she deserves what she gets. A late twist renders all this sturm und drang a tad redundant, but until then anger keeps it alive.
Moms, angry and saintly
Which is what the upside is all about. Gooey sentiment comes creeping back in and pulls the film firmly back into the realm of family melodrama territory. When resolutions come with everyone giggling over nothing, you know that the film, along, with Terry herself, has run out of steam. She's cooling down, which might be good for her and her kids, but for the audience, it's a bit of let down. When she is one mad mother, she's hot!
There is a mother lode of mad bad, and occasionally good to know mothers out there at the moment. In fact they could make up an entirely new film genre to encompass all the stories about "me and my crazy mother". For example, The Mother, Mothers and Daughters, Wasp (which captured the Academy Award this year) -- even something like Tarnation -- all stem out of that primary bond called mommy and me.
In the recently released Imaginary Heroes, Sigourney Weaver is another variation on this theme, flawed, irresponsible, but also very human. She and her son have a heart to heart about masturbation that ranks as one of the more interesting cinematic moments all year.
But there is also a proliferation of saintly mothers, like the single mom in Dear Frankie, who invents a perfect fictional father for her little boy. Or even the actual sainted mother in Danny Boyle's Millions. The recently released independent film Face tells the story of a reluctant mother as does Clean, with Maggie Cheung as junkie mom, and if you put the two together, you get what your mother does, when she spits on her sleeve and wipes your dirty mug, something mothers have been subjecting their children to for millennia. Even undead evil entities simply want their mommy as Naomi Watts finds out in The Ring horror film series.
Hail Mary
Our mothers are usually the first big star in our young universe, so it only makes sense that they inspire so many cinematic interpretations. Charlie Chaplin's mother was supposedly the model for the saintly females that populated his films. If your mother is good, then lucky you, but if your mother is bad, well, even luckier you. If your mother made you crazy, at least you might get a book out of it. Like Jeanette Walls did in her newly released memoir The Glass Castle. So too, Angela's Ashes, or The Liars Club in which Mary Karr's mother blazes like a dying star through the entire story. My own mother is writing her memoir, and of course, she is drawn back to her own mother's story, as if in understanding that, we can see our own experiences reflected back. Mothers make for good drama, because what else is family but that?
This March 25th, we celebrate the biggest mother of them all. The Annunciation, the day on which Mary found out from God's right hand angel Gabriel that she was going give birth to the Messiah. And really what would Jesus have been without his mom? Would he even be the Christ we've come to know and sometimes love? After all, she's the one who birthed that holy babe, convinced him to perform his first miracle and was there when everything went all to hell. You could say that the mother is where it all begins. And ends.
If only we'd listen to them.
Dorothy Woodend reviews films for the Tyee on Fridays.