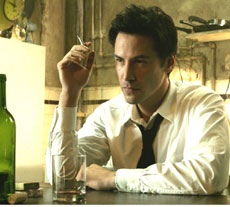 You'll be happy to know that the Vatican has got your back. According to a recent BBC report, the Vat plans to offer exorcist training to priests on the look out for demon meanies preying on the praying. Lessons in the elementary outing of evil entities will take place at the Athenaeum Pontificium Regina Apostolorum. (Just writing that makes me tired.) This week, writer Ian Sample in the Guardian also asked "Can people be possessed by evil spirits?" and answered "Channel 4 seems to think so, and next week plans to broadcast 'as live' the exorcism of a young man who says he is possessed by evil."
Yo, that's a whole lot of evil going on. I'm agog & Magog! But as regular filmgoers know, evil abounds, in this world and in "the world behind the world," as John Constantine calls it.
Constantine may be a fictional character, born from the fevered brain of graphic god Alan Moore, but he does his part in the great war between below and above. He's also a walking health advisory. Holy Smokes! If ever there was a two hour long anti-smoking ad, this film may come close. Constantine (Keanu Reeves) smokes 30 packs a day, and when the film opens he's coughing up his blackened lungs when not doing battle with demons. You'd smoke too, if you were the only one who knew what a fragile balance exists between heaven and hell. Hell! It's only a heartbeat away. In addition to being hotter than hell, Hell also has lots of cruddy old buildings and abandoned cars. It looks a lot like Mexico.
Cut naturally to Mexico where some dirty poor folk are scratching about in the rubble. One literally stumbles on the Sword of Destiny, the Roman spear used to kill Christ, wrapped in a Nazi flag. Mr. Spear-Finder wastes no time running into the path of an oncoming car, but even this doesn't stop him. He takes a licking, but keeps on ticking because he has a higher calling. Hint hint... We leave our little Mexican friend, and cut to some other people who don't speak English. A Korean woman takes some tea into her daughter, only to find her hissing on top of the ceiling. Who you gonna call? Johnny Constantine! -- who shows up in his taxi cab, smokes a few ciggies and wastes that demon baby.
How do you like your Devil?
But something ain't right, the balance between goodies and baddies has been tipped, and Constantine himself is running out of time. His lung cancer wants him, and heaven won't take him. His job deporting demons who don't behave isn't quite working out the way he thought. Not only does the job not have a dental plan, it also isn't winning him any points with the heavenly camp. God don't play that way, says the angel Gabriel, played by the extraordinarily flat chested Tilda Swinton.
Tsk, tsk Tilda, what are you doing here? Other than having a Christopher Walken type moment that is. Walken played Gabriel three times in the Prophecy film series, and Walken himself, must have made a deal with the devil, because no matter how many bad movies he makes (The Country Bears? Joe Dirt?? Kangaroo Jack???) he's still Mr. Cool Dude. In Prophecy, Gabriel was up to no good, making deals with the Devil, played by of all people, a very young and cute Viggo Mortenson. Viggo is a much hotter devil than that of Peter Stomare, who plays the Big Bad in Constantine. His version is not particularly frightening; he wears a nice suit, and upholds the long established cliche of making Satan something like an Enron executive, which he might very well be.
Where's a deus ex machina when you need one? The son of Satan wants to take over the world, and he needs some help. Constantine is the only one who is wise to this because of his unique ability to pop down below whenever he feels like it. . . . It all plays out the way you'd expect, the balance is tipped, something bad is coming, woman in danger, last minute rescue. It's like Ghostbusters but without the jokes. Good in the service of bad is never good, is what Constantine, I think, is trying to say. But like many contemporary horror films, it does its best to hide any complex thought behind a lot of gunfire.
God and mock gravitas
So what do genuine theologians think about this endless pilfering of their turf? The journal devoted to Film & Religion offered some insight into this phenomena. Writer Mario DeGiglio-Bellemare asks "If horror films are, as (David) Cronenberg also states, 'films of confrontation,' is it not the task of theologians and religious scholars to attempt to pinpoint the religious and political hegemony that some horror films are in fact contesting and/or supporting?"
Perhaps, the most interesting thing about the film is how it is being advertised, like a pitch for good old fashioned wrathful God. Swing your crucifix like a battle ax and hit evil where it hurts, in the crotch apparently. The notion of religion as the ultimate weapon is a hoary old chestnut that keeps reappearing. Tilda Swinton, interviewed in the New York Times about the movie, maintained that the dangers of political righteousness are still there, but you may be hard pressed to find that subtext in amongst the mock gravitas and CG demons.
Said the ethereal Ms. Swinton "I think there is something quite extraordinary in the story of this film that places the emissary of good as the one who tortures the world in God's name. It felt like the most radical thing for the film to do... It is absolutely not a departure from real life as we are living it today, in the grip of people who are dressing themselves up as God's right hand and taking us into war. The challenge was to make sure Gabriel never turns into an evil demon, that we see how he engineers this extraordinarily violent apocalypse out of love. Which is sort of the situation we're all in now."
Hmmmm. But is evil used to fight an even greater evil, still evil or not? The CIA executives who outsource torture might maintain that all's fair in a religious war. A recent piece in the New Yorker examined this phenomena in depth. As does the recently released book, The Torture Papers: The Road to Abu Ghraib by Karen J. Greenberg, Joshua L. Dratel and Anthony Lewis (Cambridge University Press).
Which leads to another soul churning worry: what really happens when all the rules are suspended? That is one of the questions posed in Lawless World: America and the Making and Breaking of Global Rules by Philippe Sands. Lawless World is an examination of "how the U.S. and Britain are degrading the fabric of international laws that protect us all, our freedoms and rights, and the planet we live on." The Guardian has been running excerpts from Sands' book for the last week, and it's very interesting reading, and somehow, oddly familiar.
Those crummy Crusades
History does have the perverse habit of repeating itself and once you've seen one crusade, you seen them all. Ridley Scott's crusades epic, The Kingdom of Heaven, marches across the land on May 6th. But it probably won't be a patch on Monty Python Terry Jones' Crusades. "Of all the wars waged in the name of God, none has ever matched the arrogance and conceit of the Christian Crusades," Jones has said. "For nearly two centuries (1095-1291), this medieval 'holy war' variously raged, sometimes so spiritually misshapen by rapaciousness, murder, and political greed that to think it all had to do with Christian faith is absurd."
Constantine, for all its Matrix trappings, is descended directly from the Old Testament school of smite your enemies till they can't see straight and 'Everything You Need to Know You Learned in Sunday School'. God Good. Devil Bad. So be good or else. Goddamn it.
Dorothy Woodend reviews films on Fridays for The Tyee.