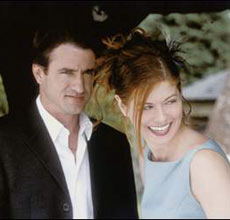 Picture Sex and the City's Carrie Bradshaw, tippy tapping on her laptop. She crimps her adorable pucker, scrunches her beautifully botoxed forehead and writes in glowing blue letters on the screen: "Are women the new assholes?"
If you've had even the slightest contact with popular culture lately, you might answer yes. Someone asked me the other day if I'd seen any good films directed by women lately. I had to say no. There is one female made film playing in theatres right now, it's The Wedding Date. I think I'd like that cyanide pill now, thank you.
Written by Dana Fox, and directed by Clare Kilner, The Wedding Date stars Debra Messing as Kat Ellis, another adorable babe from the Calista Flockhart School of Knobby Shoulders. What are those things exactly jutting out at the end of your clavicle? Oh, it's the end of your clavicle. Sorry for staring.
Kat is supposed to be adorable, although when and where she demonstrates this, I don't know. I think it's in the falling down part. Which, if you've noticed, is epidemic lately in romantic comedies. If you want to make a woman seem completely fetching, knock her flat on her ass. It's like a kitten playing with a ball of string. Awww... Cute!
When men are whores
Kat's younger sister is getting married, and Kat's ex is the best man at the wedding, so she does what any sensible woman would do, she hires a hooker to pose as her date. I guess it makes a certain type of sense. Off they fly to London, where Kat proceeds to get blind drunk and have a little bit of her bought-and-paid-for boy babe.
This noble man-whore comes in the form of Dermot Mulroney. His Nick Mercer is every woman's dreamy creamy chocolate wienie, with a degree from Brown in comparative literature, and a giant penis too!? What luck. The role reversal sounds more fun than it is.
When Kat finally works up the nerve to bed Nick, with a lot of help from lady liquor, she pretends she can't remember what happened the next morning. Come on girlie, that old chestnut didn't even work in high school, admit you did the deed, for God's sake. Where's your pride, pussy Kat?
Indeed, where is your pride? That's one of the things that bothers me most about the recent slew of romantic comedies (Bridget Jones et al.) is that they subject their heroines to the most egregious forms of humiliation. Maybe at one point this was meant to be a humanizing element — "Look I am just like you, I obsess over my weight, my relationship, the fact that I'm not married, etc." — but it's gone so far in only one direction, it's become a dehumanizing element. We are invited to laugh at these women, at their desperation, their sadness. It's mean, and worse, it's not funny.
Whatever happened to Katharine Hepburn?
Nick and Kat fight, make up, he gives up his whoring ways and they wander off into the sunset. It's all sweet and nice and supposed to make you bill and coo. It's written by a woman, directed by a woman, and certainly has lots of women in it, so how come I feel so left out?
The Wedding Date is aiming for Adam's Rib material (the Hepburn/Tracey classic that is one the all-time greatest man versus women films), but its makers are not fit to buff Ms. Hepburn's patent pumps. When the film isn't portraying Kat as a twit, it's insinuating that she's aging, anxiety ridden and overly controlling.
Messing, who has some comic skills, looks uncomfortable throughout. You wouldn't want to be her and you certainly wouldn't want to be with her.
I felt the same way about Carrie Bradshaw when Sex and the City finally teetered off the TV on spindly Manolo's. Thank God, it was finally over. When Carrie and friends first made into TV land, they didn't seem too terrible. But over the course of six seasons, something went horribly wrong with these women. They got cute. And cute kills, especially kills character.
Desperate, in and out of the kitchen
Yet even as Carrie and clan headed into sin-dication, an entire new crop of desperate women arrived. Desperate Housewives, this time, headed by Teri Hatcher, an actress who makes me want to climb in a box and tape it shut.
So much woman stuff makes me feel that way lately. Watching Oprah makes me want to hurt somebody. What the hell, sisters? Is it really all about botox, marriage, being skinny, and looking young? Railing against the stupidity of pop culture is like saying I wish water wasn't so wet, but sometimes you get tired of the deluge.
God, bless the British press — they have balls you could take bowling. Many of the most unblinking social critics herald from this small island. Tanya Gold from the Guardian, is a fine example.
She lets the newest cover of Vanity Fair (read full article here) have it right between the eyes, shooting bambi where it hurts. Says the fine Ms. Gold, who never minces words while making mince meat of Hollywood, "This is Disempowerment as she is dressed by Versace. On the first rung of the paper podium Kate (Winslet), 29, Cate (Blanchett), 35, and Uma (Thurman), 35, mug ferociously for the camera lens, trying to ease each other out of the viewers' eye in a nightmare of expensively dressed passive aggression.
"Uma has her hand resting on her neck and stretches out lasciviously in a parody of post-sexual languor. Cate has chosen to fling out her arms and toss her hair as if she's been caught on board a ship in a gale. She too is doing the repulsive yearning thing, which should only be done in secret, with a lover. Kate is arching her back and flinging her hand across her crotch, with enormous 'No, don't fuck her — fuck me' eyes. And these three are the talented ones.... I feel soiled gazing at this photograph, and it's not just jealousy. It reminded me of Caravaggio's famous chicken in the National Gallery; it's just as pornographic. [Annie] Leibovitz's cover is a simply a casting couch, a homage to the blowjob values of 1950s Hollywood."
You go, Mama, burn that house down.
Hollywood's new conservatism
Even the New York Times film critic Manohla Dargis and TV critic Alessandra Stanley run a very mild second place, and still their articles merit letters to the editor. A few weeks back, Ms. Dargis wrote about the growing prevalence of plastic surgery in Hollywood features. "I am increasingly distracted and alarmed by what plastic surgery is doing to the movies, but I never want to lose sight of the human factor either. There is, it's worth repeating, a person behind that frozen smile. Clearly, part of the blame for the spectacle of the post-human lies with the movie industry and its pernicious sexism..."
Film critic David Edelstein in Slate magazine covered similar ground when he called actress Meg Ryan's changed face "The most convincing illustration of what fear of male rejection will do to an otherwise beautiful and well-adjusted woman. The spectacle of actresses dieting down to their newly ropy limbs and puffing up their lips represents an effort to conform to male (and, alas, female) Hollywood executives' ideas of what's beautiful (or to use a word I'm told is frequently employed in casting sessions, "fuckable").
I read somewhere that Hollywood's treatment of gender roles and issues has taken one giant leap backwards, not even to the '50s when women were given more credence than they are currently, but much further back than that, the 1800s perhaps, the angel in the house notion. Nora from Ibsen's A Doll's House. So while Desperate and Sex showed women that they could hump around all they like, at the same time, U.S. politicians are preparing the ground to roll back Roe vs. Wade.
Is this merely a coincidence? Or is the return to the notion of the wife inside the house, which many cultural critics noted this fall, timed oddly with a resurgence of anti-choice legislation. TV screens and movie theatres are filled with images of women back in the kitchen, and it's Desperate Stepford Housewives all over again. Those who cannot remember the past are condemned to repeat it in reruns forever.
Dorothy Woodend writes about movies for The Tyee on Fridays.