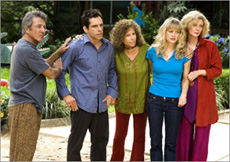 My mother has a theory about how most of human drama is about the quest for family, either escaping your old one, finding a new one, or making up an entirely alternate version, even it is one composed of 23 cats, coffee drinking friends, or Barbra Streisand.
While people are being forced to cope with their real families in their own homes this week, they will find little relief at the movie theatre. Meet the Fockers is only the most extreme example, Spanglish, Lemony Snicket's A Series Unfortunate of Events, The Incredibles and Finding Neverland all feature folks on a quest to understand the eternal conundrum that is family life. If my mother is right, (and she has the annoying habit of often being right), then the theme of this Christmas film season is family, the good, the bad, and the overly medicated. Like death and taxes; family is inevitable you can run but you cannot hide; your DNA will out you eventually and you will find yourself uttering things in your mother's voice, while your belly begins to look suspiciously like your Aunty Patty's. No one is spared.
Meet the Fockers is the sequel to Meet the Parents and the entire premise is, again, the clash of family cultures. This film has the odd timing of being released just as Americans seem to be pondering which direction they want to go in; back to the 50s with its twin beds, and abstinence before marriage? Or will it embrace the freethinking giddiness of the hippies with their crazy clothes and their kooky theories. The answer seems to be a 50-50 split.
Lewis Lapham in the most recent issue of Harper's Magazine gives it to America with both barrels blazing; blasting the hypocrisy of this dual system. I remarked on the scathing tone of Lapham's editorial to my mother, "That's because no one in the U.S. listens to him," she said. But maybe somebody is. Hollywood, with its ear to the heart of the nation, has determined that the red and the blue states are like just like the Byrnes and the Fockers. On the red side you have good 'ole conservative USA, clean, white, Christian and so patriarchal it makes your teeth hurt. This side is represented by Jack Byrnes and his lovely wife Dina, who could have been extracted out of 1955 with nary a whisper of difficulty. On the bluer side of things you have the Fockers. Roz and Bernie, sex positive, plumbing deficient, heavily into bodily excretions, and draped caftans. Let's say they represent new America, the one that came of age in the 60's and 70's, the 'free to be you and me' generation, who raised children somewhere in between these two poles; their son is able to take up the banner of being a male nurse but embarrassed about it all the way. America, she still at a cross roads. And sex is the big red x right in the middle of that intersection.
The blue-balled states
Some six decades ago, Alfred Kinsey debunked the myth that the sex habits of US citizens were strictly straight, missionary and altogether infrequent. This is information that Americans still find extremely unsettling. When the recent biopic about Dr. Kinsey's life and work opened in theatres across North America last month, protests followed close behind, particularly in the red and blue-balled parts of the country. If Dr. Kinsey proved anything it was that the 'White Middle Class American Male', needed to get seriously focked, and indeed he does by the end of Meet the Fockers.
Focking is the answer it seems, sex will keep you lively and happy well into your reclining years. And if ever there was an advertisement for what sex can do for you, surely Barbra Streisand is it, she looks truly bounteous, juicy, curly and glowing, a walking, talking advertisement for Earth mama-hood. Dustin Hoffman also seems to have escaped Time's winged chariot. He's having so much fun, he positively twinkles. Especially with a face full of whipped cream and Bab's boobies. Delish! says Dustin. The pair of them have a gay old time, romping like a pair of puppies on the first day of spring. In contrast to their bounce, is the stick figure of Blythe Danner. She is the only one I genuinely felt sorry for in the entire film. Here is the pre-Betty Friedan model of womanhood, sexless and limp, utterly without joy in a cardigan sweater. God! who in their right mind would want that? Oh yes, Laura Bush.
The U.S. Government has dumped piles of money into abstinence-only sex education programs in recent years, despite increasing evidence that not only do they not work, they may even cause more damage than they solve. A recent article in the Washington Post revealed that abstinence programs actually mislead the very people they're supposed to help. "Many American youngsters participating in federally funded abstinence-only programs have been taught over the past three years that abortion can lead to sterility and suicide, that half the gay male teenagers in the United States have tested positive for the AIDS virus, and that touching a person's genitals can result in pregnancy... In providing nearly $170 million next year to fund groups that teach abstinence only, the Bush administration, with backing from the Republican Congress, is investing heavily in a just-say-no strategy for teenagers and sex. But youngsters taking the courses frequently receive medically inaccurate or misleading information, often in direct contradiction to the findings of government scientists."
Lord, Almighty, save us from our sexy selves.
If the film had followed the parental Focker's lead and merely played and rolled about in the sun, it might have been more enjoyable. Although the ingredients are all there, set to rise, something is missing, some crucial element to lift it up. Some comedy Viagra perhaps. The film strains for levity but funny should be effortless and easy, and this movie is doggedly earnest about its task, a quality that kills comedy on contact. The ongoing joke is the many comic uses to which the name Focker can be put. Are you a Orny or Randy Focker? Are you a Martha Focker? Hahahhahah. Oh stop, my sides are hurting. It also trades in sad old stereotypes, that Jews and Hispanics are simply more in touch and into touching their sensual parts, that WASPS only do sexy stuff when it is strictly necessary, for the procreation of more wasps, no birds or bees allowed. When Bernie Focker calls Jack Brynes an old stiffie, he doesn't mean it in a good way. The only thing that is stiff on Jack is his ramrod posture. Just like George, there is no push in this bush.
The idea that people are either pro or anti sex, is of course, ridiculous, but duality seems to be the two-toned tenor of the times. Sex, as Dr. Kinsey demonstrated comes in all flavours of the rainbow, and limiting people to only two colour choices is simply unrealistic, not to mention cruel. The same is true of family, since it is what sex inevitably leads to much of the time. In Meet the Fockers, it's still a red or blue world, a two party system, you're either on one side or the other, so make up your focking mind.
Dorothy Woodend reviews films for The Tyee on Fridays.