As history rises and falls, so too do the skirts of the nation. They're higher in good times, theoretically lower in bad. Although it is by no means an exact science.
The so-called hemline index is well in evidence in Dressed for History: Why Costume Collections Matter, a new exhibition at the Museum of Vancouver showcasing women's fashion from 1750 to 2000.
Drawing from the collections of Vancouver costume and fashion experts including Melanie Talkington, Ivan Sayers, Claus Jahnke as well as the BC Society for the Museum of Original Costume, the show is both history lesson and absolute ravishment for the eyes.
Previous exhibitions of designers like Christian Dior, Alexander McQueen and Thierry Mugler have drawn record attendance in galleries and museums around the globe. It's not hard to see why clothing draws a crowd. In addition to their beauty and craftsmanship, there is an intimacy and immediacy to these items. Whether it's a handbag shaped like a Volkswagen Beetle or a glorious silken gown, someone once loved, lived and cared for these things, imbuing them with spirit, a kind of animus that speaks across the centuries. Be it a pair of shoes, a dress, or a coat, these most intimate and personal objects carry the indelible imprint of a person.
Historical clothing collector and curator Ivan Sayers started purchasing clothing when he was a teenager. For him, the attraction isn't just about people's affinity with and interest in clothes, but the idea that fashion is something attainable and affordable for most folk. You might not be able to buy a Rembrandt, but you can probably afford a nice pair of pants or a nifty hat. Everyone can be a collector of sorts.
Sayers bought one of his first pieces for five cents when he was 14 years old. Over the years, the number of hats, dresses and other artifacts in his collection has grown exponentially. So have prices for vintage items, but that's another story.
Like the title implies, the exhibition takes a chronological approach, which in the case of fashion is the most logical way to organize things. Style evolves, sparking off world events like wars, the fall and rise of empires, as well as other seismic social upheavals.
How much of this change is represented by the changing nature of skirts is kind of remarkable. But the evolution isn't only in the hemlines. The changing shape, size and relationship to the female body, as well as correlation to the greater zeitgeist, are reflected in how clothes are constructed. But that's only one aspect of how fashion reflects the inner lives of the people who made and wore different items. Another equally fascinating aspect is how clothing embodies the role of women at different moments in time — confined, freed, objectified and so on.
Long before the mini skirt upset the apple cart of society, dress styles like French chemises (robe-sylphide) were deemed obscene, as they gave too much away about the female body. In reaction, styles moved towards a much more covered treatment. And then they simply kept going, up and out in the form of hoop skirts, bustles and trains. Waists were whittled in and bosoms padded out.
Agonies and ecstasies
In explicating all of these reactions that ping-pong across history, Sayers is an excellent guide, a bubbling fountain of information, anecdotes and miscellanea that all adds up to a riveting journey through the annals of fashion and by extension Canadian history.
Some of the most interesting ensembles in Sayers' collection came about in the most serendipitous fashion.
A buckskin jacket is a case in point. At the time, Sayers was living in what he describes as a "terrible house" on East Hastings Street. During a visit to a neighbourhood thrift store, he saw a garment sitting on a chair behind the clerk. A little lite haggling ensued. A dance of offer, counteroffer and decisions. Eventually Sayers offered to buy it for the grand sum of $75. He says that this amount of money was more than his monthly rent at the time. In the end, the clerk sold it to him for $15, the exact price she had paid just that morning for the item. The jacket retains its jaunty yet delicate style, incorporating Athabasca Chipewyan First Nation technique with embroidered wildflowers, puffed sleeves and a sleek, almost gamine look.
If you're a collector of any sort or stripe, this kind of story might cause a feverish sweat to pop out on your brow. Much of the practice of collecting is hard, concentrated work. But sometimes fate just throws you a bone, or this case, a beautifully embroidered buckskin ensemble.
Novelty, charm and old loveliness should never be underestimated. But finding something great for a song is like a gift from the heavens in the fashion world. You never lose the urge for the search. Even as Sayers was telling me about his different discoveries, I was possessed by the sudden need to run to the nearest thrift store and rifle through the racks. In olden days, finding truly amazing stuff wasn't that unusual, but times have changed.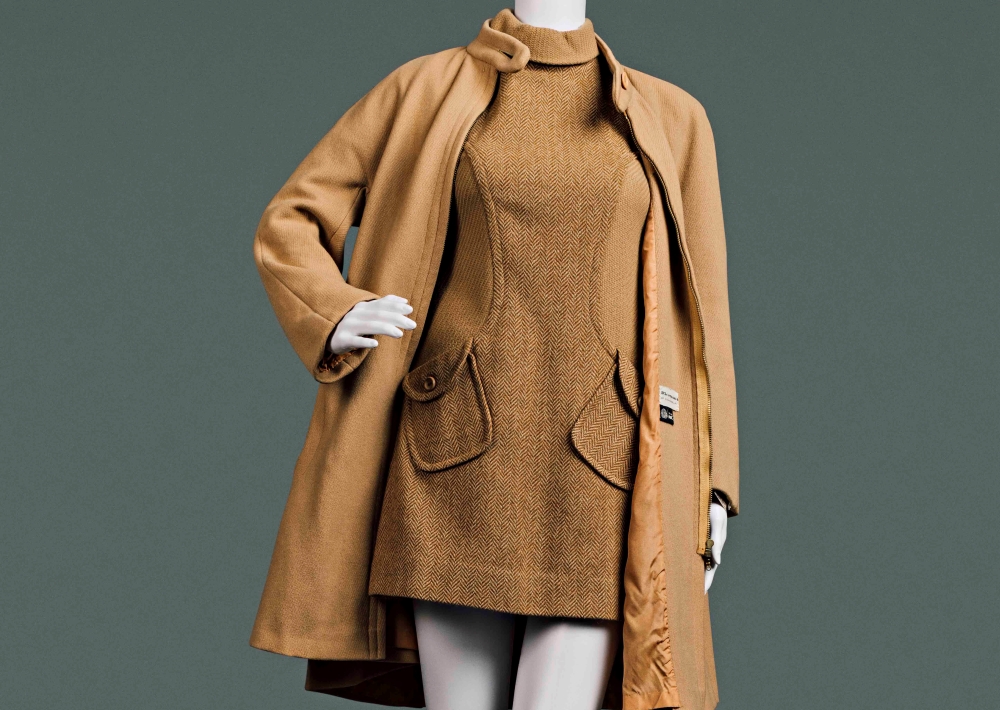 Many of the folk represented in Dressed for History have fashioned collections that rival those in other parts of the world. Melanie Talkington's antique corsets are one such body of work. Talkington started her collection in the late '90s after coming across a rather battered bit of boning and fabric. Her corsetry collection, numbering more than 300 items, was recently loaned to an exhibition in Paris. Looking at corsets is one thing and wearing them is quite another, but it provides a window into the lived reality of Victorian women of the age.
The exhibition at MOV includes a version worn by Cathie Jung, who holds the Guinness World Record for the smallest waist. Just looking at it makes it hard to draw a deep breath, but there is no disputing its beauty.
Jung's constricting corset reminds us of the dark side of style. Giant crinoline skirts caught on fire. In the early 1900s, young women were so constricted by hobble skirts that they could barely walk, much less run away when they really needed to. The infamous story of a young French woman trampled to death by a horse is only one example. Organs shifted and lungs were constricted due to overly zealous corsetry. Tendons became so foreshortened by years of wearing heels that some women weren't able to stand flatfooted any longer.
One of the most striking gowns, a deep green silken number, embellished and ornate, is enclosed in a glass case. As Sayers says, the remarkable colour was afforded by the use of arsenic green dye. Although the brilliant hue was something of a sensation at the time, it was actually quite deadly.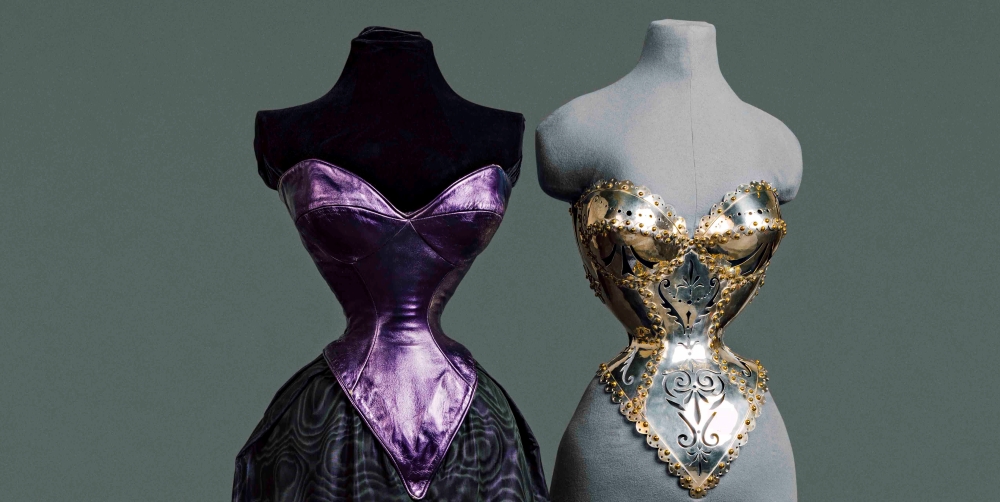 Clothes make the person
The agonies of fashion are pretty egregious and well documented, but for every horrifying trend towards constraint and pain, there is another movement towards freedom and liberation. The reactionary nature of fashion is itself an interesting thing. The pendulum can only swing so far before it reverses course. This pattern is repeated throughout the exhibition, sometimes in direct relationship to what is happening in the wider world (war, colonial expansion and so forth).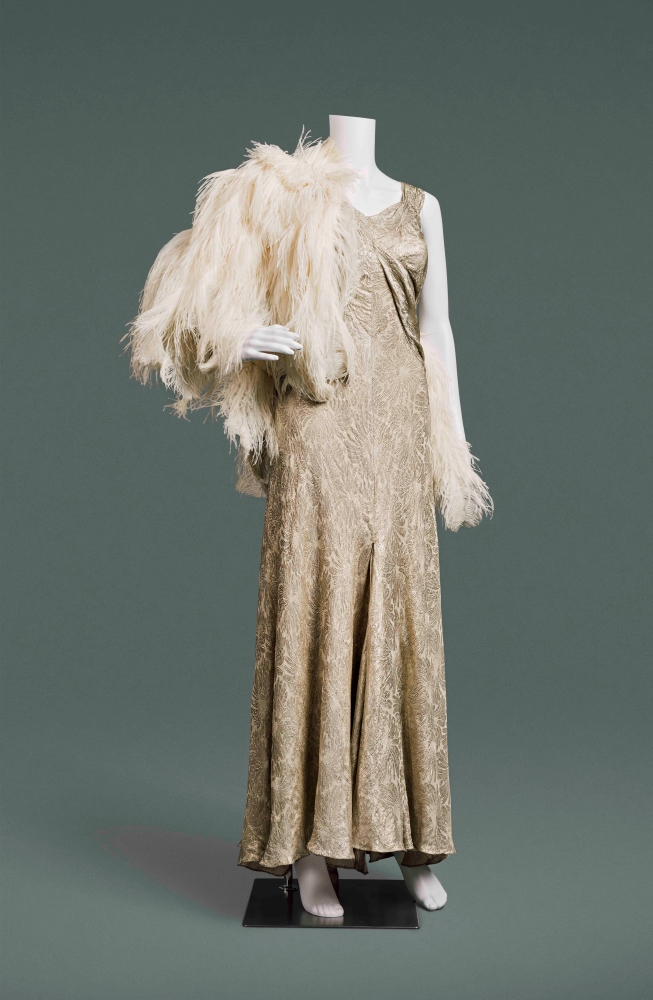 Christian Dior's new look is perhaps one the best known of these pendulum swings. Following the more masculine trend epitomized by uniforms, large shoulder pads and narrow skirts during the war years, Dior dresses and suits with their teeny waists and acres of fabric marked a sudden return to abundance and a certain type of conventional femininity.
As a number of fashion historians have noted, the re-emergence of an overly feminine look went hand in glove with efforts to remove women from the workforce and place them back in the domestic realm.
It wasn't until the "youthquake" of the 1960s that fashion shook loose the shackles once again, with its emphasis on freedom in all forms. Although the miniskirt came with its own complexities, namely bending over and/or sitting down.
At some point in the show, you might think, "Hey, this is where I come in." The punk ethos of the '70s bleeding into the pop-neon of the '80s brings back all kinds of memories. I am kicking myself for not hanging onto some of the more iconic items I had from the era. But sometimes it's actually a good thing to release clothes back into the wild, where they can bring joy and surprise to the next generation of fashion fillies and clothes horses.
Sayers explains part of the impetus for the show came in part as a way to demonstrate the central role fashion plays in history, making the case that a dedicated space is needed in the city. I have to agree wholeheartedly.
Clothes say a great deal. They communicate our gender identity, relations and economic indicators. They signify wealth, power and the presentation of both. Yes, all of that stuff. But also, they're just magnificently beautiful, playful, functional, sometimes even regal. All of it bound up with a silken bow and a cute hat.
'Dressed for History: Why Costume Collections Matter' is on view at the Museum of Vancouver until November 2023.