Being fully engaged means presenting an image of who you want to be and how you wish to be perceived in the larger world. And we see this in full effect in As We Rise: Photography from The Black Atlantic, where fashion is a means to demonstrate identity, pride and community.
Fabulosity is on full display in the new exhibition at the Polygon Gallery in North Vancouver.
Organized by Aperture and curated by the Polygon's own Elliott Ramsey, the show features photographs from the Wedge Collection, a landmark contemporary art collection that Toronto dentist and art collector Dr. Kenneth Montague established in 1997. The collection started in impromptu fashion, when Montague began acquiring work for a gallery in his apartment building.
In the beginning, the art comfortably fit into Montague's wedge-shaped apartment, hence the title. But as the number of pieces began to expand, it took on a life of its own, outgrowing the original space. It became Canada's largest collection of Black-owned, and privately owned, contemporary work. The Wedge Collection now boasts more than 400 photographs, drawings, sculptures and paintings by Black artists that explore the culture of the African diaspora.
As We Rise took its title from a homily that Montague's father used about the critical importance of sharing good fortune with others in the community. "Too often in the larger culture, we see images of Black people in attitudes of despair, pain or brutal isolation. As We Rise gently refuses that," writes Nigerian-American writer Teju Cole in the introduction to Aperture's publication that accompanies the touring show. "It is not that people are always in an attitude of celebration no, that would be a reverse but corresponding falsehood — but rather that they are present as human beings, credible, fully engaged in their world."
The show divides itself into categories including power, community and identity. With more than 100 images drawn from the previous century, the photographs run the gamut from family celebrations to underground dance parties, and represent some of the most remarkable artists, past and present. The collection features work by superstar artists like Stan Douglas of Vancouver, Deanna Bowen and Jorian Charlton of Toronto, among others.
Easily one of the most fashion thrilling images is James Barnor's photograph of a young woman dressed in a Pucci dress. Leaning against a car, she fixes the camera with a look that morphs between amusement and impatience, but it's the details of her outfit that snag attention. The graphic earrings and pendant necklace, the chunky bangle, pale nail polish and frosted lipstick all combine to create a singular presentation.
Barnor, an artist of British and Ghanian descent, was one of the first Black photographers to gain international recognition for his work as a portraitist and photojournalist.
The photo of Erlin Ibreck, taken for Drum Magazine radiates with the swinging coolness of '60s London. But more importantly, it presents its subject with all her innate complexity, character and complicity with the lens itself.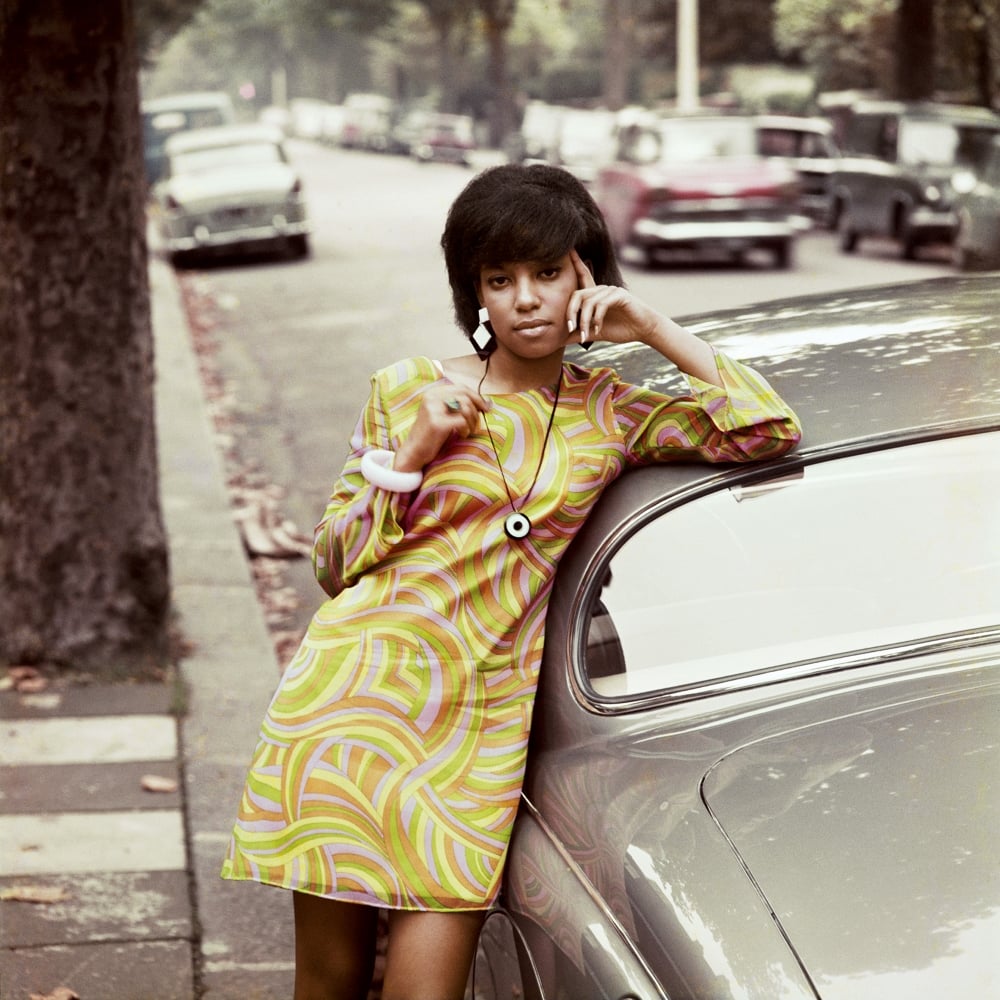 Xaviera Simmons' self-portrait Denver takes a decidedly different approach to fashion, depicting herself in a flowing green caftan in the midst of flyfishing. Set against the deep green of the mountainous backdrop, she looks at ease casting a line out into the swiftly flowing river.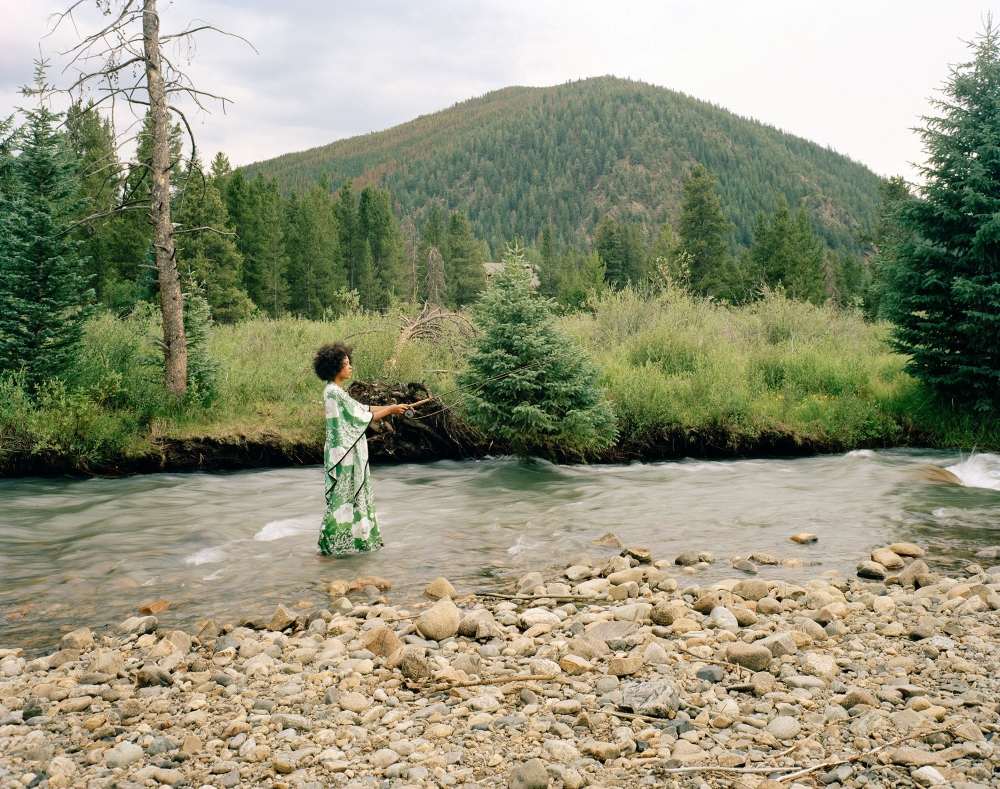 A world away from the rural vista of Simmons' work is that of Arielle Bobb-Willis. Bobb-Willis began taking photographs as a teenager in South Carolina as a means of combatting her own depression. Her work has been featured in magazines like the New Yorker and Vogue. In Union City, she captures a moment of urban art in action, with a young man seeming to dance down the street, his Nike-clad feet barely touching the ground.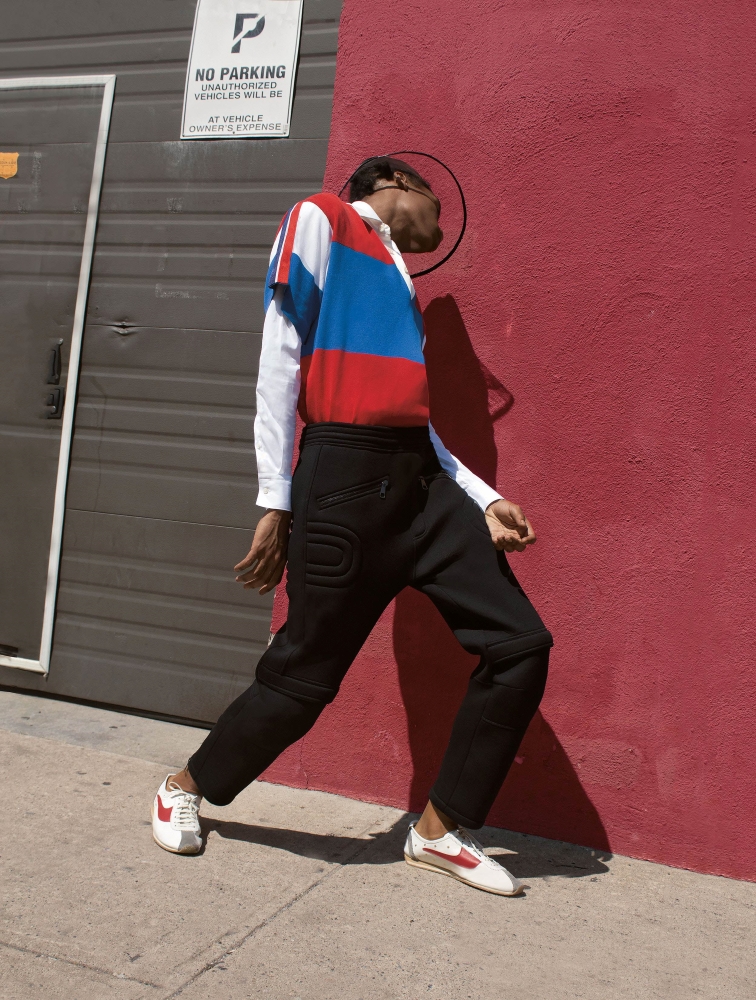 I'm fascinated by what drives people's choices of clothing. It's not only a projection of identity, but it also contains an aspirational aspect. This aspect of self-creation or perhaps self-determination is itself an act of innate creativity.
In some of the photographs, this sense of striving is clear, whether it's the couple in matching raccoon fur coats in James Van Der Zee's famous photo or the disco boots and fringed pants that Samuel Fosso dons in a self-portrait entitled, naturally enough, '70s Lifestyle.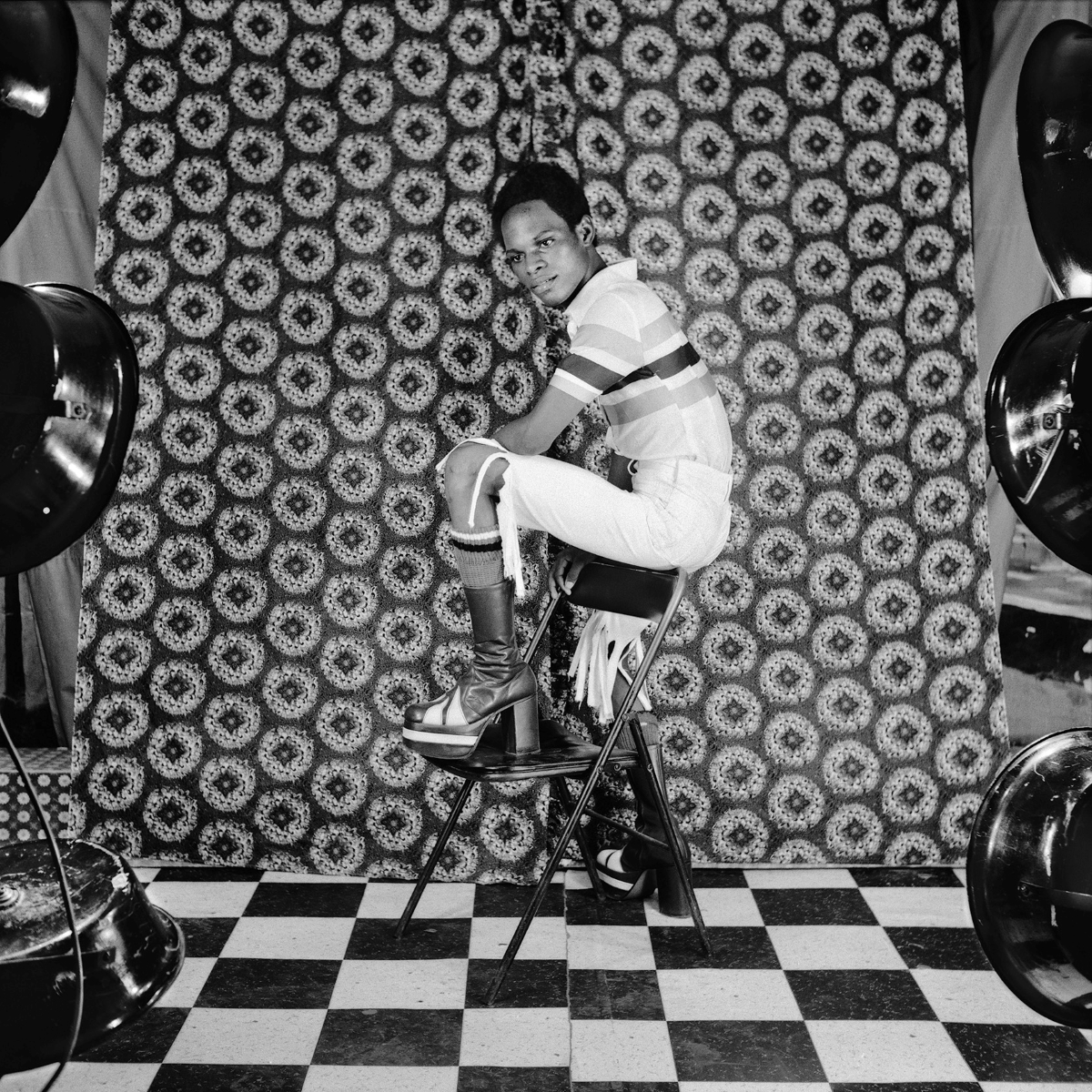 Many of the works play at the intersection of sexuality, gender fluidity and glamour. Jorian Charlton's Untitled, featuring two women shot from behind, is a mixture of style and the work required to make it happen. In heels and chain belts, with curlers still in their hair, the two young women are captured in a funny interstitial moment, between prep and full presentation. In its intimacy and humour, it allows viewers a little peek inside a culture, but also the individual folks who embody it with details of hair, dress and attitude.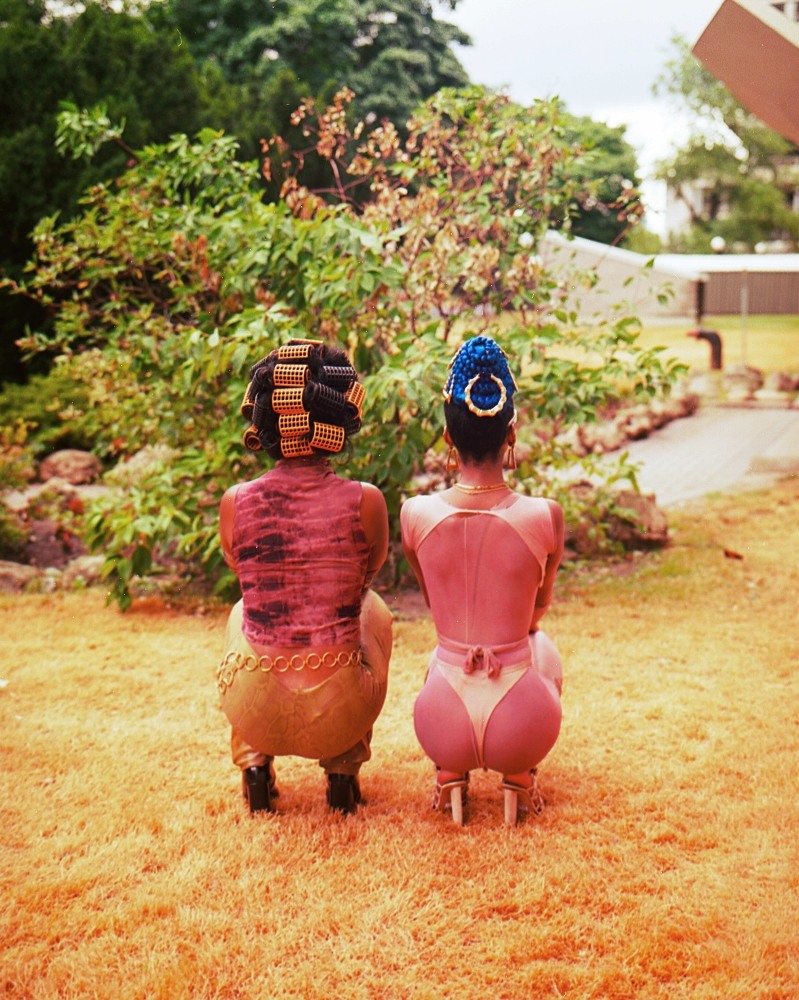 Disco, hip hop, jazz all figure large in the show. In images from the early days of hip-hop when the musical genre and cultural movement was finding its form, fashion was critical.
Jamel Shabazz's photo Rude Boy contains many of the era's signature items, the thick gold chains, heavy rings and nifty sneakers. The young man in his finery is performing for the camera, but there's an element of shared, almost conspiratorial, collusion between subject and photographer as if they are in on the same joke.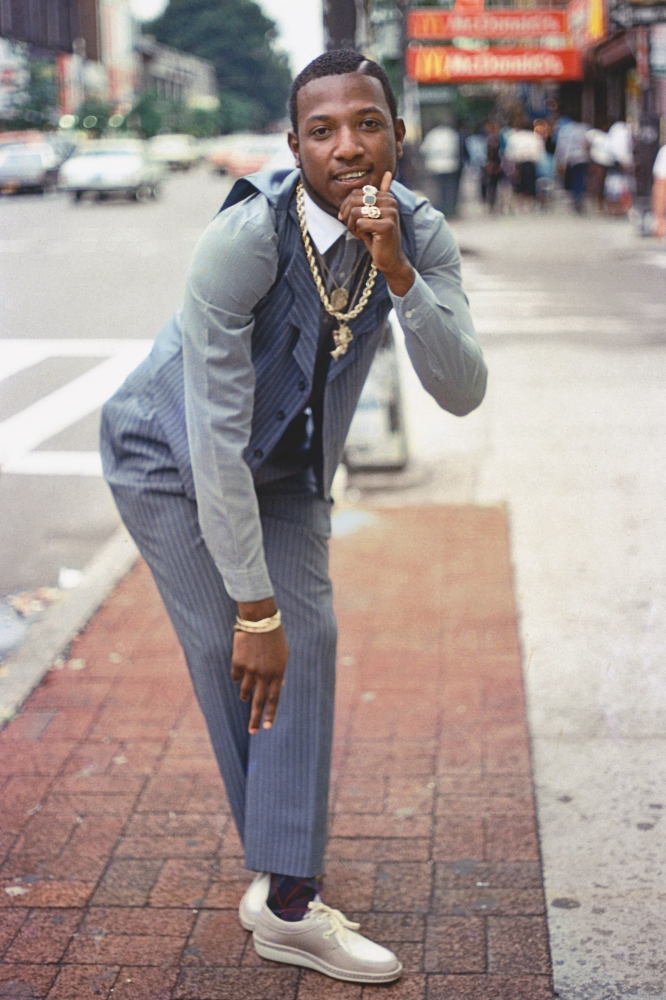 Other works from Shabazz buzz with this same humour and ease. Best Friends captures two identically dressed women, obviously out on the town. They face the camera, laughing together as they grip a shared subway pole, while other transit riders look on in amusement. It's a moment captured in time, but even decades later, it's still brimming with immediacy and easy joy.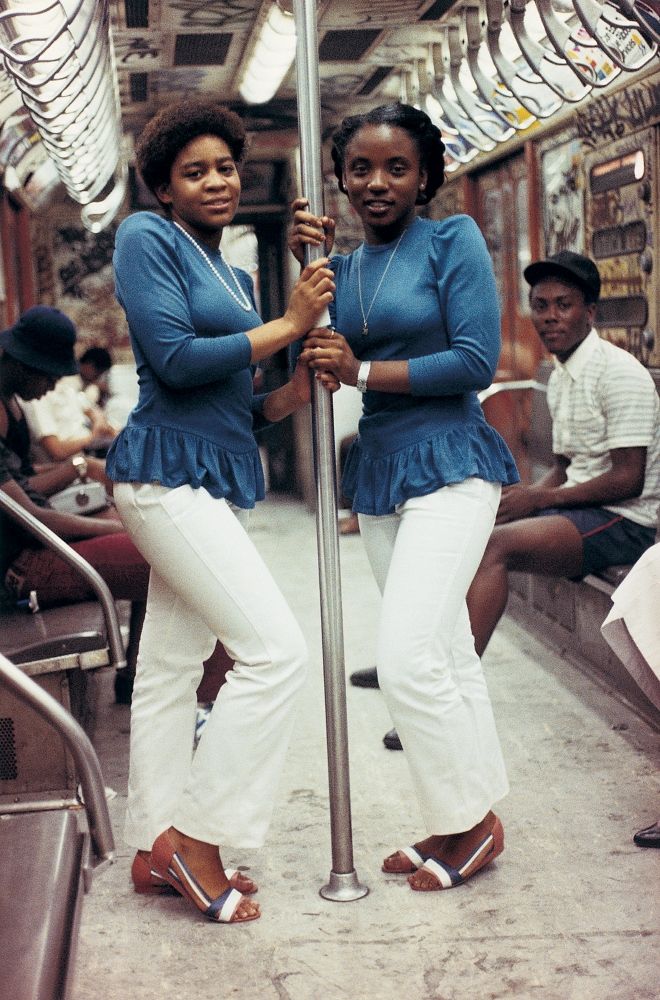 Tayo Yannick Anton's series Yes Yes Y'all features dancers and partying folk at Toronto's queer underground dance party.
Anton described the experience of taking photos in an article for the Fader: "Month after month by midnight the party would be rammed with the most diverse, beautiful people in the city: queer, trans, bi, all shades, all sizes. When the reggae would come on and you look at the party it's like everyone just bends over and there's someone on their head, getting picked up, another person doing the splits," he wrote.
"I could never take enough photos to capture all moves, all the 'fits, and all the emotion in one room."
There is so much to see and delight in with this collection. Photography from the Black Atlantic is a riotous celebration of self-creation, actualization and a glorious statement of simply being in all its colour and power.
---
'As We Rise: Photography from the Black Atlantic' is on view at the Polygon Gallery in North Vancouver until May 14.