Nomad Century: How Climate Migration Will Reshape Our World
By Gaia Vince
Flatiron Books (2022)
Gaia Vince is a science journalist based in the U.K. who recently published her third book, Nomad Century: How Climate Migration Will Reshape Our World. It frames climate migration — mass displacement and migration necessitated by climate crisis — as an unavoidable consequence of economic growth and the greenhouse-gas emissions it has caused. And so it is.
Vince builds her case on a realistic projection of a three-to-four-degree rise in global temperatures by 2100, not the 1.5 degrees we keep pretending to aim for. At three degrees, much of the tropics will be uninhabitable, and Canada won't be much better.
But Vince argues that we can move billions of people from the tropics to the high latitudes: northern Canada, Greenland, Scandinavia, Siberia, South Africa and Patagonia. That seems to me dangerously optimistic. Maybe we actually could do it. But we won't.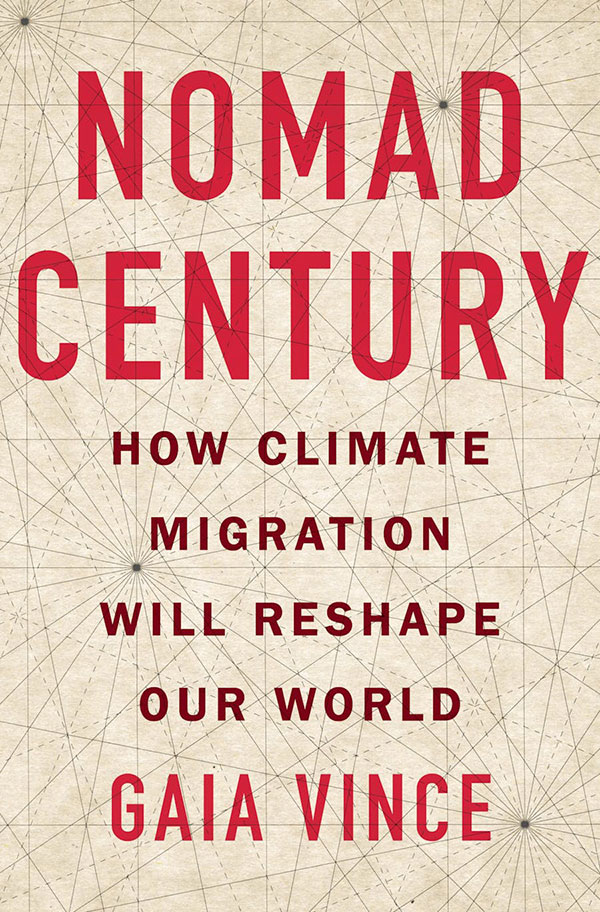 Most of the self-styled "advanced" countries are currently hostile to the migrants already fleeing drought-ridden regions like Syria, Somalia and Central America. Here in Canada, though, we welcomed 431,645 immigrants last year, and Ottawa hopes to raise the number to half a million by 2025. According to Immigration, Refugees and Citizenship Canada, "Immigration accounts for almost 100 per cent of Canada's labour force growth. Roughly 75 per cent of Canada's population growth comes from immigration, mostly in the economic category. By 2036, immigrants will represent up to 30 per cent of Canada's population, compared with 20.7 per cent in 2011."
What's more, IRCC says, "Canada's aging population means that the worker-to-retiree ratio is expected to shift from seven to one 50 years ago to two to one by 2035." So we have good demographic reasons to encourage immigration.
The population of Canada is projected to be 100 million by 2100. Without immigration, we would have only 53 million, and our population pyramid would be top-heavy with old people. Economic growth would be very hard to sustain.
Migrate or die
But that assumes we and the rest of world will indeed continue to grow economically. Climate science points to a much grimmer future, in which billions of people will find their home countries uninhabitable. They will have to migrate or die.
Vince seems to me well-versed in climate science, and I have no trouble with her forecast. I have great trouble with her proposals for mitigating global heating and moving millions to high latitudes.
She calls for geoengineering on a grand scale, especially the dissemination of sulphates into the stratosphere at rates of millions of tonnes per year. This would have some cooling effect, but it would be expensive. Not to mention politically doubtful: it's hard to imagine every country in the world agreeing to be overflown by the U.S. or China, or any other major global power. And if geoengineering backfires, Vince casually assumes that such projects can be stopped in their tracks.
Similarly, she sees nuclear power as a serious alternative to fossil fuels. But radioactive nuclear waste would persist for tens of thousands of years. Nor will nuclear fusion get us out of this mess.
Vince argues that the world's nations should form a global authority to run the migrations and the campaign against global heating. She points out that our present fetish for powerful sovereign nations is just a couple of hundred years old and could easily be abandoned as we joined in the common cause of saving billions of people. If only we could!
Migration to high latitudes would be a tough sell
Following Vince's logic, Russia would welcome millions of migrants from China into the boreal forests of Siberia, while Canadians would populate our far north with Americans. Vince does admit most of the Canadian north will remain unsuited to agriculture, but thinks that the northern reaches of Alberta and Saskatchewan (which she calls "states") could become the world's new breadbasket.
Actually, migration into high latitudes would be a tough sell. Significant parts of the Global South are beset by famine, but is it actually feasible for thousands of people accustomed to life in hot desert regions to relocate to a place like Nunavut and an entirely new way of life? Our far north is warming, true, but its climate will be unstable for decades. New communities would have to be built that could withstand melting permafrost — and also brutal cold spells. The newcomers would have to adapt to long winter nights and equally long summer days.
Vince imagines that even as the seas rise, global trade and finance will thrive. So we will protect major financial centres like New York City while we build new cities on the tundra. It seems more likely that we will have to transfer millions of tonnes of toxic and radioactive substances out of coastal cities, or risk the extinction of most of the life in the sea. And once we had completed toxin capture and sequestration, we could start dismantling the cities to build new ones in safer locations.
Vince loses me for good when she writes: "We are still a long way from achieving economic growth without environmental destruction, but there are ways of getting there. Although some environmentalists argue that we should be aiming for degrowth, I remain unconvinced that living standards could be maintained under such circumstances, and can't imagine democratic societies choosing a decline in living standards." Faith in high living standards is a tenet of rich and poor nations alike, but they come at a cost to the environment that is no longer sustainable. And the unsustainable must eventually stop.
Lower living standards? Unthinkable!
Like Vince, billions of people can't imagine a decline in living standards. They want standards to rise for everyone, even though it would only hasten climate catastrophe. The whole point of renewable energy and climate mitigation is to allow us to maintain our present fossil-fuelled lifestyle, and aspire to more, without feeling guilty about it.
But when eastern China and north-central India and the petrostates of the Middle East become physically uninhabitable, many of those billions will have just two choices, and neither will be accepting a "decline in living standards." Their choices will be to move, or to die in place.
Suppose that in 2025 or 2030 Canada decided to accept five million immigrants, millions more than the 431,645 who arrived in 2022. And another five million the next year, and so on. The logistics of moving, feeding, sheltering and employing such numbers is itself unimaginable.
COVID-19 has already shown how fragile our internationalism is. We have grown numb to the deaths and long COVID cases (if we pay attention).
The pandemic has triggered reactionary movements against mandatory masking, vaccination in general and immigration. Even if admitting huge populations were practicable, few advanced nations would do so — apart from picking some of the richest and best educated, the most "assimilable" in a consumption-based economy. In effect, we would choose to let hundreds of millions perish, and we could watch them perish on social media.
Given what we know about the new few decades of climate collapse, this prospect is self-evident. But no government wants to consider any steps that might prevent or mitigate deaths on such a scale. To do so would be to admit that all our conferences and treaties and commitments have been mere political theatre, distracting us while nations pour their resources into economic growth.
So I find it difficult to foresee a world in 2100 run by a global authority with the will and the resources to move hundreds of millions of people into regions that (so far) remain inhabitable. Nor do I see Canada with 100 million citizens. Yes, we could have a much higher population than today's 39 million, and many might live in the north.
But we too could find ourselves climate refugees, fleeing flooded Vancouver and parched Kelowna for sanctuaries like Atlin and Toad River — or paying for one-way tickets to Siberia, if there is any room left.
In that case, we will know what millions of climate migrants already know: that we are exiles from a paradise we built and lost.