My downtown office window overlooks the rooftop of a parking garage. Look out the window on a nice day, and I promise you will see Instagrammers. They come lugging expensive cameras and outfit changes, sometimes in pairs, sometimes in packs. They photograph and pose for one another, as if for magazine covers. Some are professional photographers, some are self-styled fashion gurus, some are passionate teens who work part-time jobs to afford the latest gear.
I encountered the first visitors two years ago. The sound of their voices roused me from my desk.
Laughing and howling? Teenage visitors excited by the view. Loud orders? Adult visitors, never older than 35, directing one another on how to pose or where to stand. Once, I heard a guy sing an ode to the place, "We're on a rooftop, bop bop. We're on a rooftop, bop bop."
All visitors have a mobile phone or DSLR in hand. They aren't there to photograph buildings; they are there to photograph themselves in front of buildings, dressed in a diversity of styles: preppy, street and vintage throwbacks. Most of it is for Instagram. The app has 800 million monthly users (and counting) sharing images from their lives, sharing creative content and connecting over hobbies. Celebrities, small businesses and global companies use it too.
Aside from simple portrait photographers, there are other surprises. I've seen skateboarders record tricks on video. I've seen TV crews shoot fight scenes. I've seen teens set off a bomb of blue smoke for dramatic effect. And, strangest of all, I once saw four guys — all in black, puffy jackets — place a puppy in front of a Ferrari for photos.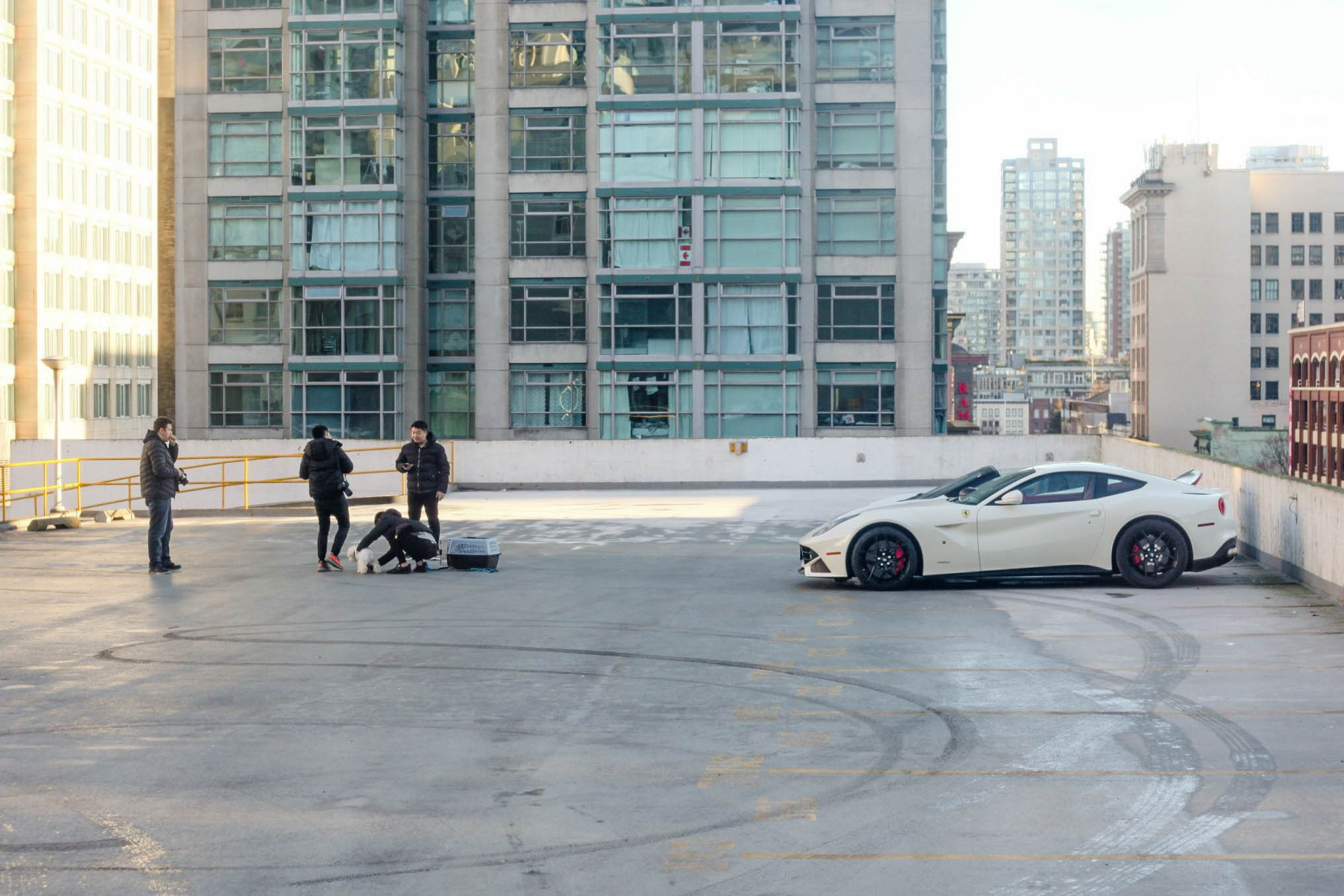 My office is in the Rogers Building, which has anchored Granville and West Pender near Vancouver's waterfront for 105 years. It's an 11-storey building, handsomely clad in white terra cotta tiles. They don't make them like this anymore.
I am on the fifth floor, which perfectly lines up my window with the rooftop of the parking garage next door at 443 Seymour St. If it were not for the bars, I could open the window and climb out.
I visited the garage rooftop one lunchtime to see what the fuss was about, but didn't find any jaw-dropping backdrop. There's a decent view corridor of downtown skyscrapers, but no sightlines of the nearby inlet or mountains. I suspected the rooftop was popular because it is never full of cars, making the spot a good urban studio with little chance of interruption.
At the beginning, I spotted about one group of visitors a week. But as the months went by and spring and summer neared, there were multiple visits a week.
Then came the day I saw a view of the rooftop from a digital window: a photograph on Instagram itself.
The photographer's name was Rachel Barkman. Her image of the rooftop was part of an engagement shoot: a soon-to-be bride and groom walk toward one another over yellow-painted parking lines. The Seymour Building, nearing its centennial, towers behind the couple, with its name hand-painted in bold letters at the top. Glassy condo towers peek out from behind.
Barkman's shot gave me a new appreciation for the rooftop. The view, indeed, was something special, just out of the way enough to feel like a secret and just high enough for a perspective you can't get from the street. And with the old and new captured here, the view tells an urban history.
Others thought the spot was special, too. "Sick rooftop," wrote a commenter on the engagement photo. And another with no restraint: "THIS IS SERIOUSLY SO ADORABLE!!!!! LOVE THOSE BUILDINGS!!!"
The rooftop showed up with more frequency on my Instagram feed as more and more visitors showed up at my window. It was like watching a stage, with a new cast of colourful, costumed characters each day.
I had more questions with each passing visit. How did they know about the spot? And how did they know how to find it? Given how diverse the visitors were, I assumed they didn't know one another. I couldn't imagine teens telling the adults or the chic ladies tipping off the skaters.
They got more daring. A man dressed in a dapper white shirt patterned with black crosses stood on the ledge of the parking lot with his hands in his pockets. He smiled as a friend photographed him. They were two metres from my window. I glared at them, but they didn't see me.
So I tried something.
I took their picture.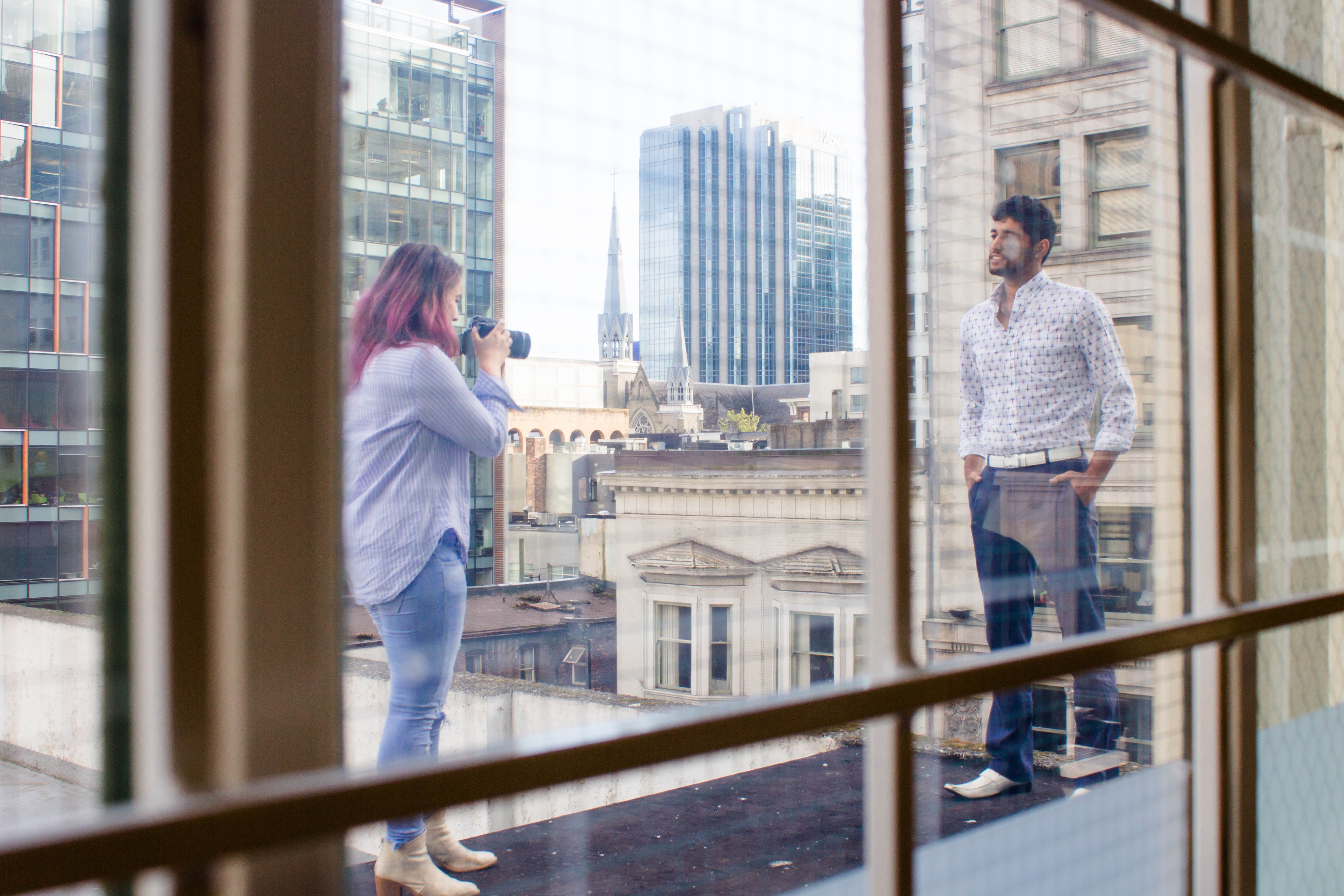 I don't know why I didn't think to document these visitors earlier — especially the ones who set off the blue smoke bomb. But from then on, I was determined to capture all who came up to the rooftop to visit.
Instagram seemed like an appropriate place to archive my work, so I set up an account called @lotspotting. I had a secret hope that it would double as a beacon. Perhaps some knowledgeable Instagrammer would see it and tell me all about the phenomenon of the rooftop.
@lotspotting was born October 2017. In the three months that followed, despite the approaching winter, I photographed 18 groups of visitors.
Some threw up gang signs: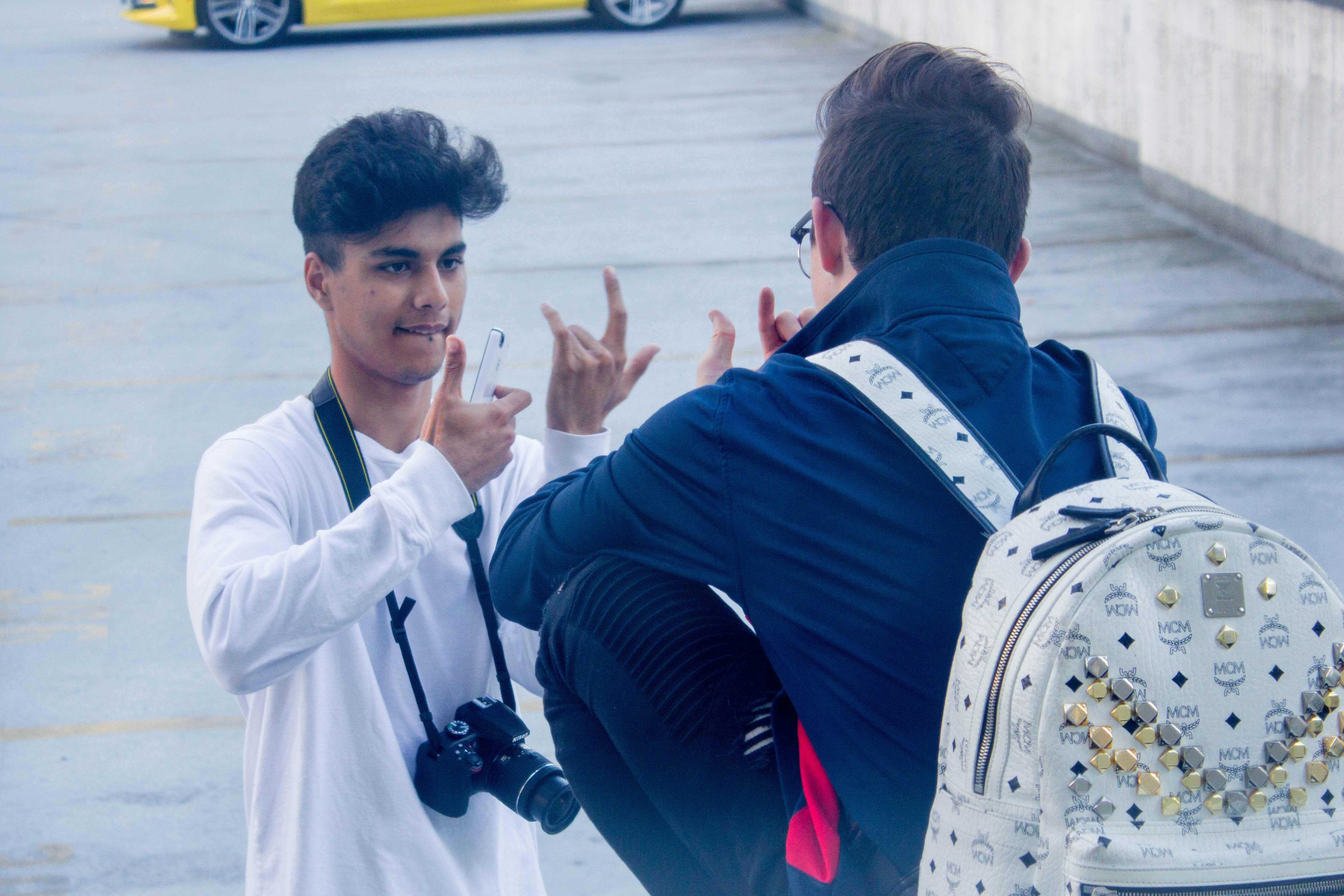 Some lay on the ground to get the perfect shot:
Some came in droves:
And some visited early to catch the morning light.
As a little game, I tried waving to the visitors. Some waved back.
Unbeknownst to me, I even captured a celebrity.
A follower of @lotspotting said I had photographed a famous blogger named Vanessa Hong, @thehautepursuit. I tagged and emailed her to set up a chat, but she ignored my messages. Not a surprise considering her army of fans. She has over 616,000 Instagram followers, almost the population of the city of Vancouver.
I soon discovered that my garage rooftop wasn't the only urban spot that was an Instagram tourist destination. There are many spots where people crowd like animals at the watering hole, waiting for their turn to drink. I wonder what adults unfamiliar with social media think when they see young people buzzing around a wall or alley with phones or cameras in hand.
There's the white brick wall of the Belkin Art Gallery:
The steps of Robson Square:
And pretty much anything in Gastown, Vancouver's original downtown core that was once the rough-and-rowdy resort of loggers, fishers, captains and crews. Popular Instagram backdrops are anything with symmetry, texture, simplicity or vibrancy; it depends on your "aesthetic," a word Instagrammers like to use to describe one's visual brand. The cafés and restaurants of today's upscaled Gastown, nestled in old, brick buildings, lend themselves to Instagrammers who want a bit of grit and heritage in their backgrounds.
But you never really know what spaces might go viral. It could be a fence, an overpass or, who knows, maybe even a parking garage.
You might remember Pokémon Go, the augmented reality game on mobile that sent 500 million users into the real world on a scavenger hunt. Hordes of users visited parks, businesses, street corners and public buildings at all times of day and night, competing to collect virtual creatures. Two female New Zealand players even pursued Pokémon out at sea in a kayak.
If Pokémon Go augmented our reality, I think social media has as well — only that the rewards for participation are social, rather than Pokémon in your collection. A meal no longer only exists as something you eat. If you document your meal and share it thoughtfully, it says something about you to the world.
Hidden corners of the city seem to be treated in this way. I began to fear for these places. There's something romantic about stumbling on something off the beaten path, but Instagram tourism seems set on uncovering them, and tourism has consequences. There are articles like "24 Colourful Walls in Vancouver to Take the Perfect Instagram" and "21 Places In BC That Were Basically Made For Instagram". One publisher of these articles has the fitting name of Narcity.
"Your Entire City Is an Instagram Playground Now," heralded a CityLab headline. And now, the force of Instagrammers is beginning transforming our cities from the top down.
Some museums have forsaken importance for spectacle, welcoming immersive, visually-arresting exhibits perfect for Instagram. This direction has proved to be financially lucrative. An exhibit called "Rain Room" — a space with falling water that cuts off flow wherever there are bodies underneath, allowing visitors to experience rain around them while remaining dry — drew unprecedented lines at New Year's Museum of Modern Art and sold out at the Los Angeles County Museum of Art. The 134-year-old Indianapolis Museum of Art also welcomed more interactive Instagrammable exhibits and was rebranded as Newfields to become more "welcoming and engaging," said its board chair. Or, as the Atlantic puts it, it's "Art for Instagram's Sake." While the museum was free, Newfields charges $18.
There's also the phenomenon of artwashing, when interests, such as real estate developers, fund or commission street art to make an area feel vibrant while erasing or tokenizing the residents and culture being displaced. The Instagrammers that come in to take pretty pictures make it look like there's nothing wrong. Vancouver's Mural Festival has been accused of being an artwashing campaign.
There aren't many academics studying Instagram yet, despite its effect on urban spaces, urban institutions, urban culture and urban power, but John Boy is one. Boy is a postdoctoral researcher in sociology at the University of Amsterdam and his research offers a critical look at social media habits.
Boy makes the connection that social media is the new embodiment of an old idea, that we devise a version of ourselves to be presented to others.
"The sociologist Erving Goffman said that in social life, we're always playing a role, we're always on a stage," Boy told me. "And there's a lot of backstage labour."
I shared my @lotspotting pictures with Boy to see what he made of them. He was intrigued. He told me that I had captured snapshots of social media's backstage.
"The image of authenticity on social media is very valued, to be yourself," Boy told me over Skype. "But you might take the same selfie 50 times at slightly different angles, and before you know it, an hour has passed. You might want to appear as the chill dude, but in order to be the chill dude, you need the right brand of t-shirt."
On Instagram, the candid is crafted and the stillness is staged. What appears to be intimate is always public, and it has a purpose.
"Social media can help people boost their social status by showing how they consume or how they have a certain kind of knowledge," Boy said. "You can associate yourself with gritty urban landscapes to appear glamorous, or to appear discerning, as somebody who understands the urban landscape."
When I began @lotspotting, I was moved by the passion of the rooftop visitors. I wondered whether the next great street photographer might be among them, perhaps the next Fred Herzog to capture Vancouver. But the photographers seemed less interested in capturing the city than capturing themselves. The city was merely an accessory. They were photographers of lifestyle rather than photographers of life.
One day, a friend of mine tagged somebody they knew in a @lotspotting photo. It was the guy who had lain on the ground to get a photo.
"Uhhh is this you @wonderbryce? LOL," my friend wrote.
"HAHAHAH that's me!" he replied.
I reached out to @wonderbryce. His name was Bryce Koebel, 25. We set up a chat, and I asked him the question I had been wondering since the beginning: how did people know about this rooftop?
"It's word of mouth," he told me. "That's it."
His friend Michelle told him about it. It turns out there are other parking garages popular with photographers. Sometimes Instagrammers will add a location tag to their image. And even if they don't, it's not that hard to find a spot based on recognizable surroundings. Downtown Vancouver's not that big.
Koebel is a dancer, mostly hip hop. He's also into streetwear. While Koebel likes photographing both urban subcultures, he grew up in the nearby suburb of Surrey, where photography can be challenging.
"There are nice spots; you just gotta look," he said. "I'm trying to appreciate it more. Down my street, there's some nice shrubbery."
But when Koebel starting visiting Vancouver's downtown, he found his muse.
"I really like the architecture," he said. "It's a mix of old stuff and very modern design. And we're lucky that we live surrounded by mountains as well. I never really appreciated Vancouver until I started exploring and taking pictures."
Koebel had a lot of love for his city. And on Dec. 4, 2017 at 5:40, I met more people who shared that love.
Three high schoolers showed up on the rooftop. One guy was the photographer. Two girls were the models, and they were wearing art: one girl wore a jacket that looked like a cubist painting, with lavender pants and white Nikes, and other wore a black t-shirt with Michaelangelo's Creation of Adam.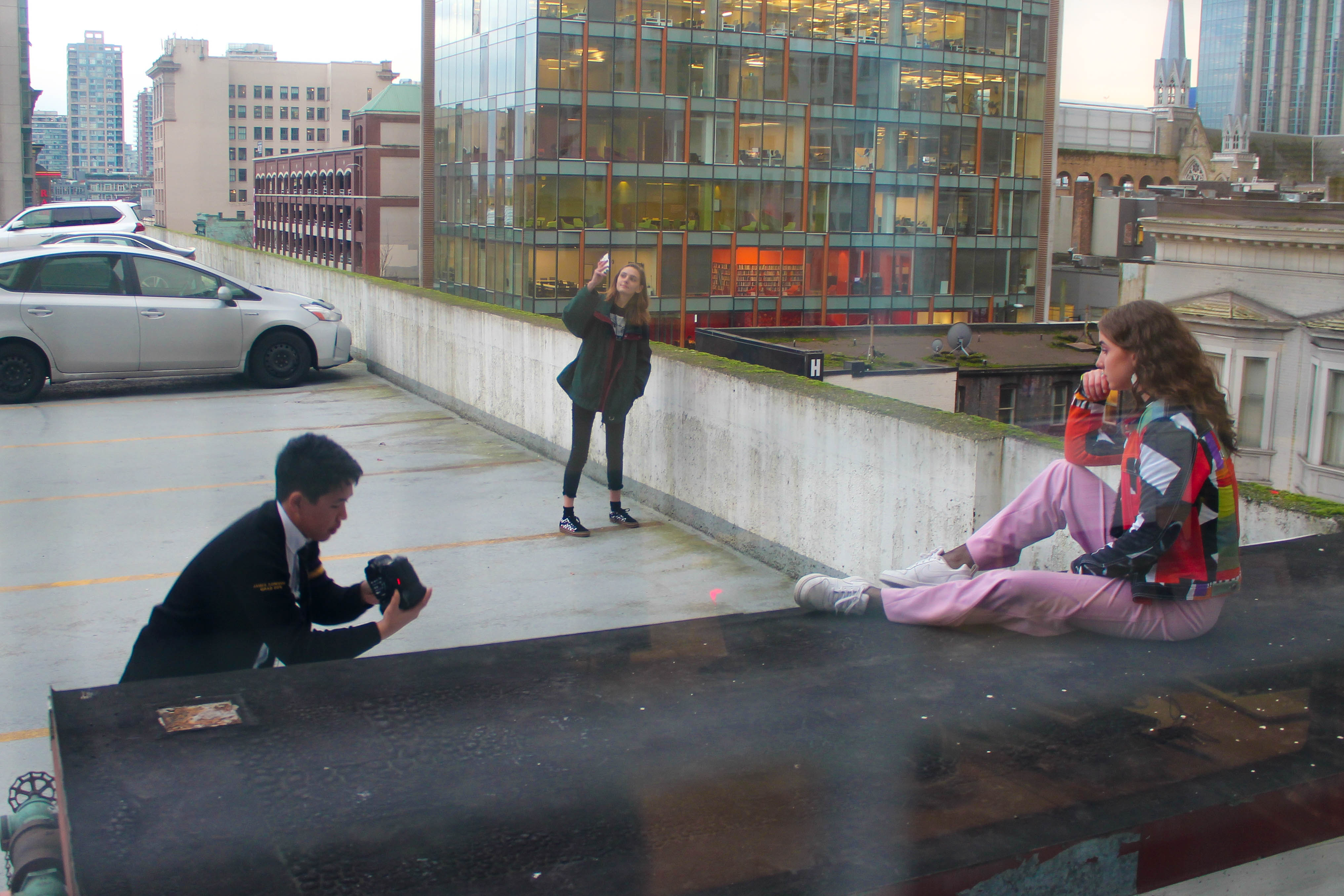 I opened the window to say hi.
"I'm a reporter," I said, "and I've seen a lot of people come here to take pictures. Can I ask you a few questions?"
They were reluctant, but not because they were media shy.
"The light's almost gone and we're going to another rooftop," they said. "But you can come with us if you want."
I put on my coat and ran outside to meet them.
They were James Agregado, 17, of Vancouver and Samaia Neilson, 16 and Keegan Diehl, 16 of White Rock, which is an hour and 10 minutes away if traffic is smooth. As with Koebel, downtown called to them in the suburbs.
"We come here all the time, so it doesn't feel far," said Diehl in the Michaelangelo shirt.
"We go out to take pictures every weekend," said Neilson in the lavender pants.
"Oh, but it's Monday today," I said.
"We skipped school," said Neilson. "But just one class. We're not that bad."
Agregado met Diehl and Neilson through mutual friends with a mutual love for photography. There are a lot of locals on Instagram who meet through friends or even solely online. A few strangers have asked them to go out and shoot photos. To make sure a stranger isn't a "creepy old man," they'll check out the stranger's Instagram feed and pictures they've been tagged in — just to make sure they're real, normal and that they hang out with normal people. They're also careful not to meet a stranger alone.
"It's kind of nerve-wracking," Neilson said. "There's so many dangers and stuff like being a female and young meeting new people. But at the end of the day, you get to meet different people with different lifestyles."
Agregado led the way to the other rooftop. When we reached the base of this parking garage, he led us through a door. The way up was like a maze, with corridors, stairwells and an elevator, but he knew all the turns. "I was just here a week ago," he said.
Agregado has a Canon 6D, a $1,600 full-frame DSLR. Expensive, and not only so for high schoolers.
"This is my entire summer right here," Agregado said, cradling the camera. He worked at a Cactus Club restaurant.
We surfaced onto the rooftop and it had a breathtaking view, much nicer than from the @lotspotting rooftop. You could see the mountains, the inlet and a wider view of downtown's cityscape.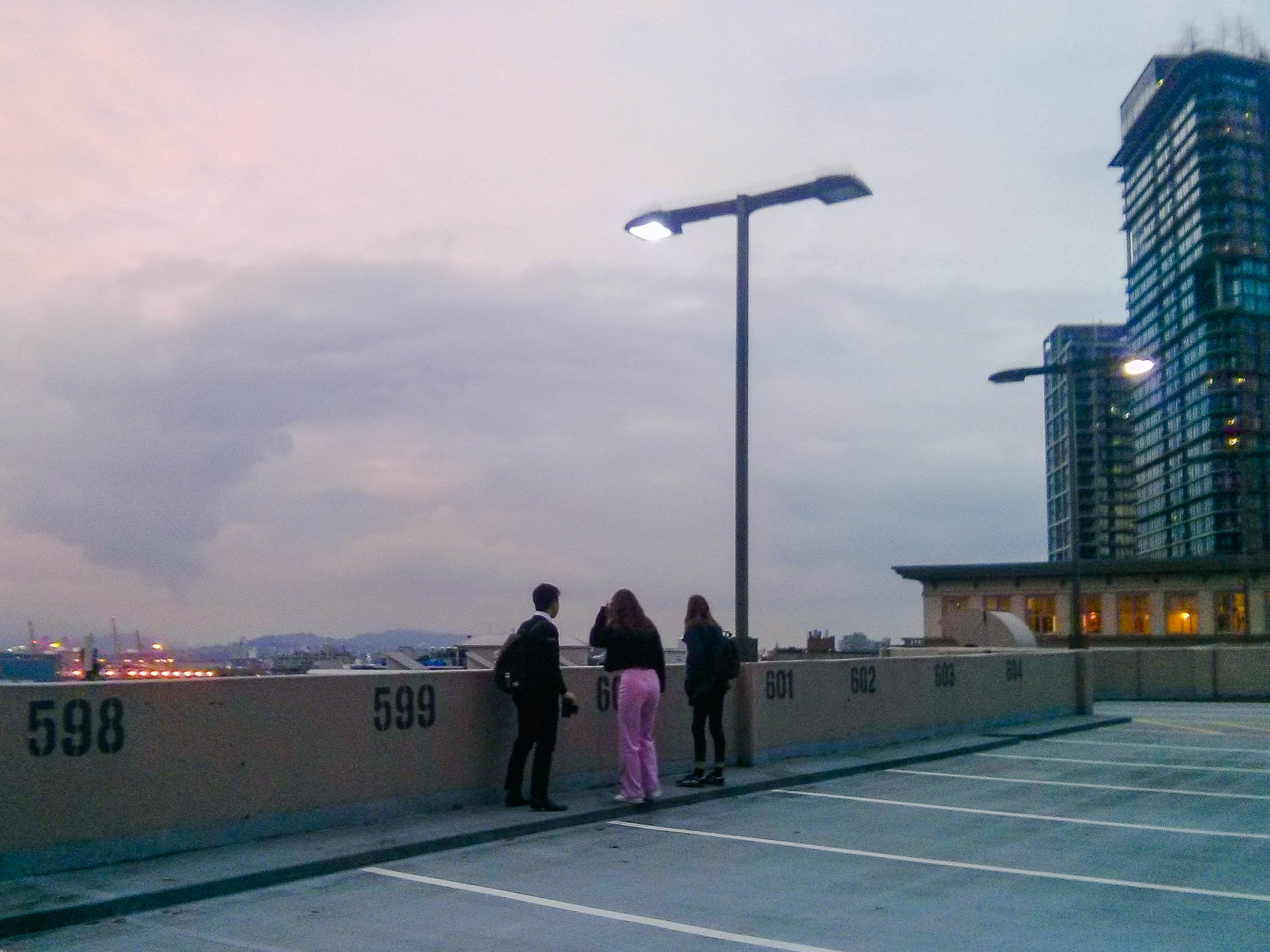 The three teens took it in for a moment and I shared their excitement and sense of discovery. Though Agregado had been here before, he had a fresh sense of wonder. Eyeing a good spot for a shot, he asked Neilson to strike a pose.
Like all Instagrammers, Neilson is aware that some people are in it for the fame or to show off their stuff and experiences.
"Some people are competitive and some are just chill," she said. "I used to be like really, 'Oh my God! I want more followers and likes!' But now I do it for the hobby."
It's not just about discovering the city; it's also about discovering who you are. Though Neilson was wearing a cool outfit, she never used to like dressing up.
"I used to be a really quiet person and only wear black and grey, not really colours," she said. "Photography's made me a really different person." Thanks to social media, she became more social.
"It's true," said Diehl with a laugh. "And now, she's wearing purple eye shadow and earrings."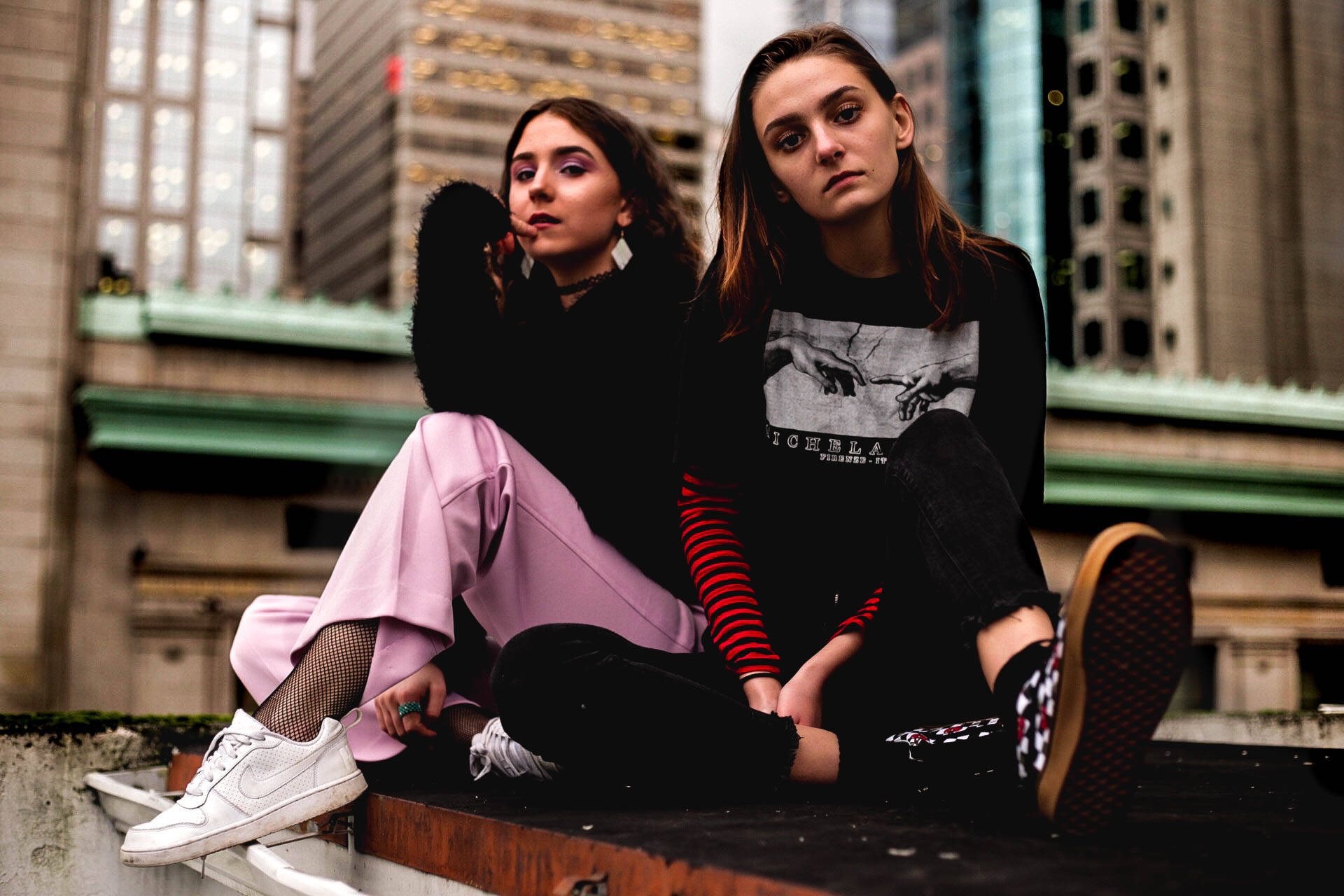 There were hundreds of windows around us. I wondered if someone behind one of those windows was looking onto our rooftop and trying to figure out what was going on.
Urban windows are a curious thing. They are part of the voyeurism that is life in a city. Looking through them from the street or looking through one at the street stirs both isolation and intimacy. American artist Edward Hopper captures one such window in Nighthawks, which has become an iconic image of urban loneliness. The painting shows four figures in a downtown diner late at night. They are appear to be strangers, but are sharing a moment together. The perspective is from the outside looking in. Instagram isn't so different from urban windows.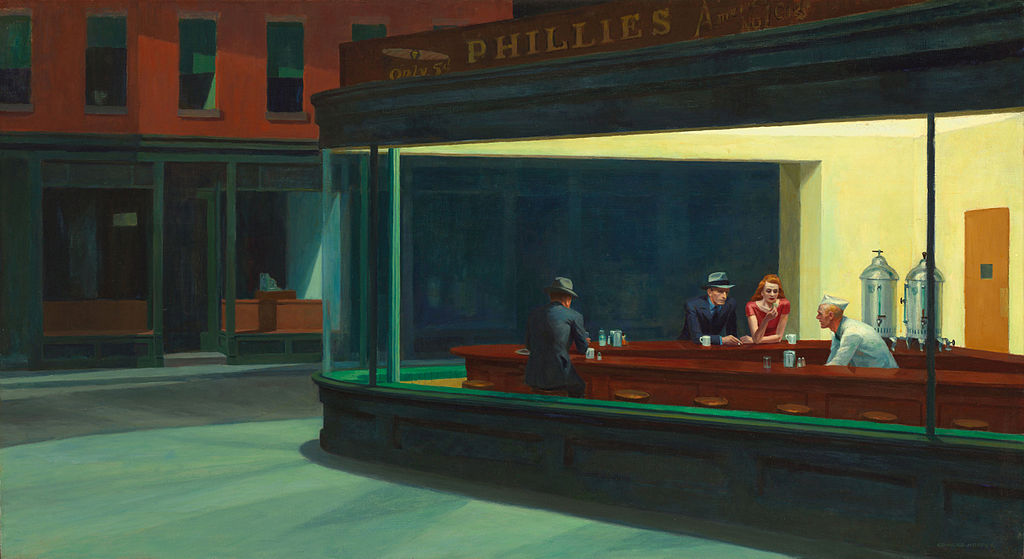 I still wonder what my own window is showing me when Instagrammers stop for visits on the rooftop. Narcissism or a love for the city? Creativity or copycatting? Adventure or exploitation? Perhaps all of the above? Their intentions and passions are a mystery unless I ask. But all seem to be standing in front of the camera to find their place in the big city and the wider virtual world beyond.