You can't miss the giant pink billboards, transit ads, posters and pink cars emblazoned with the words "Fight for Beauty" that coat the city at the moment.
But what is at the centre of this fuchsia blitzkrieg?
I would hesitate to call Fight for Beauty an art exhibit. Other words come much more easily to mind — PR campaign, propaganda, marketing bonanza — all combined with plain old garden-variety ego and hubris.
Sponsored by Westbank and inspired by company founder Ian Gillespie's book of the same title, the installation features fashion, sculpture, film, and a Shane Koyczan poem — all displayed next to scale models of Westbank development projects including Woodward's, Oakridge, TELUS Gardens and the Shangri-La.
Whatever you would like to call it, its real name is money. The thing reeks of it, from the marketing campaign to Gillespie's $260 book that accompanies the show.
But to be perfectly frank, there is something kind of pathetic about the entire enterprise. All of this sound and fury, and landslide of money, built around what is, at best, a strung-together assemblage of random objects — an Alexander McQueen gown, a Fazioli piano, a Fred Herzog photo, all taken out of context and stuck in a pop-up tent off the side of the Fairmont Pacific Rim Hotel. The National Gallery, it is not.
On the day that I visited the exhibit, a few people were wanly drifting about. The army of attendants, all kitted up in branded T-shirts, hovered with little more to do than direct traffic and hand out audio headsets. One of the women looked me up and down as I came in. "I like to look at the fashions," she explained. Despite the money on display, there was an air of obsequiousness, or maybe it was the Westbank-branded candles. Whatever the cause, the effect was distinctly weird. Everyone seemed a bit twitchy, like at any moment a person might snap and begin smashing all the pretty maquettes into splinters and powdered glass.
If the intent is to create an impressive ode to the power and taste of Westbank, the opposite actually happens. The experience of visiting Fight for Beauty reminded me strangely of Citizen Kane. Ian Gillespie narrates each piece in the exhibit like he has something to prove. The tone is aggrieved, combative even. It is exhausting to listen to superlatives about the best, the most influential, the most beautiful, spill out in a robotic rush. After a while, I started to feel simply embarrassed for the guy as he barrelled ahead, recounting in obsessive detail all of the struggles with community groups, the provincial government and various investors to bring to fruition the developments that dominate the city skyline. The tagline of Fight for Beauty — "a free exhibition on the fights that build cities and communities" — is certainly accurate, and the bulk of the pre-recorded narrative is not about the objects themselves, but about the fight for corporate dominance. The art is almost beside the point as it merely adds colour (pink, naturally) and brings in the punters to be assailed by the spiel.
Apart from a few notable exceptions, critical reaction to the installation has been somewhat muted, which is perhaps odd in a city where no one can shut up about real estate for more than five minutes. But the response from the general public has been more vociferous, with a parody site called The Real Fight for Beauty that features local artists and activists explaining the effects of displacement as decidedly unbeautiful.
In describing the installation to a friend, I was at a loss for words about what would motivate such a strange display, other than some deep and unassailable emotional void. Which is not a bad descriptor for Vancouver itself at the moment. But as my friend rightly pointed out, "Beauty doesn't need any help. How about we fight for ugly?"
Curiously enough, the Vancouver Art Gallery is providing just such an opportunity at the VAG's Offsite space, located on West Georgia, right next to the Shangri-La Hotel. It is an incongruous juxtaposition, if ever there was one. But such incongruities don't bother artist Asim Waqif, who was in the midst of constructing his new work Salvage when I spoke with him.
Salvage is made out of the very stuff that developers such as Westbank are busily filling up landfills with, the remains of obliterated houses and destroyed buildings, the refuse and discards of a city in the midst of wholesale change. The construction largely resembles a M.C. Escher drawing come to 3D life. In a nest of conjoined rooms and strange angled spaces, Waqif and his crew have assembled a magpie collection of stuff rescued from construction sites and the transfer station. There are old doors, dead keyboards, the remains of a shingled bit of roofing, glass jars and bottles, a bicycle and what looks like a stuffed chicken. It is all junk, garbage, the stuff that society has deemed irrelevant and chucked out the door. When it is completed, the installation will also include an interactive acoustic system designed to bring people into the experiential and temporal qualities. Or in other words, to mess about with sound pedals and stuff.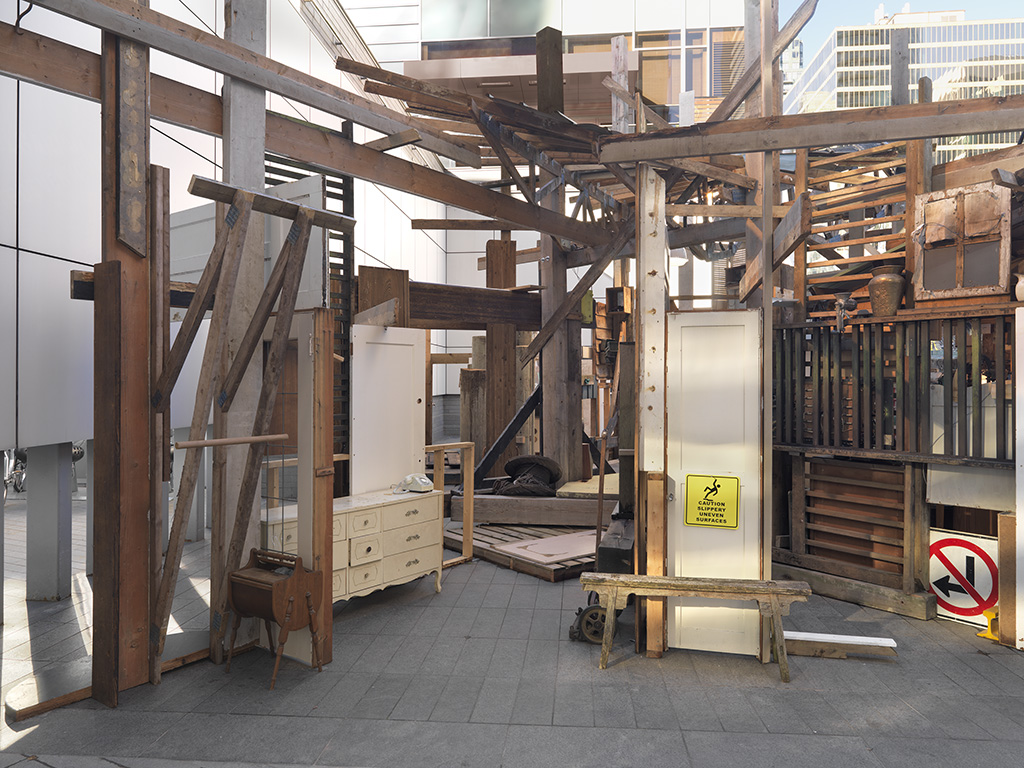 Asim Waqif is a curious assemblage himself — provocateur, intellectual, with a mad dash of troublemaker thrown in for fun. Born in Hyderabad, India, he studied architecture in New Delhi before starting his art practice. Coming into the art world through the back door has its advantages, in that it allowed him a kind freedom from being overly invested in art history. Many of Waqif's installations make use of the humblest of materials. He also has a deep interest in how cities contend with the concept of recycling and garbage.
As he points out, "Privileged people create much more trash." Waqif is a font of knowledge about the vagaries of recycling, not just in Vancouver but around the world — from the Swedish practice of importing garbage from England so they can run their incinerators at full capacity to the difficulties in recycling plastic. "Every part of a bottle — the cap, the label — is a different kind of plastic, and the liquid inside that is considered a contaminant," he says.
All of this curiosity feeds into the work itself, which is meant to be touched, smelled, explored, and actively engaged with. No one is afraid of junk, and Salvage has a cobbled-together playhouse vibe that is both playful and slightly theatrical. Not unlike a film set. As the artist explains, the intent is to remove the fetishization of the precious objects that attends traditional exhibitions, where art is removed from sticky messy fingers and safely ensconced behind velvet ropes and glass.
The idea is "to reward curiosity, even irreverence," Waqif explains, and goes on to admit that the VAG was concerned with objects being stolen from the installation. An ironic counterpoint perhaps to a work made up of stuff that people threw away. "I like to push systems and challenge notions," he says.
The man has done his research. He describes the city's plan to deal with the future of recycling when single-family houses are superseded by towers and condominium developments. As the press bumpf for the VAG show indicates, in the city of Vancouver "residents, businesses and institutions threw away approximately 351,000 tonnes of garbage in 2015. Most of this 'waste' is valuable resources that could have been conserved, reused, recycled, or composted instead of sent to the landfill or incinerator."
This may be hugely problematic in the long run, but for Salvage it is a veritable boon. Waqif's reactive, serendipitous methodology uses whatever he can find in landfills and demolition sites. In sourcing material for the build, he discovered a midden of things, including a cache of seasoned lumber from demolished houses in North Vancouver. "It's a shame," he says. "Such good timber."
But there is more to the work than mere subversion. Salvage also implies rescue, of bringing something back that has been discarded. It is a means of turning the idea of value on its head and reasserting or reinvesting junk with the cachet of art. It is the antithesis of what Fight for Beauty is about, the concept of the precious thing — collectible, covetable, and singular — bought and displayed by the rich and the powerful.
Really, Fight for Beauty and Salvage could be titled the tale of two cities — one that maintains beauty is a commodity and the other that says there is beauty in the ugliest of stuff. Although, it must be stated, Westbank has a role to play in both. (Offsite is also part of Westbank's body of work.) This very fact, as well as the frisson between the two, indicates some deeper and more troubling issues.
The debate about who art is for is certainly nothing new, but in Vancouver at the moment, it's taken on a keener edge as the creative class continues its exodus and the folk who remain are forced to scramble for studio space and affordable housing. You cannot work in the arts without being painfully aware of the ongoing struggle to survive as Chip Wilson-types buy up the buildings where indie bands used to practise, and everyday someone else you know gives up, packs it in, and moves to Calgary.
Something like Fight for Beauty, as appallingly tone deaf as it is, is only the most visible evidence of this class war. You can't really blame artists like Koyczan for taking the money, but it does undercut your sense of them and their work. I know that may be reactive and perhaps unfair, but still the feeling remains. For the likes of Doug Coupland, Rodney Graham and Stan Douglas, who long ago ascended into the realm of establishment, maybe this isn't a direct concern. But for the other lesser-known contributors, the folk scrambling to pay rent, buy groceries, and raise their kids, it must feel like a bit of a Faustian bargain.
Art washing as a tool of developers is not limited to Westbank, as the scandal that attended the Vancouver Mural Festival this year amply demonstrated. Still, Westbank has built a reputation as a major supporter of public art in Vancouver. And as Gillespie burbled away about Rodney Graham's upcoming piece Spinning Chandelier replacing other Vancouver attractions such as the Lions Gate Bridge, it is difficult not to lose respect for the very idea of art itself. Especially when Westbank describes its developments as "real estate art."
Maybe the most creeping and insidious aspect is this fundamental loss of trust. In the same way that condominium marketing campaigns repurpose words like "community" and "regeneration" to sell boxes of air, art becomes a shiny distraction, meant to divert attention away from the corporate Anschluss that is taking place. All those pretty murals, full of blandish statements like "The Present is a Gift" suddenly take on a darker cast.
Walking through Fight for Beauty's random assortment of objects, I was struck not only by the baldness of the agenda on display, but more so by the sense of sadness and emptiness at the very centre of the thing.
It's an all too familiar feeling in Vancouver at the moment.