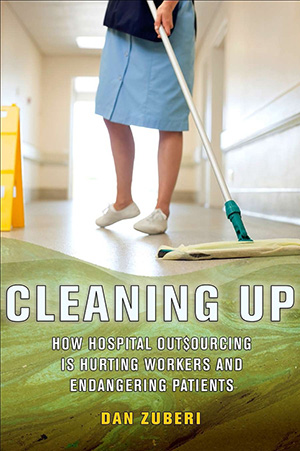 Cleaning Up: How Hospital Outsourcing Is Hurting Workers and Endangering Patients
Dan Zuberi
ILR Press/Cornell University Press (2013)
Over a decade of blogging disease outbreaks and public health disasters did not prepare me for this book. I read it first with shock, then with horror, and then with anger.
Shock, because Dan Zuberi, an associate professor of social policy at the University of Toronto, has documented a public health disaster right here in B.C., and across Canada, that has never been described so vividly before -- and by those involved in the disaster.
Horror, because he describes the needless suffering and death of thousands of Canadians every year, in the very hospitals where they go to be healed, for reasons the health-care system understands very well but doesn't talk about much in public.
And anger because the suffering and death are the consequences of deliberate policy decisions by our federal and provincial governments since the mid-1990s.
Zuberi is not a medical expert. He is a sociologist, interested particularly in working people who do the unnoticed "housekeeping" chores like making beds in hotels and cleaning rooms in hospitals. Their employers value them simply because they're cheap -- often immigrants, poorly educated, not always fluent in English, willing to work hard for very little money.
Such housekeepers were once regular hospital staff, paid a median of $18.32 an hour in the 1990s (almost $27 in today's dollars). Now, 20 years later, they're paid around $15. They work for a contractor, not for the hospital they work in. Their employer makes more profit by undersupplying them with cleaning equipment and uniforms, and not hiring too many of them.
Spreading disease with a mop
So housekeepers work under high stress, trying to clean too much in too little time, with too little equipment. Overused mops, for example, may spread infections around the hospital instead of stopping them. Toilets may be brushed out just once a week. The work can be dangerous, exposing housekeepers to the infections they're supposed to be fighting -- as well as accidents and violent patients.
No one much cares about cleaners and housekeepers, but they are at least as important to patients as the doctors and nurses who get all the attention. Dan Zuberi interviewed dozens of them in B.C. hospitals, gaining a sense of them as people trying to make a living while also learning about their appalling working conditions.
Equally appalling is the story Zuberi tells about who put them in this predicament:
"Major cutbacks in federal health spending in Canada in the mid-1990s temporarily balanced the federal budget but also broke the long-standing commitment by the federal government to contribute 50 per cent of provincial health-care expenses. This shifted a greater burden onto the provincial government, where health care competes with education and other priorities for limited resources."
The federal Liberals were proving the wisdom of Dr. Rudolf Virchow, a 19th-century German doctor and politician, who observed that "Politics is nothing else but medicine on a large scale." And sometimes malpractice on a large scale.
So while Paul Martin, then Jean Chr&eacutetien's finance minister, was reaping the political glory of a balanced budget, he was also putting millions of Canadians at risk of illness and premature death.
From risk to hazard
In B.C., that risk intensified to serious hazard with the election of the Gordon Campbell Liberals in 2001. Prophetically, the B.C. Hospital Employees' Union issued a news release in 2002 warning about what Gordon Campbell's new government would do and what the consequences would be.
Campbell's Bill 29, passed in 2003, proved the Hospital Employees' Union right. It tore up the old collective agreement for hospital support workers and effectively outsourced the jobs of some 8,500 of them. Those who were rehired by contractors found their starting pay reduced to $9.50, which is $11.90 in 2016 dollars.
No doubt many of them simply quit. They were replaced by a less skilled workforce, which rarely lasted long enough to learn on the job. But they were in no position to fight for better working conditions. Many were immigrants, needing to support not only their families but their relatives back home. Their English skills were often poor. And they could be replaced at a moment's notice.
For that matter, so could their employer. A contractor who couldn't make a hospital even look clean would lose the contract. The next contractor could effectively start from scratch, setting new terms of employment for cleaners and housekeepers. When the goal was making profit rather than sterilizing a hospital, such "contract flipping" was inevitable.
Fighting superbugs with tap water
The contractor's management team needed to be low-cost as well, and Zuberi documents managerial incompetence on a Dilbertian scale. For example, in 2008 Nanaimo Regional General Hospital had an outbreak of C. difficile, a stubborn and sometimes fatal "superbug" that victims describe as being like "swallowing shards of glass." The outsourced workers scrubbed every surface with a bleach solution -- that turned out to be a hundred times too weak to work.
"For several months, perhaps even longer," Zuberi says, "the housekeepers were trying to fight one of the world's most dangerous germs with a solution only slightly more powerful than tap water."
C. diff is only one of many hospital hazards. Zuberi covers most of the major worries: methicillin-resistant Staphylococcus aureus (MRSA), which kills more people in the U.S. than HIV, pneumococcal, meningococcal and influenza deaths combined; vancomycin-resistant Enterococcus (VRE); Acinetobacter baumannii; and some strains of E. coli. Norovirus sweeps through hospitals just as it does through cruise ships, carried from toilets to hands to mouths to guts.
Outsourcing not the only villain
Zuberi makes it clear that hospital-acquired infections are not due only to outsourced housekeeping. Antibiotic resistance for some bacteria has become outright immunity, and other hazards play their part. (Some doctors regard their colleagues' neckties and white coats as threats to patient health.) Hospitals have taken useful steps, like putting hand-sanitizing stations in every corridor.
But Zuberi also points out that "Infected patients are expensive patients," requiring longer stays, more tests and more treatment. Outsourcing is therefore penny-wise and pound-foolish. He mentions that Vancouver Coastal Health estimated outsourcing would save $13 million, but points out that it's not much in a $3-billion budget (about 0.43 per cent).
Cleaning Up was published in 2013, and apart from some generally positive reviews in academic journals, has received no serious attention. Zuberi told The Tyee that review copies had been sent to the Globe and Mail, the Toronto Star and the Vancouver Sun. Google reveals no reviews in those journals. In effect, the mass media shrugged off an explanation for the sickness and deaths of countless North Americans.
Meanwhile, close monitoring of healthcare-acquired infections has suffered precisely because it's time- and labour-intensive, and therefore too expensive. But one 2016 study, using survey data from 2002 and 2009, found that such infections rose from 111 to 124 per thousand patients. The authors of the study dryly note that "It seems likely that the developing trends we have documented between 2002 and 2009 may have continued since then."
It would be tempting to dismiss the politicians and bureaucrats who have cut health-care budgets since 1995 as heartless wretches. I prefer to think that they consider hospital-acquired infections only in abstract terms. No one sees Dad's death in the hospital as a statistic, or a reflection of a national problem. It's just Dad's death, a unique tragedy.
Similarly, few politicians and bureaucrats think of the invisible cleaners and housekeepers as people like them. They are faceless, likely brown or black, and likely women, with little command of English. Politically, they are negligible, and therefore any attention the politicians and bureaucrats pay them is patronizing and brief.
But the cleaners hold Dad's life in their tired hands and overused rags. If they don't know what to do, or don't have the time and tools to do it, it doesn't matter if Dad has the best surgeon and nurses in town. Some virus or bacterium will defeat them all, and Dad will pay the price the taxpayers didn't want to pay.
Some countries have seen through the false economy of outsourcing. Back in 2008, Scotland ordered an end to outsourced cleaning and catering services in Scottish hospitals. We are overdue for a similar look at the real bottom line.
Now three-years old and still virtually unacknowledged by news media in the place where he made his findings, Dan Zuberi's Cleaning Up is still timely. The same government that imposed outsourcing on B.C.'s hospitals in 2003 is still in power. It's time that we held Christy Clark (and Justin Trudeau) to account for the bitter price Canadians have paid to save a few taxpayer dollars.