On Twitter last October, Judi Tyabji proclaimed she was ''looking forward to working with [B.C. Premier Christy Clark] on her biography.'' The tweet included a photograph taken at a Liberal Party function showing Tyabji's left arm over the shoulder of Clark, who sported a cowgirl outfit.
Well, the book is out. And while Tyabji steadfastly maintains Christy Clark: Behind the Smile is not an authorized biography of British Columbia's second female premier, I have read it and nominate it as the least-unauthorized unauthorized biography since Johann Gutenberg invented the printing press.
Arriving less than a year before Clark runs for re-election, Tybaji's 351-page tome poses no danger to the premier's ambitions, nor will it threaten Tyabji's spot on Clark's Christmas card list or husband Gordon Wilson's patronage appointment. It appears to have been crafted to improve Clark's image and gain votes.
Should anyone be surprised?
The association between the author and the premier goes back to the 1980s. Without Clark's 2013 election win, Tyabji and her husband Gordon Wilson could have been broke. Three short years ago, the Sunshine Coast couple was facing foreclosure. Clark gave Wilson a $150,000-a-year contract as the ''Buy B.C. LNG advocate'' not long after the former Liberal leader, then NDP minister, ''came home'' and endorsed Clark in 2013. It didn't seem to matter to Clark that Wilson had been an LNG foe.
Tyabji mentions Wilson, by my count, on 13 per cent of the book's pages. Recently, the NDP revealed that the society she founded, Pebble in the Pond, got a taxpayer grant of $182,000.
The book largely relies on lengthy quotes from Clark herself and supportive comments from her inner-circle, notably brother Bruce and ex-husband Mark Marissen. More uncritically recorded support flows from Liberal president Sharon White and executive director Laura Miller, campaign strategists Don Guy and Jatinder Rai, and deputy minister and longtime confidant Athana Mentzelopoulos.
Tyabji does bring in negative comments from ex-NDP president Moe Sihota and wildlife consultant Guy Monty. She also copies and pastes (she did a lot of copying and pasting) the critical views of Rafe Mair, formerly a Socred cabinet minister and CKNW talk show host, more recently a Tyee columnist.
Collapse of Om the Bridge
I am mentioned in the book, as well -- slammed inaccurately for some reporting I did on Clark's proposed celebration of International Yoga Day last June 21. You may recall that Clark's plan to lead a mass yoga class that day on the Burrard Bridge met with public backlash, became a media sensation, partner Lululemon pulled out, and the premier eventually called the whole thing off. Tyabji says in her first chapter it was this moment in B.C. political history that inspired her to write about Clark. She then proceeds to get a number of facts wrong.
Tyabji points the finger at tweets I made at the time noting yoga-wear maker Lululemon was sponsoring the event, that the same Vancouver-based clothing giant had made donations to the BC Liberals, and that Lululemon had also recently registered to lobby the premier's office. Tracking such facts and pointing them out falls under my job description as reporter holding government accountable and making the political process more transparent. Tyabji disparages my reporting, saying it read ''as if some terrible conspiracy were afoot.'' What's worse, she says, my ''tweets were referenced by online bloggers, and the frenzy escalated.''
Then comes a major Tyabji error. She writes: ''Lululemon didn't pull out of the event because, in fact, they had never been part of it.''
Actually…
When the premier appeared on Granville Island for the June 5, 2015 photo opportunity to announce Om the Bridge, the Lululemon logo was prominently displayed on the podium sign, internal planning documents referred to the company as a sponsor, and the news release included this quote from CEO Laurent Potdevin: "We are thrilled to be a part of an event that celebrates yoga globally and in our hometown."
Then, feeling the backlash a week after that announcement, the company said, "We've heard the feedback and have decided not to participate."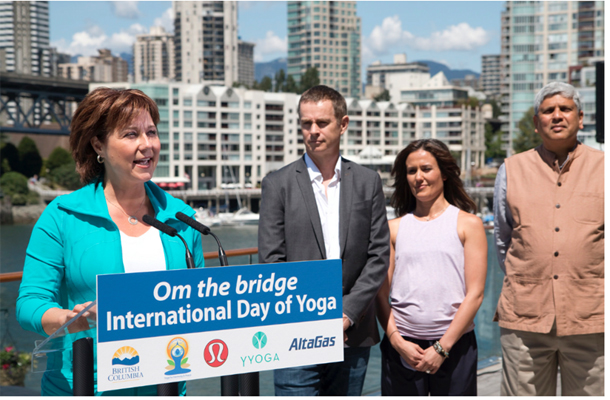 Part of the public outcry involved the appearance that a company with $2-billion revenue was riding the coattails of a taxpayer-backed $150,000 event to promote its yoga pants on a big and busy piece of public infrastructure -- on Father's Day and National Aboriginal Day, to boot.
But there was also the fact, as I reported, that Lululemon had two months earlier registered to lobby the highest levels of the B.C. government to help with its hiring needs.
Tyabji writes in a sweeping dismissal that "allegations... regarding Lululemon trying to cozy up to the premier, or that the premier was corrupted by political donations, were off-base."
Well, here are some relevant facts, presented as I did at the time, as facts and not allegations.
Two lobbyists from Earnscliffe registered April 16, 2015 to lobby the offices of the premier as well as Jobs and Tourism Minister Shirley Bond through July 16, 2015 for "raising awareness with key government officials about the future employment needs associated with Lululemon's B.C. operations."
Elections BC files show the company donated $10,000 on March 14, 2013 -- two months before election day (its then-CEO Christine Day appeared in the BC Liberal campaign infomercial). Founder Chip Wilson gave the party $50,000 on Feb. 12, 2013.
As I wrote in the Vancouver Courier in a story that quoted Simon Fraser University marketing professor Lindsay Meredith, the event also coincided with Vancouver's hosting of the FIFA Women's World Cup. The biggest sports event in B.C. since the 2010 Winter Olympic Games was sponsored by Adidas and Gazprom. The Russian state oil and gas giant didn't have much of a presence in the city, beyond banners on other bridges and ads in B.C. Place. But Adidas's three stripes were on many of the players, game balls and pitch side-boards. Rival Nike, which doesn't sponsor FIFA but supplies the eventually victorious U.S. women's national team, rented the CBC garage for a glitzy pop-up shop promoted on a double-decker bus that was driven around the city. Both of those companies are identified in Lululemon's own corporate documents as key competitors.
Part of Lululemon's success has been its knack for executing low-cost, high-attention marketing stunts. Om the Bridge could well have served as one way for it to guard home turf and do some ambush marketing without waking up the brand police at FIFA who were receiving direct subsidies from taxpayers.
Two months after Clark's announcement, I wrote in The Tyee about the many people saying they were Liberal Party members who wrote passionate emails to Clark's office urging her to cancel the event. None mentioned my name.
Big blanks
But enough about me and yoga pants. What about the rest of the book? Is it full of juicy details about one of Canada's most powerful politicians? Naaaah, sorry.
Tyabji admits she never asked the premier about her love life and kept some of what Clark's son Hamish said out of the book. Considering how people closest to people in power can be their biggest influencers or supporters, that was a missed opportunity to serve the reader.
We never hear from Clark's other brother John or her sister Jennifer. We do read that Clark has cousins who are aboriginal, but we aren't introduced to them with a name or image. The reader is left to give Clark the benefit of the doubt, as she has expected voters to do over and over again. (Like, for example, when she claimed to know absolutely nothing about the leaked Multicultural Strategic Outreach Plan in 2013.)
Tyabji cleanses the history of the BC Rail scandal despite the existence of leaked documents suggesting Clark may know more about the bungled privatization than she has stated publicly. Neither does the book mention how Clark became chair of the international education subsidiary of RCI Capital Group in 2007, the month after she became a full-time talk show host on CKNW.
Throughout the book, Tyabji gives Clark plenty of space to expand on her oft-repeated soundbites about jobs, families, and LNG and commends her for her campaigning prowess. The book may not hold B.C.'s premier to account but it does have its moments. We learn that Clark was once blonde and dyed her hair red. Tyabji refers to her as "a sexy version of Peppermint Patty" from Peanuts and mentions her beer-drinking, cigarette-smoking days in college. We don't learn why she attended three post-secondary institutions in three countries but got no diploma from any of them.
Most of the photos in the book are B.C. government handouts, and some mistakes seem more due to working too fast than spinning too hard. For instance, she writes that Clark lost the 2008 Vancouver NPA mayoral nomination against Sam Sullivan. It was actually 2005. In a photo caption, Attorney General Suzanne Anton is called Susan. These are small errors, perhaps, but only add to the impression that Tyabji is less interested in getting it right than staying right by the premier.
The world awaits a better biography about the most photographed and most powerful woman in British Columbia history, a biography that is both objective and worth its price tag and the time to read it. Because Behind the Smile is neither.