Imagine biting into a piping hot, almost pillowy piece of flatbread. Now imagine it's made with flour containing ground up crickets.
You may not immediately think, "mmm, snack!" But that's precisely the reaction one Vancouver chef is trying to cultivate.
Since 2008, Meeru Dhalwala has experimented with gourmet cricket dishes, and she's found modest success expanding menus in Seattle. Now the chef and co-owner of the popular Vij's and Rangoli Indian restaurants is determined to change attitudes at home and make it a staple here.
At a recent Indian Summer Festival event, Dhalwala answered the inevitable "why bugs?" question: Insects are a healthier source of protein and iron, less expensive to produce, and more environmentally sustainable than traditional meats. (Raising livestock alone generates up to 18 per cent of global greenhouse gas emissions.)
It's a food supply solution already endorsed by the United Nations and about two billion current bug-eaters from around the globe. Unlike plant-based proteins, which can lack in key nutrients, crickets are a protein source about as close to chicken as you can get without actually eating chicken.
Dhalwala plans to reintroduce crickets at a new Vij's location in September. The Tyee caught up with the author and chef to talk Fear Factor, gateway bugs and sourcing locally-farmed crickets.
Tyee: What inspired you to take up cooking with insects?
Dhalwala: "We're just not eating sustainably. I don't think in North America we're giving up eating meat any time soon. But in insects we have an extremely sustainable source of iron and protein. Eighty per cent of the world already enjoys eating it.
"I'm not saying insects will ever replace meat, but even if it replaces only 10 per cent of our meat consumption, that will be a huge accomplishment. I'm not looking to replacing meat with insects, but merely adding it to our diet -- like a supplement to our regular protein sources."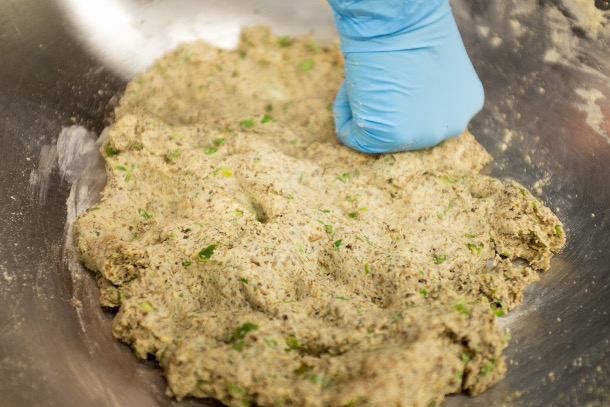 Would you say insects are a healthier option?
"Definitely. It's environmentally sustainable. And unlike other protein sources like beef that lead to cholesterol issues, insects are perfectly safe. They have no fat. They are extremely clean. In addition to being high in protein, many edible insect species are also high in essential fatty acids, particularly omega-3s. And most importantly, unlike pigs, cows or chicken, there are virtually zero risks of disease transfer between insects and humans through eating."
So, can you eat any and all insects? Or are there guidelines to what to eat and from where?
"You need to source it properly, even though sourcing is not easy. Like any other kind of food, you want to get organic produce. You can't have free-range insects anymore. They end up eating a lot of pesticides. You want farmed insects, so you can make sure they are safe for eating.
"In Vancouver it's difficult to source insects since the idea is still so new. Earlier in 2008, when I introduced crickets to my menu at Vij's and Rangoli, I was having them shipped in from a farm in Everson, near Bellingham -- which is not only complicated, but across border shipment makes things rather expensive. I'm still searching for a local, British Columbia farm to source crickets from."
What kind of response do you get when you share your entomophagy ideas with people?
"There's a lot of, 'Oh, crickets! Disgusting!' Some people like the sustainability aspect of it. But it ends there. In Seattle I had a lot of people who loved it, more so than Vancouver."
"I think it's mostly psychological... Technically, when you look at a whole prawn with its head and parts attached it should gross you out. Why are we not disgusted by that? We're a very visually sterile culture. We associate bugs with pests, as something unclean. And there's also the Fear Factor. I feel like it's just all about how we make it taste, and how we present it."
As a chef on a mission to make people understand why crickets will soon be the new chicken, how do you plan to make the idea of eating insects palatable to everyone?
"Eighty per cent of the world happily enjoys eating insects. It's just not 'palatable' to the North American diet… The idea is to figure out what tastes good to people and adapt to that. For me, as a cook, nothing is disgusting as long it is a food source. What's appetizing or palatable is such a subjective thing.
"I've also found that people are more susceptible to eating insects if you make it look less like one. Twenty years ago you couldn't put a whole fish out on a table in a restaurant. Now, it's perfectly acceptable. As I said, it's also a cultural thing. This is why I serve my crickets ground and incorporated into recipes."
You mention in your talk that the key is to make the insect taste good. How does that work? 
"For me, it's all about spices. I have a palate that is familiar with a lot of spices. That's where I draw my talents as a chef.
"Cumin, I have found, is the best flavour to pair with crickets, since as a spice it has an earthy flavour. When I started cooking with crickets I had no idea where to start. My natural process of cooking is to consider where it comes from. So I immediately thought of cumin, then the sort of leafy flavour of cilantro, green jalapeño peppers, garlic and so on. And of course, seasoning with salt."
Different insects have different taste and textures. Do you have a flavour pairing guideline for your recipes to make insects taste great?
"Crickets have a sort of grassy, earthy, almost nutty, truffle-like flavour. Admittedly, a plain cricket doesn't taste great. You wouldn't eat a piece of chicken breast just plain steamed or boiled, without any seasoning. It won't taste great either. It's the same with crickets. You want to complement its natural flavour and preserve its delicate texture. So, you want to either sauté them, or roast them.
"I prefer to roast them, because it keeps them crispy. Crickets are gentle and have a delicate texture, so I want to use as little oil as possible. It depends on how you cook it. When cooked whole, they're like nuts in terms of texture, and need to be cooked as such.
"You can also roast and ground them, and mix them with buckwheat to make cricket flour, which is great for baking."
Any future plans on how to make insects an everyday staple in this this part of the world?
"We all need a gateway into any specific type of food. Right now, all I want is to establish the cricket as the acceptable, palatable gateway insect. So once we're comfortable with the idea of insects, and people trust it, then I'll move on to other insects -- most likely, the grasshopper.
"I think in Vancouver, I'll just quietly put it back on the menu when the time comes. I feel like putting too much attention on why people don't like something, it subliminally reinforces the fact that you don't like it.
"I'm going to take a different tactic in Vancouver now. Publicity worked in Seattle, but for Vancouver it didn't have the same effect. We had nothing but positive media attention. People talked about the idea of crickets on a restaurant menu, but Vancouverites all reacted with 'Oh, it's intellectually a great idea but... I probably don't want to eat it.' This time, I'll present it like an equal member of my menu and see how things go from there.
"All I want is to have people order my crickets just the same way they order my lamb or my saag paneer."
Any advice or suggestions for people interested in starting to cook with and eat insects?
"When I cook, I visualize. When you don't know what to do with it, find a starting point. Stay anchored to a base flavour. For me, when it comes to food, my anchor is where my food comes from, and then from there I try to match it with my personal repertoire of spices. That for me is the most natural way of cooking. Keep anchored to the base flavours and then adapt it to your own flavour preference or palate.
"Try roasting or sautéing them and test out flavours. I love cumin and cilantro and garlic with my crickets. Test out what works for you."