Are you afraid of your mother?
If the answer is yes, and really who among us has not felt the occasional spider walk of fear about our beloved mummies, then prepare yourself for The Babadook. Director Jennifer Kent's film starts an exclusive engagement at the Vancity Theatre in Vancouver this weekend. The buzz about the film has been building ever since William Friedkin, director of The Exorcist, called it ''the scariest film I've ever seen.'' One wonders what his mother must have been like.
If you're an enormous chicken like Mr. Friedkin, you may wish to run away and hide under a blanket. The rest of us should go and see the film. The Babadook is certainly frightening, but it's not the "wet your underpants" species of horror film like The Exorcist. It hails from the tradition of cautionary tales for parents and children, following a long line of stories about mothers and children that creep all the way back to the Brothers Grimm, and even further back to good old Oedipus. It is thus even more terrifying in some ways than films that gush gore and goo.
Cinematic references abound in The Babadook, from F.W. Murnau to Stanley Kubrick's The Shining, and even last year's The Conjuring, which featured the sweet-faced Lili Taylor writhing and spitting as a satanic succubus determined to murder her children. I had trouble sleeping after seeing The Conjuring; every corner of the house seemed to harbour some potential ghoul waiting to grab me and eat my soul. The Babadook isn't as terrifying or as conventional as The Conjuring, but in some ways it is more insidious and disturbing. There is no exterior demonic entity upon which to heap blame; rather, the monster comes from within, from the murky stew of milk and blood that is motherhood.
The notion of mothers, traditional bringers-of-life turned death-dealers, is the nightmare at the centre of many of these stories. It is dark, primeval stuff that most conventional horror films refuse to entertain. In this, Kent, as writer and director of the film, deserves full props for returning horror back to its origins in fairytales, literature and early cinema (the work of Georges Méliès pops up on late night TV throughout The Babadook).
There is even some tinge of Freudian analysis at work here. Freud, beloved son of his mother Amalia, called the mother-son relationship "the most perfect, the most free from ambivalence of all human relationships.'' I don't know if I would go that far, but it did occur to me in the midst of watching the film that men and women might have a very different takeaway from the story. For women, especially anyone who has raised a son, there are scenes that strike home with almost visceral intensity, but they're not the ones you might think of. But before we get to additional analysis, let's set the stage.
'You'll wish you were dead'
Somewhere in a small Australian town, a single mother named Amelia (Essie Davis) is raising her son Samuel (Noah Wiseman). Sam is one of those high-pitched varieties of children, possessed of a terrible imagination but not too many real friends. ''People don't like me because I'm weird,'' he says, and he's right. But Sam has every right to be weird, coming into the world on the day of his father's death. Six years earlier, his father was killed while driving his mother to the hospital to give birth.
In early scenes, director Kent establishes the parameters of Amelia and Sam's life with brisk efficiency. Amelia works in an elder care facility and struggles to take care of her little boy. Every night, she clings to the very edge of the bed as Sam kicks and starfishes in the centre of the mattress. Anyone who has ever had to share a bed with a little kid will immediately recognize this and the curious combination of love and weariness that suffuses every inch of you in such moments. You love your kids, but you would like to murder them sometimes, especially when they writhe like live eels in the bed at 2 a.m.
Sleep-deprived and profoundly lonely, Amelia wanders through her days, sadness and weariness etched into every line in her face and every straggly wisp of her hair. She watches couples kissing, and the terrible need and loss of love brims out of her eyes and spills over. She is a woman unmoored, cut adrift and reeking of grief. You can almost see this cloud of suffering, like a small individual weather system that clings to her hair and clothes. The inner drabness of her life is echoed throughout the rest of the film, in walls leached of colour and pale skies, everything rendered thin and limp. Almost everything, that is. The one enormous exception is Sam himself, who has apparently sucked all the life out of his mother and funnelled it into an obsession with monsters.
But as Amelia struggles through her grey days and lonely nights, Sam is growing increasingly erratic. His playacting and games spin out into acts of genuine violence as he creates weapons to battle monsters and unleashes them on other kids. After he brings a home-styled catapult to school, complete with throwing darts, Sam is asked to leave, and he and his sad sack mother slink away in rage and shame.
That night, when asked to pick a book for bedtime reading, Sam fetches a black and red popup number called Mr. Babadook from his bookcase. The images and the singsong rhyme are bad enough, but the story escalates into a ferocious finale of dismemberment and death that ends with the words: ''You'll wish you were dead.'' Naturally Sam dissolves into hysterics, and his exhausted mother sticks the book on a high shelf and tries to go to sleep. But something has been loosed and is making its way up the stairs, nattily dressed in top hat and frock coat, with nails like that of a giant tree sloth.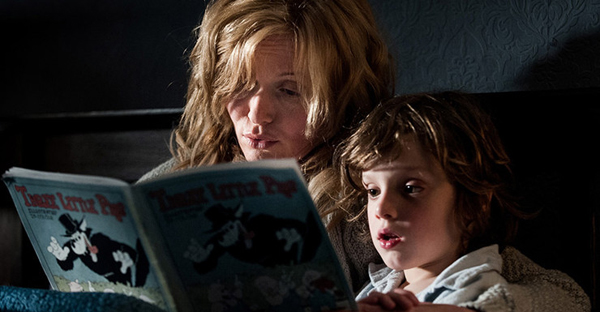 Popcorn break?
If you're easily scared, now may be a good time to go get some popcorn, although you will have to spend the better part of the film's last third lingering in the lobby. As the story begins to pick up steam, the escalation alluded to in the Babadook's picture book takes on solid form. A sudden knock at the door or a guttural voice on the phone, and the dreaded creature moves from the shadows into the centre of the action. Even as his mother is still denying the existence of monsters, Sam is preparing for the inevitable, creating caches of weapons and building elaborate booby traps around the house.
The filmmaker understands that things barely glimpsed are infinitely more terrifying than the monster in full view. She keeps the Babadook in the shadows, only a flicker of movement, a distant scraping sound, or a door swinging slowly open indicate his presence. I say 'he' because there is no denying the inherent maleness of this creature. From the tip of his top hat to the tuck of tails, he is a threat not only to the bodily sanctity of mother and son, but also to their bond. The monster promises love and comfort to Amelia as long as she is willing to surrender her child. This bargain seems the equivalent of male grizzly bears eating their young to force the female bears back into estrus for mating.
Newspaper stories of mothers murdering their children are the stuff of lurid tabloids, but the reason they strike such a fundamental chord is because of a sense of inversion, of the natural order of things being upended. Your mother is supposed to love you, not murder you. It is here also in the film; as Amelia's mental state begins to decline, that creeping horror becomes a capering monster, freed from the margins and set loose in the house. Even tearing the book to pieces is no use; it simply turns up on the doorstep again, taped back together and even more terrifying than before. The police are no help, nor are neighbours, family or friends. Even the dog isn't a safeguard anymore.
The mother mind
The exact moment when Amelia crosses over into the darkness occurs in a scurrying bit of stop-motion animation. The monster finally reveals itself, hanging like an obscene piece of fruit from the bedroom light fixture. Black, glistening, it resembles an overly ripe fig crossed with a vampire bat. At this point, I must admit I covered my eyes, so I'm a little unclear on how exactly the Babadook possesses poor old Amelia. Maybe he was in there all along. But as this sweet-faced mother starts screaming at her child to ''Eat shit!'' and seeing roach infestations, fear begins to ratchet up, like someone turned up the gas.
The finale begins innocently enough at a child's birthday party, when Sam shoves his cousin Ruby out of a treehouse and breaks her nose. The incident causes Amelia to lose her sister's support. Unmoored and alone, mother and son turn inwards, locking themselves inside the house, turning away from all sources of help and preparing for the showdown that must take place. As much as this third act packs a punch, it also relies a little too heavily on earlier horror film conventions, whether it's Amelia stalking Sam throughout the house a la The Shining as he scampers away, hiding in cupboards, or even the old trope of barfing up demonic black goo. But before Amelia goes full Jack Torrance, her motherly instincts take hold, and the final ringing showdown between the forces of darkness and the power of love takes place.
Watching this final confrontation, I wasn't struck so much by the screaming shrieking battle as I was by the physical closeness of mother and child. As Sam clings like an infant monkey, wrapping his arms and legs around his mother and burying his face in her bosom, the mammalian brain kicked in like a bulldozer. It is the feel of a child in your arms that endures, that you would fight, kill and die for. At this point I started talking back to the screen, yelling at Amelia, ''Come on, woman up!'' The mother mind inside you is strong stuff. It says: ''Protect your child, hold off darkness, fight death, and cling together even as everything is trying to tear you apart.''
So, do Amelia and Sam get eaten? Does darkness triumph? I cannot tell you. You must go and look at the monster yourself. Be brave, and hold your mother's hand if you need to.
Screening times for The Babadookat Vancity Theatre can be found here.