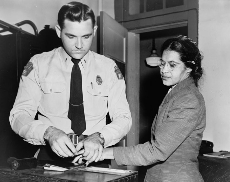 Simple actions can change the world.
Almost 50 years ago on December 1, 1955, a woman who was on her way home from her secretarial job took a simple, courageous action that some say changed a nation.
She refused to give up her seat on a bus. That simple, yet brave, act of refusing to stand up and turn her seat over to a white man had profound consequences for her, her community and the world.
The woman was Rosa Parks.
Sister Rosa's story has become a part of American and world history. Her story includes: her arrest and trial, the 381-day Montgomery bus boycott and the U.S. Supreme Court's ruling that segregation on transportation was unconstitutional.
But Mrs. Parks was not acting alone. Just like Martin Luther King Jr, she was part of a movement for change that included churches, students, janitors, radicals and a whole cross-section of people who put their lives on the line for an alternative vision of the future.
I want to honour the passing of Rosa Parks by taking time to celebrate the untold stories of courage, perseverance and unity from our own home, British Columbia.
Haida Gwaii
Those stories must begin with Haida Gwaii.
Some of you may have heard of Guujaaw, the charismatic leader of the Haida Nation. You may have heard about the Haida's success at the Supreme Court of Canada, which imposed new duties on the Crown to involve First Nations in decisions affecting their lands. You may have also heard about the recent uprising where the Haida and the majority of non-native residents on the Queen Charlottes joined together with loggers and stopped unsustainable, business-as-usual logging on the islands they call home.
If you watch the media closely and don't blink too often you may have heard reference to these events. But what hasn't received media attention is the long, complex story of how the Haida, non-profit groups and local activists (including loggers) came together and worked for many years to develop a community-based plan for a new, sustainable economy that integrates diverse cultures, provides jobs and protects the forests for future generations.
The collective actions of dozens, if not hundreds, of natives and non-natives on Haida Gwaii has succeeded in illustrating that government can be forced to respond to community pressure. Their actions have shown that government and big industry can be forced to make concessions. Just last spring, the BC government agreed to protect 45 percent of the island on an interim basis, move ecosystem based management and rescind two-bear hunting licenses.
These successes did not just happen; they were the result of thousands of combined smaller actions of many people working long and hard for change. And the Haida are just the beginning.
Community Forests Movement
Haida Gwaii is just a part of another untold story in BC: the story of the small, but growing, community forests movement.
This movement-led mostly by volunteers-is working to build vibrant local economies that respect natural limits.
People like Dennis Morgan in Bamfield; David Shipway, Bruce Ellingsen and Noba Anderson from Cortes Island; Jennifer Gunter & Susan Mulkey in Kaslo; and others are working hard to connect lands and people in their communities. You can read some of the stories in our report Connecting Lands and People, available here. Unfortunately, logging corporations like Canfor, Interfor, Brascan and West Fraser have a virtual monopoly on our public forests, so there are few areas available for Community Forests.
But that has not stopped dozens of people in a growing number of communities from coming together and demanding change. They have banded together in the upstart BC Community Forest Association and are exploring ways to protect their forests, their water and their future while creating jobs and wealth. And slowly, they are succeeding. With more support, they could have a dramatic impact on the future of our province.
Harrop/Proctor
At the cutting edge of the Community Forests movement are the adjacent communities of Harrop & Proctor in the Kootenays. Their story began as opposition to industrial logging in their drinking watersheds and through hard work and some inspiration it has evolved into an innovative, sustainable, community-driven business.
After many years of community planning led by people like Rami Rothkop and Ramona Faust, they are now logging under an ecosystem based plan: creating jobs and redefining how a community can engage in sustainable forestry.
Their biggest claim to fame is that they are the official supplier of Harry Potter "Quidditch" brooms. And their story is an inspiration for other "official" community forests and for the more than 100 communities now pursuing community forestry or local management of a sustainable industry.
Coalbed methane in BC
One of the biggest untold stories over the last few years is how a bunch of communities are standing up to government and industry attempts to drill for coalbed methane in their neighborhoods.
Coalbed methane is the gas that surrounds coal deposits that killed the proverbial canary in the coal mine.
The current BC government is pushing coalbed methane hard. Through subsidies, royalty holidays and weak regulations, our government is trying to create the impression that BC is the new Alberta for fossil fuels. They don't seem concerned by the fact that there is not one example of commercial coalbed methane and salmon coexisting. In fact, little science exists on the impacts to water and salmon from the potentially vast amounts of toxic-produced water.
But communities are standing up and objecting. Municipalities from across BC are demanding cumulative impact assessments, baselines studies and the right to say no. And because of these combined efforts, coalbed methane has-for the time being-been all but shut down in BC.
One of the more compelling stories of community action on coalbed methane is from the East Kootenays.
It is a story of how people like Casey Brennan from Wildsight and Fernie Councillor Dave Thomas mobilized concerned citizens, businesses, municipal leaders and environmentalists on both sides of the border to stop the BC government's attempt to exploit coalbed methane in the Flathead near Fernie.
This diverse group has organized themselves and implemented a sophisticated strategy that reaches into corporate boardrooms; into the legislatures in Victoria and Helena, Montana; into the International Joint Commission (on cross-border water disputes); and into the offices of the U.S. Secretaries of State Colin Powell and Condoleezza Rice.
Tahltan
Another little known story that is playing out as we speak involves the Tahltan's standoff with Shell Canada over coalbed methane drilling in the place they call Sacred Headwaters. This extraordinary place contains the headwaters of four great river systems the Klappan, Spatsizi, Skeena and Nass rivers.
Last spring, Tahltan elders and youth stood up to Shell Canada and demanded that they shut down their environmentally destructive drilling operations.
In addition to Shell, the Tahltan are facing an insane number of unsustainable development proposals. About 20-plus projects are moving forward simultaneously: mines, new hydro lines, pipelines, extensions to BC rail lines and new roads to Alaska. This hurricane of projects threatens Tahltan culture, wildlife, fish and some of the most spectacular natural areas left on Earth.
Against this overwhelming backdrop of resource proposals, the Tahltan Elders have issued a moratorium demanding no further projects until certain conditions are met.
Through the efforts of people like Rhoda Quock, Terri Brown and Oscar Dennis, the Tahltan are coming together and creating new accountable governance structures and they are succeeding. Shell has temporarily agreed to halt operations and with some hard work we expect the mines and other projects to follow suit.
These are just some of the stories that need to be told, but we cannot delay.
Reaching the Promised Land
Our opposition continues to inundate us with their vision for the future. A world with restrictive ideas about family and religion. A world of economic incentives for the rich and reduced services for everyone else. A world that commodifies our land, water and air.
We need to counter them by sharing our stories. But just telling stories is not enough. As an activist who has dedicated his professional life to helping people fundamentally transform how they relate to themselves, to their communities, and to the environment, I believe each of us needs to become heroes in our communities.
What Sister Rosa taught us is that we are not going to reach the Promised Land because of a few speeches or marches, though these are important.
The Promised Land is only attainable if we work together, if we step out of our comfort zone and do what we can to catalyze change.
It will take each and every one of us, our friends and family and work colleagues, pushing the envelope, harnessing our creativity and courage to achieve what is possible for BC.
As people from around BC struggle to reach the mountaintop, what does the Promised Land look like? What is our collective vision?
We have to change how we talk about our aspirations. We need to ground our vision of the Promised Land in values that connect with peoples' hearts and their minds, that touch them and inspire them.
So this is our challenge, the challenge of honoring Sister Rosa's example-if we want to reach our Promised Land we need to develop and articulate a new collective vision linking conservation and social justice, to develop the discipline to communicate it better and more broadly, to connect with peoples' desire for love and hope, justice and equality and to inspire people to act in their broader interest, and in the interests of their children and future generations.
Will Horter is Executive Director of Dogwood Initiative, a Victorian-based NGO which helps people change the balance of power to create healthy prosperous communities. Dogwood Initiative's newly announced Strength in Community program plans to share stories of homegrown heroes, untold stories of British Columbians coming together to do great things. See www.dogwoodinitiative.org for more news and views on trade, First Nations, communities and democracy.