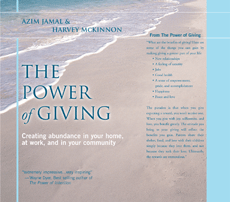 [Editor's note: This is the second installment in a five-part Tyee series, as part of Citizen Toolkit.
In the first installment Jamal and McKinnon argue that the more you give -- in time, love, kindness, and sometimes money - the more you have. And that "giving" is the most productive way to increase the well being of the giver and the world.
Now, they talk about the nature of true leadership: how it's a balance of wisdom, hard work, vision, relationship-building, nurturance, and service, to name a few. These are qualities we often pay lip service to, they argue, but rarely espouse.]
When you are a role model - passionate about ideas, wisdom, and the importance of education - you teach their value. We believe the real purpose of education is to help people understand the meaning of life. According to the great teacher J. Krishnamurti, "[The] sole purpose of education [is] to help find out what you, with all your heart, must love to do!"
Education is much more than formal lectures and classes. Lifelong learning means you learn from your everyday experiences. Education may begin in the classroom, but it continues well after degrees and diplomas are bestowed. For most people, education lasts throughout their lives. Lifelong learning is what writer Conrad Squires calls "muscle building in the knowledge area, which is the bedrock for wisdom." And of course, to succeed in the world today, to survive the rapidly changing work world, you need to continually improve your skills.
In his global travels, Azim speaks about lifelong learning as a key to success in terms of developing your full potential. He emphasizes that education is part of learning, but that learning encompasses much more. It includes the whole area of character building, of keeping an open mind, which allows you to respect other people, and of being humble, so that you understand you don't know everything. This allows you to learn from every person, every encounter, every experience, and every difficulty.
Intelligence and Wisdom
Those who are blessed with education and knowledge bear the responsibility of sharing them with others. If we do not use these gifts we are given, we lose them. If we use these gifts to make a difference, we enhance them, increasing our knowledge and abilities.
All the great work of science, the exploration of creation, progress in medicine and health, developments in technology, communication, and travel, and the rise in the standard of living have been made possible through the use of intellect. All ideas and creativity are built upon the foundations of those who went before us. They gave us the tools, the teachings, and the skills to create and to pass on our creations to future generations.
Along with the fruits of your intellect, wisdom is a great gift to share with adults and children. Wisdom is a combination of knowledge, experience, and clarity. Some faith communities describe wisdom as the power of discernment. Ultimately, it is the knowledge of how to use your intelligence. When you share wisdom, you help people gain skills that allow them to learn on their own.
Leadership
The concept of leadership means many things to many people. One person's strong leader is another person's dictator. People can be perceived as great and successful leaders in their work lives, yet their personal lives are a shambles. True leadership, whether personal or corporate, makes a positive difference.
As people live, work, and raise families in the rapidly changing world of the 21st century, faced with financial insecurity and a myriad of stresses, they look for leadership to calm them in the midst of change, to tell them "things will be all right," and to promise a happy ending. But leadership isn't that simple. Leaders who promise a simple panacea have too often brought repression and a denial of rights with their "easy" solutions. Research shows that people are more cynical than ever about leaders in all sectors of society.
One possible solution to this problem of leadership demands hard work, but it does bring results. It requires that you accept personal responsibility and give leadership yourself, guided by values, not popularity.
You may scoff at this. You may think you can't be a leader. We believe you will be surprised at what you can accomplish once you've made a personal leadership commitment.
You can choose what leadership means to you. It may be volunteering to sit on the board of a community organization. It may mean being the first person to volunteer to raise money for a day care. It may even be having the courage to challenge ethical lapses in a business, government department, or a nonprofit.
A leader's value is in his or her ability to find the value of others. True leaders make a positive difference in the lives of people around them. They invite a shared vision so everyone contributes wholeheartedly to the success of the team.
The writer and teacher William Arthur Ward said, "A mediocre teacher tells, a good teacher explains, a superior teacher demonstrates, a great teacher inspires." The same is true for leaders. Effective leaders demonstrate many critical qualities:
Leaders are solution-oriented. They focus on solving problems, not on the obstacles.
Leaders give by focusing on the important stuff, not the urgent stuff. They encourage others to focus on the important stuff, too.
Leaders take a long-term approach so their giving is sustainable and they do not burn out.
Leaders spend their time in building relationships. The most effective giving takes place when there is truth and respect.
Leaders use their gut feelings and sixth sense to their advantage. They serve with love and compassion.
Leaders create an enabling environment in which everyone is given a chance to mature to his or her full potential. They also create a fun environment.
Strong leaders give. The corporate world uses the term "servant leader." This may sound like a misnomer, but it is not. The best leaders are servants - wanting to serve and give.
Sounds like quite a job description, doesn't it? You can commit to building your leadership ability today. Work on your skills, and work on your fears.
Corporate Leadership
If you are a corporate leader, you may think it would be bad business to give away your corporation's time, money, and knowledge. One of the fundamental goals of a corporation is to make profit for its stakeholders. Striving for profits is valid because corporate leaders work hard and take risks, and they need to be compensated for their efforts. These profits support their families and may be used for worthwhile causes.
However, no corporation thrives without giving to others. A business reaps profit and dividends in proportion to the service it gives to its customers, employees, shareholders, broader community, and the world. The better the service rendered, the greater the success or profits. When corporations take a collaborative approach and implement a "win-win" philosophy, they sustain their growth and success and provide critical leadership.
The Power of Giving is available for purchase online from both Chapters and Amazon. Or at Banyan Books 1-800-663-8442.
It's also available as free download from here.
All profits from the sale of the book go to charities.
Harvey McKinnon is a leading fundraising expert, author of the fundraising bestseller Hidden Gold, and documentary filmmaker. He founded and runs the Vancouver -based fundraising consultancy, Harvey McKinnon Associates www.harveymckinnon.com.
Azim Jamal is a international inspirational speaker and author of several books including The Corporate Sufi and the best selling 7 Steps to Lasting Happiness. He was a senior partner in an accounting firm for 15 years before making the transition to "accounting for life."