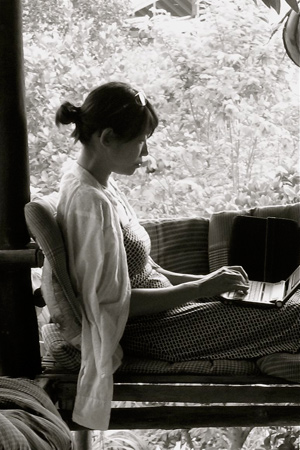 Dogs at the Perimeter
Madeleine Thien
McClelland & Stewart (2011)
The devastation and horror wreaked upon the Cambodian population by the Pol Pot regime in Cambodia continues to be scrutinized as the U.N.-backed tribunal in Phnom Penh holds a hearing this week into the fitness of two defendants to stand trial alongside two other senior leaders of the Khmer Rouge for genocide, murder, torture, war crimes and crimes against humanity. One-million seven-hundred-thousand people are alleged to have died from torture, forced labour, starvation and mass executions under the Khmer Rouge reign from 1975-1979. The highly complex trial is being held in three working languages -- Khmer, English and French -- and involves a 700-page indictment, hundreds of witnesses, a mountain of documentary evidence and thousands of civil parties.
Together with news reports about the trial and published historical accounts of the period, the personal stories of the regime's victims will again reveal the impact and the legacy of the Khmer Rouge's fanatical quest to establish a Communist agrarian utopia. The essence of those stories can be distilled through fiction, their common threads and main themes woven into compelling and enduring narratives that can deepen our comprehension of historical events.
Vancouver-born author Madeleine Thien travelled to Cambodia and the region six times over five years, with visits ranging from a few weeks to up to five months long, in order to understand the complexity of past events and their aftermath. Her latest novel, Dogs at the Perimeter, emerged from her time there.
"The book that I always carried with me, during each of my stays in Cambodia, was Elizabeth Becker's When the War Was Over, because of her insightful overview of what happened, historically, and also because of her profound compassion. She shows a commitment to understanding how Pol Pot's terror became possible, she knows that 'how' and 'why' are intertwined, and for this, among other reasons, her book was a great inspiration to me," Thien told me recently in an interview.
"I believe that one of the most dismissive things we can say is that the genocide was madness and cannot be understood; this response negates all of the history, Cambodia's and our own, that led up to 1975. If anyone has the chance to visit Phnom Penh, I think going to DC-CAM and the Bophana Centre would be incredibly instructive and moving. Both places archive and share an incredible depth of history."
Thien's novel involves a number of linked characters affected by the Khmer Rouge regime, directly or indirectly. Janie is a researcher in Montreal who suddenly leaves her husband and child when memories surface of the suffering she and her brother Sopham experienced when forced from their home to work in the countryside. Her recollections of her family's disintegration and her harrowing escape from Cambodia are intertwined with her efforts in Canada and Southeast Asia to trace her missing mentor, Hiroji Matsui, who has mysteriously left Montreal in search of his brother, James, a doctor with the Red Cross who went missing in Cambodia decades earlier.
The special power of fiction
In our email interview, Thien discussed her use of fiction over non-fiction to write about this period. "With Dogs at the Perimeter, I really questioned why I was writing fiction. I wondered if I should instead write about the current situation in Cambodia, about the Tribunal, and if a journalistic approach would, ultimately, be more relevant. I deeply admire, for instance, Barbara Demick's Nothing to Envy, Anne Fadiman's The Spirit Catches You and You Fall Down, and Elizabeth Becker's When the War Was Over. In the end, I felt there was something about this fragmentation of the self -- these histories that somehow stayed separate from one another but were intertwined in the minds and memories of individuals -- that fiction could speak to. I hoped that Dogs at the Perimeter would be able to stand behind the historical and witnessing books, to say that all of us have a stake in understanding what happened there, that we are all connected to it."
The notion of the fragmented self is reflected in Thien's choice of a non-linear narrative structure in both Dogs at the Perimeter and her award-winning first novel, Certainty, and is key to her depiction of the impact of the past on the present.
"For me, the structure is inseparable from the heart of the novel. In 1975, the Khmer Rouge victory was supposed to mark the end of the civil war, the end of foreign military intervention, and the beginning of peace. Almost no one predicted the extremes of Pol Pot's revolution. During the genocide, when Janie arrives as a refugee in Canada, she is only 11 years old. There is no way for people to know, or even imagine, what she has lived through and what she has lost. The intensity of her solitude, and the disparate and violent pieces of her life, really seemed to me like pieces of broken glass. Her courage, I think, comes from trying to make a wholeness of these pieces in the best way that she can: this wholeness doesn't come from a perfect rendering of her own story, but in her attempt to make a wholeness of another person's story, in this case, the stories of James/Kwan and Hiroji Matsui."
Memories at the centre
In an earlier interview on CBC Radio, Thien discussed how the title of the novel came to her while writing a scene about Janie's escape from Cambodia by boat as a child. Rather than obsessing about the horror she is fleeing, the character recalls the loving times with her family prior to the war, learning to guard the beauty of those memories "...and put the dogs at the perimeter."
The exploration of the nature of memory is a central theme in the book. Throughout the book, the novel's main characters, Janie and Hiroji, who both work in the field of neurology, reflect upon how the mind and memory work. Thien did significant research in this area, immersing herself in a two-week neuroscience intensive at the University of Pennsylvania that covered cellular electrophysiology and chemistry, behavioral and cognitive research, and ethical and societal matters. (Some of the scientific drawings, photographs and other artwork referred to in the novel can be viewed on Thien's website.)
As in her debut collection of short stories, Simple Recipes (past winner of the City of Vancouver Book Award, the VanCity Book Prize and the Ethel Wilson Fiction Prize), and in her previous novel, her current novel reveals the complexities of personal relationships, in particular the divide between children and parents, as well as the sense of loss and dislocation arising from immigration.
The daughter of Chinese-Malaysian immigrants, Thien agrees that family is a recurring motif in her work. "I think it is, but it's never been a primary focus -- just part of the way I see the world, and part of the overall trajectory of my writing. Maybe, in all my work, knowing someone and loving someone are not the same thing. Families tend to break apart in my stories, they break in response to some intense pressure on their bonds, something that comes from outside -- violence, displacement -- and also from within -- the desire for people to satisfy their own destinies, feed their own needs, or from another cause altogether. I think I use family the way another writer might use society itself. The characters are on the outside looking in. And then these fractures also take root in the individual him/herself."
Revealing rather than defining
What defines Thien's three books as clearly literary is her combination of an elegant, spare prose style with the use of stunning imagery. "I think the concision in my writing comes from my shyness -- I have something to say, but I want the work to stand for itself, to speak for itself. The openness and spareness in the writing is a conscious decision, my way of making space for the reader to think and engage. Perhaps the imagery comes from the child's experience of the world, a kind of collision of pictures."
Despite the rise in popularity of non-fiction, Thien is returning to writing short stories.
"I want to break form again, to experiment with the ways a story can be told (or not told). It could be that, because I've been dabbling in visual art -- mostly drawing, but also video and ideas for installations -- I'm interested in bringing some of these forms back into my writing. And also, I'm interested in the structures found in science: fractals, branching, repetitions, asymmetries, emergence, etc. I hope that short stories will give me room to bring some of these ideas together, while also writing about people's contemporary experiences. I'm committed to fiction, to storytelling, because I believe with all my heart that it is unique, and works on us in unpredictable ways. Hannah Arendt said that, 'Storytelling reveals meaning without committing the error of defining it,' and this has always resonated with me. For me, novels and stories are about multiplicity, what Mikhail Bakhtin calls the 'surplus of humanness.' Things are always more than the sum of their parts. I think this is the truth I'm going after."
Through the layered, intertwined narratives of the characters in Dogs at the Perimeter, Thien succeeds in revealing those multiple and very human truths, while giving voice to the experiences of those whose lives and families were shattered by the Khmer Rouge, recognizing and mourning what was lost while honouring the bonds that remain.