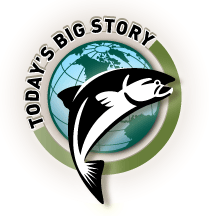 Wedged under the banner headline above the fold on the cover of today's Globe and Mail are two pictures: on the left, the jowly half grimace of John Baird, the new Conservative Environment minister; on the right, a map of Canada, splashed entirely pink except for tiny corners in the far South and North.
The map is a climate model. It displays the areas of the country predicted to be warmer or colder than average over the following month. And the fact that it has more pink than a frat boy's polo shirt means January is going to be very hot indeed.
The Baird headshot sits next the model – under the headline "PM charts a greener course" – because his appointment is supposed to signal the PM's recognition that climate change is serious, or at least worth serious votes.
"We've clearly determined we need to do more on the environment," Harper is quoted as saying in the Globe story. "We recognize that particularly when it comes to clean air and climate change, that Canadians deserve a lot more."
So what does this all mean? Is Environment the new health care? Will it be the issue that dominates the hearts and minds of the centrist Canadian voter in elections to come?
Maybe. Baird's move, from treasury board to environment, has universally played as a promotion. The Globe ran an A1 story on Baird's close relationship with the PM's wife, while the Post wrote about the Ontario minister's "meteoric" rise in politics. In any other Canadian government, ever, moving from a money ministry like the treasury to the green file would have been seen as a big demotion.
What's more, stories on sustainability and the environment have moved squarely into the mainstream. Thanks in part to Al Gore's An Inconvinient Truth, scientific doomsayers don't own the climate change issue anymore.
But there's a big difference between an issue people care about and an issue people will vote on. In a column bluntly titled "The man sent to kill the issue" the Post's Andrew Coyne argues that the Baird appointment is meant to assuage centre voters. But the environment, he says, is not the type of issue many people swing on.
"The issue of the election? Don't bet on it," Coyne writes. "The point of Mr. Baird's installation is to ensure it does not become an issue. Like a hockey coach on home ice, Mr. Harper has the advantage of the last line change: Mr. Baird has been sent out to check Mr. Dion. But the intent is to neutralize, not to polarize."