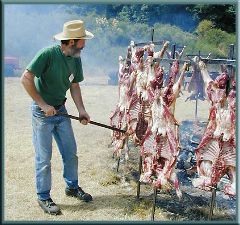 In 2006, global warming went mainstream and Iraq went to hell. It was the year of the "oh s%$t!" moment, as some among the world's elite began to grudgingly accept that that oil stuff may not last forever. That realization is behind our pick for top big story of 2006: localness.
What is "localness"? It's Part yuppie fad, part literal grassroots revolution. It's the idea that closer is better, that something grown, sewn or produced close to home is better than something from far away.
Localness isn't new. The slow food and local food movements have been around for years. But in 2006, the trend went mainstream. The New York Times named "food miles," the distance your food traveled from producer to plate, among on its annual buzzwords. And Jaime Oliver, maybe the most famous chef in the world, led off his new cook book with the admonition to "remember: real cooks champion only local seasonal, fresh produce. Closer to home, The Tyee's own 100-Mile Diet became an international phenomenon. A book on the adventure in eating is due out this spring.
So what's the big deal with local food? Some fans favour the supposedly richer taste and higher nutrition found in food picked ripe. Some approve of the smaller footprint local food leaves. Some like that it means they can monitor the ethics of their food. And still others like the fact that they can meet the producers, making food a more intimate experience.
Organic and local products aren't just for hippies or back-to-the-landers (though they're enjoying a renaissance too), but for foodies and ordinary folks. Farmer's markets are bustling. And there are equal numbers of luxury vehicles and bikes in the parking lots out front.
Localness, though, isn't just about food. The same craze has hit fashion markets and boutiques. Once synonymous with "frumpy" and "mediocre," the slow clothes movement has actually made it desirable to be seen with a local label. Some local designers even say that where "handmade" used to lower value, it now raises it. Customized, individual clothes provide more style credibility than those cloned from displays in chain store windows. And fashion markets like Portabello West are popping up all over the province.
Some shoppers at local food and fashion markets are motivated by sustainability. But others haven't heard of the concept: they say they're just there because local products are higher quality and cooler. That might suggest localness is more than a single-faceted, quickly stale, 2006-isolated trend. But does it mean that blue chip, brand name and big box the new dinosaurs? Or will localness remain a tiny niche in a globalized world?
That's the question for 2007.