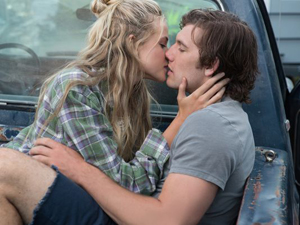 Goddamn Valentine's Day...
Even if you've no interest in celebrating Valentine's, hearts and flowers are all around at the moment, with suffocating pink sentiment everywhere you look. How best to escape all this lovey doviness? I suggest hiding in the movie theatre. It's one of the few places you can go entirely by yourself, where no one will bother you. Going alone is actually kind of OK; you don't have to compromise on what to see, and you can eat an entire bucket of popcorn and never share one kernel of the stuff.
So what's the rub, you ask? The stuff on screen, unfortunately. There's a whole lot of bad romance being released just in time for Valentine's.
A remake of Endless Love hits theatres Friday to the great snoozedom of the nation. A terrible remake of a wholly terrible original, it's most notable for being a further sanitized take on the notion of bland teens getting it on. In 1981, Brooke Shields and Martin Hewitt rubbed hairy eyebrows while the adults looked askance. In the newest version, blonde goddess Gabriella Wilde gets gooey with Viking-looking dude Alex Pettyfer while the adults cluck their withered tongues. Not much has changed. Even that horrible Lionel Richie song is still as horrible as you remember.
Also entering the theatres in time for V-Day is About Last Night, a remake of another 1980s vehicle starring a cast of model/actors and comedian Kevin Hart. The original film, based on David Mamet's play Sexual Perversity in Chicago, featured a downy-cheeked Rob Lowe and a semi-bearable Demi Moore. I'd almost forgotten about this film, but here it is again, slightly updated. Same jokes, but better set design. Everything is candles and good lighting, beautiful people in exquisitely designed apartments, moaning about love. 
If the act of remaking crappy films doesn't indicate that there are no new notions when it comes to love, then I don't know what does. It gets mighty dullish after a time. What the movies teach us about romance has been covered to death. I think what real romance teaches us about the movie version is far more interesting.
Bring the heat back on screen
Love is the one state guaranteed to make us feel as if we're starring in a film. I have this on good authority, namely from myself, as I've spent the better part of my life making up romantic movies in my head. Based on that, here's my advice for the moviemakers of the world.
The first lesson is about specificity.
My earliest heart-stopping, soul-tipping crush was on Mr. Spock. Maddened by love, I wrote "I love Spook" in red oil pastel on the wall of my playroom. (Not only had love robbed me of my ability to spell, it made me appear quasi-racist.) I remember the slightly mortifying feeling of being driven to do something so public, so permanent, but also the feeling of odd powerlessness in the grip of this new convulsive force. Even at the tender age of eight I had to tell the world, and perhaps little has changed.
I tell you this to make clear that love makes a tool of us. Like a parasitic invasion that eats our brains and causes chaos and calamity, it burns specific moments into the meat of us with sizzling clarity. The greasy texture of the red oil pastel is as vivid to me now as the brazen, terrifying feeling of doing something I knew would bring on a world of trouble, and doing it anyway.
I convinced my mother that I needed to watch the evening news, citing an interest in current events, but really I was just securing a place in front of the TV for when Star Trek came on at 7 p.m. Kirk didn't interest me much, but Spock, with his volcanic reserves kept barely in check by logic, was a whole other kettle of cool fish. The episode in which Spock suffers from Amok time, the mating fever, and all restraint goes up in a haze of hormonal insanity, I found thrilling almost beyond endurance. The rush of embarrassment, the waves of heat breaking over my face, the hope that no one noticed my sudden fevered attention to every nuance of plot and atmosphere -- it all added up to the crazily erotic.
The second lesson is that restraint coupled with running amuck, or in this case Amok, is a surefire way to add genuine heat.  
From Spock I went on to harbour crushes on a laundry list of fellows that ranged from KISS drummer Peter Criss, to Montreal Canadiens' forward Mario Tremblay, to some kid named Eugene Trupp, who sported coke bottle glasses and an afro and rode my school bus. Looks were never really the point. Sometimes the men didn't even need a face; I harboured crushes on an entire series of hockey goalies, from Terry Sawchuck to Eddie Belfour. It was all good as long as they kept their masks on.
In between fantasy men there was the occasional real live human. In high school, it was some poor teenager named Ben Chorzempa. I dogged that boy like he was in season. If I could've mounted his head over my mantelpiece, I would've done so without blinking an eye. The entire time I stalked him he never spoke a word.
The third lesson is that mystery, and goalie masks, are the hottest things in the world.
Movies of our lives
Love wrecks stuff up. It makes it hard to think straight. In essence, it makes you insane. I've always thought there should be a warning label on ovaries, like there would be on any mind-altering drug. For me, each new crush came on like a fever, a sickness, something that arrived unbidden from outside. It just invaded, and suddenly I was ridden with it from head to toe. The randomness of these attacks often occasioned the feeling of dread, of, "Oh no… not that guy."
I remember feeling distinctly that way about MH, the town Satanist, who made me an upside-down cross for Christmas one year, upon which he had carefully painted in red nail polish, "Evil Dorothy, Burn in Hell Forever." On Christmas morning my mother and I engaged in a rigorous tug-of-war over the cross, her declaring that she wouldn't have it in her house, while I wailed, "But I love himmmmm."
Whenever I hear Mötley Crüe or The Scorpions, I'm transported back to our torturous love affair, the sum total of which included an endless supply of recriminatory notes passed back and forth in Algebra class. For my epistolary output, I ended up in detention and with a D in math. I sang The Poppy Family's hit song "Where Evil Grows" under my breath and decided a confrontation was necessary. I write it now like it was a scene from a movie because that's how I remember it.
At the Teen Town Dance, where he was spinning records for a thin crowd of grade-schoolers and the occasional teenager, I decided it was time to admit my love during a slow number.
He took it in stride. We left the dance and walked around the neighbourhood in the first warm evening of spring. We sat under a tree, smoked cigarettes and talked about what we were gonna do when we got out of this punk town. To this day, the smell of cigarette smoke and streetlight caught and spangled in cherry blossoms still spins me backwards through time for a full-on Proustian moment. Whether it's a quality of light, a certain smell, or even this, it all comes flooding back.
Romance is in the details, the smells and colours and sound. Sometimes it feels as if the world conspires to keep us mired in romantic delusion. Even now, when the first tender green shoots of crocuses come peeping out from the ground, and the faintest hint of spring tinctures the air, it comes back. 
My point is that we're hardwired to make movies of our lives, since all memory is story after a while. In bits and pieces, we splice the reels together with too much tape, the celluloid cracked, the sockets run ragged, but still the movie plays, unspooling in glorious surround sound and Technicolour.
Roger Ebert called movies "empathy machines," meaning they provide a means to understand other people's experiences. But I think I prefer critic Pauline Kael's take, that films are also a means to process your own life. In one of her most oft-cited reviews, she recounts an experience of real-life bleeding into cinema:
"After one of those terrible lovers' quarrels that leave one in a state of incomprehensible despair, I came out of the theatre, tears streaming, and overheard the petulant voice of a college girl complaining to her boyfriend, 'Well I don't see what was so special about that movie.' I walked up the street, crying blindly, no longer certain whether my tears were for the tragedy on the screen, the hopelessness I felt for myself, or the alienation I felt from those who could not experience the radiance of Shoeshine. For if people cannot feel Shoeshine, what can they feel?... Later I learned that the man with whom I had quarrelled had gone the same night and had also emerged in tears. Yet our tears for each other, and for Shoeshine, did not bring us together. Life, as Shoeshine demonstrates, is too complex for facile endings."
I think the last time a film reduced me to a similar state was in 2000.
Love is a risk, fools
I've made a study of recent romantic films to understand why so few fail to enthral or even entertain, especially since we're hard-wired to find the real stuff so hard to quit. The chemical cocktail of hormones that works on the same section in our brains as cocaine and other opioids means we're biologically engineered to become addicted to love. Blame the nucleus accumbens or maybe the vengeful God who designed it: it's the reward centre in our brains that tells us keep the love drugs coming.
So why are there so few films that fail to deliver the necessary hit lately?
The mating habits of beautiful people aside, I would argue there's something fundamentally missing from the bevy of recent romances. I think it's risk, or more correctly, risk of despair. Despair might be a rather dramatic idea, but it has fuelled some of the very best romantic films, stories and music humans ever devised. Think of the French Romantics, hanging themselves from sewer grates for want of love. And what would opera be without folks stabbing other folks, leaping off parapets or immolating in the name of love?
The threat of failure, leading to terrible sadness, which is ultimately what real life readies us for, is missing from romantic films. Tragedy and love used to be joined at the hip, but that relationship seems to have broken up lately. Even something as twee as the remake of Endless Love is an indicator of sorts. In the original film, houses get burned down, parents are killed, and there's even some salacious voyeurism. In the remake, it's all glossy hair, nice furniture and happy endings.
In her review of the film in the New York Times, Mahnola Dargis argues that this is an indicator of American films' inability to represent the disruptive power of passion. She writes, "One problem with this love is that it's been difficult for filmmakers to translate it to the American screen, which has long been locked in the grip of a stultifying, Eros-killing Puritanism... By contrast, American movies today often roil with orgiastic violence that's a conspicuous substitute for sexual desire."
Endless Love isn't an isolated example. Apart from foreign films, I haven't actually seen a romance lately that made me feel anything at all. Leaving aside costume dramas and period pieces from Jane Austen and Jane Eyre et al., most of what passes for romance is a pale anemic version of life, sucked free of anything that might make a mess or wreck up the place. Love is a bloody mess; that's what's great and awful about it. Because there's nothing at stake in most romantic films, ultimately it's hard to get much involved.
Sometimes, I imagine the human capacity for fantasy as a vast spangled universe of hope swirling in gossamer profusion above everyone's head -- the entire world swathed in the stuff. I don't know if most folks walk around pretending they're the stars of their own epic life story, but I like to think they do. We are a race of fantasists, which is why, perhaps, we keep trooping back to movies. We can't leave the damn things alone, even when they disappoint us like a bad boyfriend. Think of old critic Pauline Kael naming each of her books for some quasi-erotic interlude: I Lost It at the Movies, Kiss Kiss Bang Bang, Going Steady and Movie Love.
So after all this heaving and sighing, what's there to say that hasn't already been said in a million pop songs, novels and films? Yes, love is the ultimate cliché, but so what? All clichés have a grain of truth buried somewhere in their candy-coloured centre.
Happy damn Valentine's.