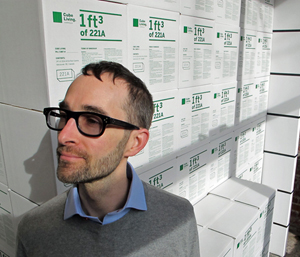 "Science tells us that physical space is infinitely divisible. This means that real estate density is theoretically unlimited, resulting in the potential for infinite capital gain!" -- CubeLiving.ca
In the back production area of Vancouver's 221A Artist Run Centre, Alex Grunenfelder is selling real estate, and it's going fast. His Cube Living: Buy Small installation project has been open for just an hour when The Tyee stops by on Tuesday afternoon, but he's already pre-sold many units, each one cubic foot in size. We are Grunenfelder's first walk-in customers, and we've purchased two units for $3. We feel lucky to have invested at such a good time.
"You got your first one for $1. They're going to be selling at $3 each after your two are gone," Grunenfelder tells us. He finishes assembling the six-sided cardboard cube containing our purchased space in about three minutes.
"This is a construction process that would normally take at least two years. And that's why they can be so cheap because the efficiencies are unbelievable," he says. This is what Grunenfelder refers to as real estate 3.0, or the micro-real-estate revolution.
"This seems like a logical conclusion," he says, "following the neoliberal market logic of allowing speculative capital to determine how space gets created and used in the city."
Grunenfelder works as a graphic designer and has lived in Vancouver for 13 years. His says the Cube Living project was inspired by what he observes as the surreal activities of the local real estate industry and related urban densification initiatives.
"I'm not necessarily advocating living in smaller spaces," he says of Cube Living. "It's about looking at the discussions that are happening around all of this, and maybe looking at things from a different point of view, and also trying to project, where is this going? Where is this process of urban densification going to end up?"
Cube Living is about the relationship between property owners, developers, and purchasers. "It's a way to investigate and directly interact with those relationships and bring them all together in one time and place," he says, "Instead of over the course of years it would normally take for a spatial property to be developed."
As we chat, a woman who works at a restaurant a few doors down on East Georgia Street walks in and asks whether this is yet another condo sale underway.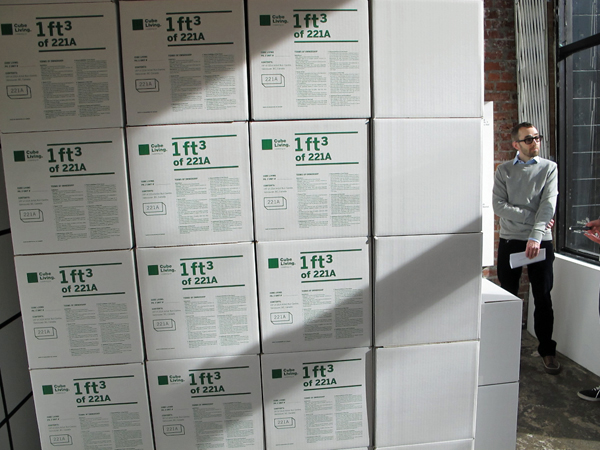 She's not shopping for a home, but she's interested in what's happening to the neighbourhood and is drawn in by the familiar trappings of real estate sales, like the life-sized cut out figure of a woman smiling in front of a photo of the city's skyline, holding in her hand… well, this is different: A one cubic foot box made of transparent plastic.
After asking a few questions, the visitor is relieved to find out the storefront is just part of an art installation making comment on the source of her anxiety.
After Grunenfelder finishes putting together our cube, we sign our agreement for transfer of ownership. The terms of use permit us to use the space for art gallery, retail store, office, art studio, workshop, or storage purposes. But the weight of the contents in the cube must not exceed 40 pounds. The cardboard container that houses the space is provided to us by the manufacturer on loan, free of charge and in perpetuity.
We decide to leave the container at 221A until the end of the month, after which we may either choose to take possession of the space and relocate it, or enter a management contract ($2/month per unit) with 221A.
As we get ready to leave, more customers are arriving to make an investment on yet more units. Here in Vancouver, it's the only real estate many of us can afford.
Alex Grunenfelder will give a talk about Cube Living at the 221A Artist Run Society of Vancouver, at 221A E. Georgia Street, on Wednesday, Feb. 20 at 8 p.m. Grunenfelder will explore the history of Vancouver real estate and the Cube Living project. The talk is free.
Cube Living sales end Saturday night, Feb. 23.
UPDATED: Bing Thom Architects crunched the numbers. Turns out, a cubic foot of space in Vancouver costs about $206. Cube Living really is a steal. See Jackie Wong's follow-up here.