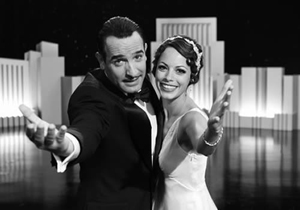 There's a rule, it says here, that you should avoid any movie in which a cute dog hides its head in its paws. Ah, but what if said dog performs its antics in a film that is not just Hollywood corn, but a tribute to Hollywood corn? Well, then you have The Artist, the New York Film Critic's Circle choice as Best Film of the Year. Nonetheless -- it also says here -- the Cute Dog Rule still holds. No exemption granted. If a washed-out teabag like The Artist is really the best film of 2011, we have forgotten how the real stuff is supposed to taste.
The Artist, from French director Michel Hazanavicius, is at the very least a unique contribution to cinematic 2011. A black-and-white and (mostly) silent film, it stars Jean Dujardin as swashbuckling silent hero George Valentin, and Berenice Bejo as Peppy Miller, an ingenue who becomes a rising star of these crazy new talking pictures. Alas, George and his little dog sidekick (played by a Jack Russell named Uggie) are soon yesterday's mutes. Meanwhile young Peppy, who really ought to be swinging with her speech-enabled pals, instead casts a sad and lovelorn eye at the forgotten star who provided her big break. But can she help George's career sing again?
Loving tributes are all very well, but ultimately any movie must justify its existence on its own terms. The Artist offers little more than a send-up. The plot is more or less a mash-up of Singin' In The Rain and A Star is Born, but neither comparison does The Artist any favours. The Artist is to the original A Star is Born as Kiss is to David Bowie. There's more entertainment value in 15 minutes of the 1937 Fredric March-Janet Gaynor epic than in the entire 100 of this movie. Nor can it hope to approach the physical genius of a great Buster Keaton silent.
Film of quiet desperation
Even the central conceit of The Artist begins to seem awkward. Had it been set entirely in the silent era the approach would have made more sense. But a silent film about talking pictures? It's like a radio play about the early days of television. The film even throws in a sound scene -- a nightmare sequence for poor silent George -- but it has the unintended effect of breaking the spell and reminding us that what we're watching is essentially a shtick.
Besides, no one explains why George can't star in talkies. Legend has it that John Gilbert's career was ruined by his weak voice, but no one says anything about George's voice one way or another. They just tell him he's a silent guy and therefore out of luck. Probably just as well for poor George -- pretty soon colour movies would come along and then he'd really be screwed. "Sorry, George -- you're black-and-white. It's over."
Back in 1981, Stephen Spielberg and George Lucas unveiled a tribute to the glory of Saturday afternoon serials. Raiders of the Lost Ark managed to refresh and renew the tradition (before descending into awful self-parody with the speed of a runaway coal car -- Indiana Jones and the Temple of Doom is one of the most distasteful and obnoxious sequels ever made. Which, given the history of sequels, is saying a lot). Ideally The Artist ought to accomplish what the original Raiders did and make us see a slice of Hollywood history with new eyes. But there just isn't enough on display here to rise above the status of gimmick. The Artist offers the depth and subtlety of a long-form vodka commercial, or at best maybe a very special episode of Buffy the Vampire Slayer.
Buoyed by solid performances from Dujardin and Bejo, The Artist is pleasant enough and certainly good-hearted. But just as the talkies doomed poor old George, there are other innovations working against The Artist -- for example, Turner Classic Movies or Netflix. If you really want to thrill to the cinema of a bygone age, these days it's pretty easy to check out the real thing.