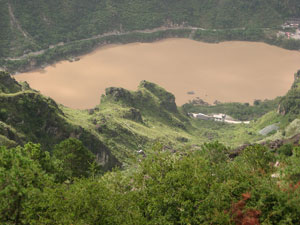 When Chairman Mao launched the Cultural Revolution, he also declared war on a second front -- the environment. Vancouver director Gary Marcuse discovered this while reading Judith Shapiro's book Mao's War Against Nature and knew there was a movie to be made -- and that movie is receiving its world premiere at the 2011 Vancouver International Film Festival.
After a research trip to China to find out what was happening today, Marcuse found his story in the grassroots fight to stop a dam from being built at Tiger Leaping Gorge, which would have displaced and arguably destroyed the lives of 100,000 people. "The proposal called for an enormous reservoir that would have flooded 265 kilometres of the upper Yangtze. Imagine flooding the Fraser Valley from Vancouver to well beyond Hope," says Marcuse. (That's one big reservoir.)
Waking the Green Tiger is Marcuse's third film about the birth of an environmental movement. He previously made a documentary about the birth of the environmental movement in North America (Nuclear Dynamite) and the birth of the environmental movement in the mid-'90s in Russia. (Arktika).
Sitting down at the kitchen table of his East Van duplex for a lunch of homemade chicken soup -- courtesy of his partner and producer of 31 years, Betsy Carson -- Marcuse says he arrived in China in 2008 and met with a half dozen leading environmentalists who told him about the plans to build 21 new dams in Yunnan province -- an area he says reminds him of B.C.
"Yunnan province is exquisite. People come from all over China to have a look at nature there, and some of the people have been farming there for centuries -- so the richness of the farms and the richness and depth of the cultures in those valleys was very striking -- it's like visiting the Haida here. There are 24 different ethnic minorities there." It was hard for Marcuse and local environmentalists not to be inspired by the idea of stopping 24 different cultures from being quite literally submerged.
"We arrived at a time when the discussion was starting to open up, a new debate was opening up because of the work of these environmental activists who were stirring up a dialogue about whether the cultures and land should be protected or whether a dam should be built."
All of his sources agreed that these events marked "the beginning of a green movement in China."
"So of course I had to find out what was happening," he says. "What I find out is what's in the film."
China's 'green hurricane'
Marcuse says his official minder helped him connect with the former head of China's environmental protection agency Qu Geping, considered the father of environmental protection in China.
"He had some very interesting stories to tell us about what it was like trying to work inside the government trying to protect the environment, beginning in 1970 during the Cultural Revolution. He's the one who points out to us many of the big mistakes that were made by Chairman Mao because he didn't consult, he didn't involve scientists, he didn't engage the public. So Qu gave us a very candid guide to the state of the environment from Mao until now."
Qu was responsible for a groundbreaking piece of legislation -- an environmental impact assessment law that had a very important and unique provision. "It allowed public participation in government decisions on big projects."
In the film, Marcuse quotes a Chinese environmental journalist who explains the historic importance of the law. "There was no history of public participation in China. This was the first time in 2,000 years that a law had been passed to give people the right to participate. So the environmental activists seized on this new law and this new right and used it to provoke a national debate about development versus protection of the upper Yangtze River and the Nu River."
Before the law was passed in 1993, the media virtually ignored any debate on the environment. Then the law was passed and the floodgates opened. "Over the next 15 years, 1993-2008, they wrote 220,000 stories about the environment. This put a lot of pressure especially on small-time polluters who were just dumping in rivers and lakes to clean up. He opened the door for all these studies.
"They called it a green hurricane that started to sweep through China."
In the film, Qu explains, "With all the different sectors of law in China, we are the only one that has clear and transparent standards, and we're the only one that has a democratic process. That is why environmental law has an important role to play in the development of democracy in China."
This also changed the climate for energy production. Although there are a lot of stats about China's new coal plants, Marcuse notes that China also produces a new wind turbine every hour and that, "China soon will have half of the world's installed wind power and solar panels."
The power of small films
When Marcuse was looking for someone local to work with, he received a 20-minute documentary about a farming community that was moved to make way for a dam. After hiring the filmmaker to assist him, he discovered that her documentary had gone viral -- or whatever the pre-Net equivalent of viral was.
The film was being shown in villages that would be affected by the new dams, and was stirring up serious opposition in farming communities. "It showed the power of a small documentary film to help shape and develop a movement."
Marcuse discovered that Shi Lihong was one of China's first environmental filmmakers. She'd already shot approximately a hundred hours of footage about the reactions and experiences of "ordinary people" and she was willing to share them all for his documentary.
The movie is narrated by Stargate star David Hewlett, who Carson says was attracted by the environmental issues. "He's very interested in the environment and he has a young son, so he's looking at the world in a different way, and was just a thorough delight to work with."
Carson and Marcuse plan to spend the next six months making sure the movie appears in as many places as possible. They've already done a 56-minute version for Danish public TV, and a 43-minute version, narrated by David Suzuki, airs Dec. 1 on CBC's The Nature of Things.
When I ask if there's the birth of another environmental movement to chronicle, the smile Marcuse and Carson exchange makes it clear that he's hoping this isn't just a trilogy.
"South America," says Carson. "South America," says Marcuse. "There's all kinds of indigenous-based movements in several different countries."
Waking The Green Tiger is at the Vancouver International Film Festival playing at the Empire on Granville St. Fri, Oct. 7 9:30 p.m. Tue, Oct. 11 12:20 p.m. See here for further details.
[See more stories in: Film, Environment]