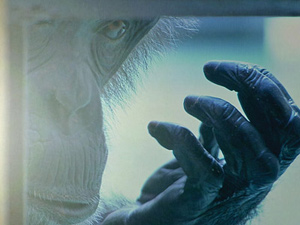 Based on Ronald Wright's bestselling book and viral meme, A Short History of Progress, the documentary Surviving Progress, which debuts at the Vancouver International Film Festival on Sept. 30, connects the dots between international banking policies and, to quote the newly disbanded REM, "the end of the world as we know it."
While Wright is a consistent and engaging presence, the movie's not lacking in character or characters. Interview subjects include Cancon icons David Suzuki and Margaret Atwood waxing about the madness of modern economics; eco-icon Jane Goodall; No Impact Man Colin Beavan; iconic smart guy Stephen Hawking; a Chinese father and son with differing views on the merits of China's conversion to the million mile diet, and a Brazilian eco-cop who looks like she'll be played in another movie by Penelope Cruz.
Thanks to the film's global perspective which takes viewers through Canada, the U.S., China, and Brazil, there are moments where Surviving Progress feels like an action movie about the Amazon and interest rates.
The movie was executive-produced by Mark Achbar (The Corporation), who teamed up with well-known eco-film producer Betsy Carson and two of Quebec's most successful producers both creatively and commercially -- Daniel Louis and Denise Robert.
It was filmed by a first-time directing duo who were put together for the project -- Mathieu Roy (Mort a Venise: Un voyage musical avec Louis Lortie and Francois Girard's Three-Act Journey) and Harold Crooks, a writer on The Corporation and author of Giants of Garbage.
Sitting on a bar stool in the filmmakers' lounge at the 2011 Toronto International Film Festival, Crooks and I talked about the challenges of adapting an unadaptable work, sharing directing duties and saving the world. Here's what Crooks had to say...
On playing well with others:
"It's not every day that one is invited to join a project about the fate of human civilization, and because this is a serious project, it was appropriate that it become a collaboration between a large number of individuals and institutions. What's remarkable about this project is it brought together Cinémaginaire, one of Quebec's most important film production companies, a film production company that's noted for the kinds of films that fill Cineplexes -- so, a highly populist film orientation on one side -- and then, on the other side, Mark Achbar, who comes from an entirely different filmmaking universe. But what both Planet Cinémaginaire and Planet Achbar do share in common is an infinite respect for Monsieur Madame tout le monde, for communicating to every man and every woman.
"But I see that one has to embark on a project about the fate of human civilization with a certain amount of modesty, and also with a sense that the only way you're going to get through this project or come out the other end with a credible film that speaks to people is if each of us grows as human beings in the making of the project, because one is coming to grips with such sweeping questions. It's an endeavour that does require the collaboration of many different kinds of individuals. So the collaborative process was an ideal one for making a big picture film about the fate of civilization. At every phase from treatment, through selection of participants to the writing of interview questions, Mathieu and I engaged in constant debate. We brought our different life and generational experiences to bear at each stage.
"This was somewhat like what the ancient Greeks called 'dialectics,' which they regarded as a tool for arriving at objective truths --through a synthesis of points of view. In post-production, Mathieu wished to forgo voice-over or voice of God style narration in order to achieve a heightened and engaging cinematic experience of the content and themes. This decision entailed a long period of intense editing room collaboration to weave together our interviews of thinkers, scientists, Wall Street critics and activists and themes into a vivid tapestry. That done, Mathieu applied his gifts for marrying image and sound with our editor Louis-Martin Paradis and our musical contributors Michael Ramsey and the well-known Montreal-based artist Patrick Watson."
On how this changed Crooks's worldview of the nature of nature, and the perils of "debt pollution":
"It never really occurred to me until I became involved in the project, that civilization can be thought of as an experiment. It's only somewhere between 5,000 and 6,000 years old. And in the context of the lifespan of our species, that is not a very long time. And if it's an experiment, it goes without saying that it's not guaranteed to succeed. And that's a perspective that gets your attention, in terms of framing these issues.
"Many issues, of course, progressives have long been familiar with. However, in the period between when Ronald Wright first gave his Massey lectures and today, we haven't seen that these concerns about the ecological impact of industrial society gaining much traction, so the attempt was to frame a film around these issues that would be a cinematic experience, to engage the largest possible audience.
"The other thing is that the Ronald Wright book came out at a time in which North Americans were living in an economic bubble that was relatively high-prosperity, and it's not the kind of economic environment which gets the maximum attention for these issues. What happened, however, as we went into production -- Wall Street pushed the American economy and a large part of the world economy to the edge. So that in the same way that The Corporation, if it had come out much earlier, before the ENRON scandals, the WorldCom scandals, in which Monsieur and Madame tout le monde, Mr. Everyman and Ms. Everyman, instead of in the context of those scandals when confidence in the capitalist system was being shaken amongst people who are not ideologically across the political spectrum, it may not have caught people's attention the way it did.
"In the same way, we believe that in the post-crisis environment, the content and themes and questions that are raised by this film will have a better chance of getting the attention of audiences than it might have had if it had come out before the financial crisis because one of the things we do, which we think is unique about the film, is that we link Wall Street and the Wall Street model of financial capitalism directly to ecological destruction.
"Whether it's in Brazil or other places, we link the rainforest issue to Wall Street's behaviour. And one of our more interesting participants once worked for David Rockefeller at the Chase Manhattan Bank, so he had a very inside view in terms of the way big banks consciously conspire to put developing countries into a kind of economic dilemma, in which the only way out is the privatization and over-exploitation of their resources. So we're very gratified to have moved Ronald Wright's analysis to a deeper level, and it would not have occurred to us, probably, to do it, but for the financial implosion of 2008. Now there was the linking of what Michael Hudson calls 'debt pollution' with ecological devastation."
On the biggest lesson he learned making the movie, and whether our old brains can deal with our new world:
"One thing I've learned that has been a conscious raising exercise for me coming and dealing with this material, is that we now live in a single unitary global civilization that is a capitalistic civilization, and that there are no backup copies. So there's a kind of urgency to dealing with these issues that one takes away from this perspective that I never had before. That was one of the big things.
"Also, things I learned about the nature of the brain. We have a cognitive psychologist who has written some big books about the human brain -- I'd never really thought about the fact that evolution fully formed the human brain that we operate with today before any of the problems we face existed. So it leads to a reflection on what are the consequences for thinking about our problems in those terms.
"The other thing that wasn't a surprise, but it was an exercise in learning, that I could only come to and be convinced of through the journey of this film, was for me what the ultimate takeaway of the film is: that there are no technological fixes for the predicaments of civilization and the threat to civilization. The fixes will have to come through moral progress and, rather than being technological. They reside in human values.
"We touch upon that at the end of the film, where we talk about the planetary brain and we speculate that, in fact, moral progress is present, and that it will now be facilitated by technology which allows for human beings to come and understand that they do inhabit a single planet, a single home, that human beings have more in common across tribal, national, ideological and gender-lines than they've ever imagined before, and that that is a very, very necessary part of the solution to the predicaments that humanity is facing. I never really thought of that and was so convinced of it as I am now."