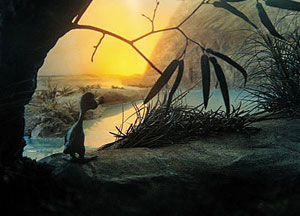 Empathy is weird. Why can you never really feel it, until you do? You can dump someone spectacularly on their head, and swan off never feeling so much as a twinge. Until the same thing happens to you, and then you look back, appalled, and think, "Oh, this is what it feels like." If you want to skip the entire process of being forcibly injected, through the medium of emotional pain, with compassion and understanding for your fellow creatures, you could spend 30 years in a Buddhist Ashram, watch 500 hours of Oprah Winfrey -- or, you could watch some Russian animation. Personally, I favour the latter of these options. The VIFF has some excellent animated films this year, but the pick of the litter, or perhaps, more correctly, the cock of the block, is Garri Bardin's The Ugly Duckling -- and if this doesn't make you feel some empathy for your fellow creatures, there is no hope for you.
Adapted from Hans Christian Anderson's story of the same title, the film uses the plight of a homely fowl to examine prejudice of all stripes and feathers. The titular duckling, desperate for a sense of belonging, community, family, love and acceptance, gets none of those things. Shunned, shoved and abused, the only solace he has is singing his poor beaten heart out to the impervious moon. Pathos of this ilk has an almost 19th century flavour, like sarsaparilla, or bitters. Bardin began the film in part as a reaction to the increasingly nasty flavour of children's entertainment in his country. The Ugly Duckling is, quite literally, a labour of love for the Russian animator, a quality that shows in each individual feather, and every squishy bit of herky-jerky puppet animation. The moral of the story is just that -- moral. Add in a grandly swooping gesture of justice, and you have something that thrills the heart as much as it gently instructs.
Fuzzy morals
The VIFF closes this year with another animated feature, Sylvain Chomet's, The Illusionist, that takes the tale of a stage magician in a changing age to speak to melancholy and beauty combined. It is elegiac, charming, mournful and wondrous. Take your child, if you have to beg borrow or steal a ticket. They don't make many films that contain emotionally real stuff of life for kids anymore.
And, having sat through approximately 50,000 3D kids films, give or take a few, I speak from woeful experience. The latest was Zack Snyder's Legends of the Guardians: The Owls of Ga'Hoole. The film is adapted from writer Kathryn Lansky's multiple tomes. The film follows in a long line of fuzzy, furry or feathered creatures standing in for humans and our ongoing interest in warfare and brutality. Zack Snyder, who is best known for bringing graphic novels (300 and The Watchmen) to the screen and ripping their guts out in the process, does something similar here with owls. The story is pretty familiar stuff, with some feathers stuck on to add interest. The "pure ones" are a race of would-be Nazi owls, who want to enslave all the other lower classes of owls, and rule the universe or some such damn thing.
Tolkienesque in look and language, the film employs a staggering array of British and Australian character actors, including Helen Mirren, Hugo Weaving, Sam Neill and Geoffrey Rush, who bluster on about nobility and the savagery of war in plummy accents, then take to the skies, with razored claws to tear each other to shreds. Just the thing to infuse love, kindness and pleasant thoughts into small children.
Kids are doing it for themselves
The Guardians is only the latest, but the idea of cruelty and brutality as entertainment has been around since I was in short pants, and this film isn't much different. What is different today, is that these kinds of kids films are so ubiquitous. In fact, much of children's entertainment these days isn't even the officially sanctioned stuff that's on TV and in movie theatres; now the real stuff is made in the YouTube trenches, by kids for other kids. Whether children are any different than they ever were in terms of behaviour, I am not certain. There has always been a deeply ingrained streak of survivalist instinct that manifests as kill or be killed. Or, as my son Louis said the other day, "It's all about who has looks, clothes, or humour." This rather blunt assessment stopped me short. Thus was it ever, and thus shall be till the sun explodes in a cataclysmic fireball. And even when that's happening, there will be some kid somewhere putting down some other kid because they're wearing the wrong style of pants.
Whether the eternal quest for popularity has been sharpened in greater levels of viciousness by animated entertainment is uncertain, but one thing is clear, many of today's films aimed at children have a meanness to them that lingers like hemlock. I think about this when stories of kids and teenagers committing suicide in order to escape the cruelty of their peers surfaces from the boggy murk of the media, as it has in recent weeks. There is a brief flurry of wringing hands and Internet campaigns, but does much really change?
How trolls are fostered
I regularly watch YouTube videos to get a sense of where culture is currently, and where it may be going. And part of me thinks, "Uh oh..." Maybe empathy is like a dying fawn in the forest. Chris Hedges, author of The Empire of Illusion: The End of Literacy and the Triumph of Spectacle, wrote a piece for Alternet this week about decaying American ideals. It's nothing particularly new, but one paragraph stood out.
"The great moral voices, George Orwell and Albert Camus being perhaps two of the finest examples, describe in moving detail the human suffering we ignore or excuse. They understand that the greatest instrument for moral good is the imagination. The ability to perceive the pain and suffering of another, to feel, as King Lear says, what wretches feel, is a more powerful social corrective than the shelves of turgid religious and philosophical treatises on human will. Those who change the world for the better, who offer us hope, have the capacity to make us step outside of ourselves and feel empathy."
Hedges's argument that art can make us feel for someone other than ourselves is a lovely notion. It may even be true, but what of stuff that does the opposite in the most underhanded and sneaky way, and aimed at little kids, who lack the ability to know when they're being messed with by the Disney Corporation?
Whether you are watching owls reenact the Third Reich, or watching someone out their roommate to the world without their knowledge much less their permission, the playground nastiness that we thought we left behind in elementary school has permeated much of grown-up culture. Adults are now free to snipe and snark at will as trollish behaviour pervades the online world, fouling forums and commenting sections, so that anyone with a shred of sensitivity flees in frustration and disgust.
Not the death of modern manners again? Maybe. But I think there is something more insidious at work. Ron Sexsmith brought it up at the screening of the documentary Love Shines at the VIFF when he said he thought there was a conspiracy to keep any music with the slightest whiff of political content off the radio. Sometimes, I think the same is true of kid's movies, where the real struggle for justice, the hard ongoing war of fighting off the whining slipperiness of your own ego is rarely witnessed in mainstream cinema.
But there is still some great stuff out there. And for both sweet and bitter lessons on the human condition, Russian animation is still one of the few places where all the myriad of flavours, textures, nuances play out in line and colour. The very greatest example is Yuri Norstein's Tale of Tales but Garri Bardin's film Adagio is also a simple and powerful story, perhaps you may recognize it.