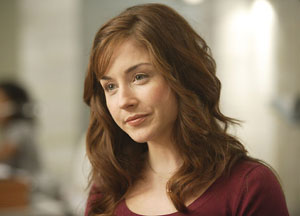 When she was introduced to Canadian television audiences last January, Erica Strange of the CBC comedy/drama Being Erica was being pretty unhappy. Thirty-something, single, and recently fired from her subsistence customer service job, she met Dr. Tom, a supernatural therapist who promised to send her back in time to correct past mistakes. Being Erica's second season is now in full swing -- the sixth episode airs tonight at 9 p.m. -- and while most of the time it is fluffy rather than groundbreaking, it might just be the most realistic portrayal of a woman in her thirties on television today. Unfortunately, that could also be its downfall.
There is something about teenagers and television. Characters under 30 dominate the small screen, but adolescent characters get an especially disproportionate share of the spotlight. There's no need to hark back to My So-Called Life, Buffy the Vampire Slayer or the original 90210 -- by the end of last season, legions of viewers too old to remember high school, let alone attend, were following the machinations of New York prep school students on Gossip Girl. Glee, Fox's musical comedy/drama about a high school show choir, was this fall's most talked-about new show.
But adolescence occupies our televisions in more subtle ways, as well. In the alternate universe portrayed on TV, the social norms of high school don't end at graduation, especially for women. Even adult women display a level of uncontrolled emotion that doesn't fit with the ages they are assigned. Think of Grey's Anatomy, where even successful, high-powered surgeons pick on the younger residents, run off screen crying, and give their boyfriends the silent treatment for weeks at a time. Whether the setting is a hospital, a forensics unit or a plastic surgery clinic, we like our TV heroes to act out the same old high school drama, over and over again.
There is something different about Being Erica. While other women on television are teenage girls in adult drag, Erica can act like an adult even as she inhabits her teenage body. Though Being Erica is ostensibly about everything Erica needs to fix, really it celebrates the wisdom of experience.
A taste for Cranberries
That is not to say that Being Erica is drama free. Erica can well-up at a moments' notice over her stalled love life or career prospects, and she has plenty of regrets, including some that seem trivial. In the first episode of the first season, Erica asks to be sent back to a high school dance where she once embarrassed herself. But arriving in the '90s, Erica finds that neither her high school boyfriend nor the rumours circulating about her sex life can stop her from helping out a friend with alcohol poisoning.
Though Erica continues to revise her personal history episode to episode, few of her new choices have dramatic consequences. At the same time, changes she makes in her present lead her to a dream job and a dreamy boyfriend. A peripheral character observes early in the first season that we are the sum of our decisions -- good and bad. In this, the second season, the sum of Erica's decisions is doing well. She has learned to negotiate with a difficult boss and a new boyfriend, and she is figuring out how to be patient with her best friend, a haggard new mom. Erica isn't a teenager any more, and she is better for it.
The show's obvious appeal for women Erica's age is that in music, fashion and feel, her past is their past. But there is more to identify with than the Cranberries-flavoured soundtrack.
Where's the audience?
"As light and as fluffy as it seems to be, the show is actually a much more realistic depiction of women in that age group, specifically white heteroseuxal women in that age group, than say something like Melrose Place," says Stacey May Fowles, a Toronto-based author and publisher and a fan of Being Erica from its start. Fowles likes that Erica rejects some of the men that she dates, instead of obsessing over how to please them.
"I find that most shows about women in their thirties are all about the hunt for a man," she says. "Being Erica is more about a hunt for a sense of self." It's that hunt that makes Erica ring true as a character.
"I think when you're in your thirties, you tend to take stock of all your decisions, which is already the point of the show. But you are also much more comfortable with yourself than you were in your twenties," says Fowles.
But ratings suggest that Fowles is in the minority. Being Erica has struggled to find a large audience. Last February, the CBC moved the show from Monday to less competitive Wednesday, but Canadian ratings, strong for the premiere, drifted down over the course of the season, and did not rebound for the first few episodes of this season. In the Netherlands, the show was dropped after 10 episodes and apparently replaced by 90210 and Gossip Girl. If Being Erica is the only show on television that doesn't fetishize adolescence, its success or failure might say more about our neuroses than about Erica's.